I don't know about you, but I found myself completely caught up in the Halloween hype this season. It was especially unavoidable once my 20-month-old twins figured out that a celebration involving candy was afoot. (Okay, in fairness, I couldn't resist taking them to a pumpkin patch as soon as it opened the first week of October) So we've been talking about pumpkins and ghosts and black cats for weeks. Now our afternoon walks to the park are punctuated with more animated pointing and giggling than usual, as the kids marvel at the orange and black decorations blanketing every block leading to our favorite playground.

"Ha-moh-neem!" squeals my daughter Sam any time she sees a pumpkin. That's followed up immediately by her brother Ian chiming in, "Happy!"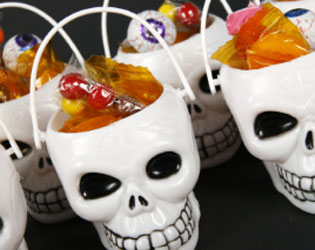 How could anyone resist that? Or resist the flood of stuff to buy! Not me. From the bags of fall colored Hershey's minis (that I nearly finished in a moment of PMS weakness) to the pumpkin themed clothing to the quest for the perfect costumes, I think I've started down a path of motherhood I never really thought about until now. Apparently, as a consumer, I'm in good company. Americans are expected to spend more this year on candy and costumes than ever before, setting a $5.07 billion record according to the National Retail Federation. My colleagues at Yahoo! looked into some of this year's Halloween trends and found that searches for all things related to the holiday started right after the Fourth of July! That's a month earlier than a year ago. Fright Night, it seems, could be closing in on Christmas.

My dad couldn't believe I was putting so much thought into what the kids would wear this year. He laughed when I told him I was thinking about buying them Cookie Monster and Elmo get-ups.

"When I was a kid, you had two choices - hobo or a clown," he said of the homemade costumes he and my aunt wore back in the 1950's. Now, here I am in the year 2007, scouring costume websites, glossy catalogues that started arriving in August and scanning the costume racks at children's stores like a lunatic.

I guess part of it is that I've been reliving my own childhood when my sisters and brother and I would plot for months about Halloween night. Admittedly, those were days when DIY ruled. My mother shunned the store bought variety and we always had a good time trying to come up with ingenious creations at home to dazzle our friends or even win contests at school.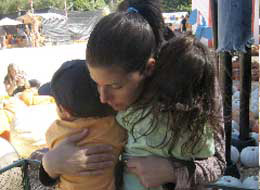 It was my daughter's costume for this year that surprisingly caused me the most angst. That feminist in me was fighting the whole princess theme. I know Sam is still young enough that gender roles don't mean a thing to her yet. And I didn't want to be the one to select something pink and satiny when I knew she would just as easily wear a monkey or a fireman costume. But what would she think ten years from now about the choices I made for her this Halloween? My mother assured me with a knowing smile that if it's not this, there will be PLENTY of other things she'll be angry about (maybe even this column). In other words, get over it. Yet, it was strange to find myself projecting so much onto this frivolous costume that frankly, she would only wear for an hour at most and probably not even on Halloween night... and especially when there are so many families displaced by the wildfires not very far from my home. I felt a bit sheepish about being swept up by All Hallows Eve hysteria.

In the end, I gave into the girly thing and selected a bubble gum colored witch outfit covered in silvery stars. Sam seems to love the sparkly hat. Because Ian has been practicing his King of the Jungle roar these days, a one-piece lion outfit seemed to suit him just right.

When our big Halloween outing came around this past weekend, I was so excited to dress them up and take pictures. I could barely stand it. We were going to a Halloween bagel brunch at 11 in the morning. That's when I realized who was truly enjoying this holiday the most this year. Ian flatly refused to put on his mane or any part of his adorable costume. We forgot Sam's hat at home on the kitchen counter. And after twenty minutes at the main event, it was naptime. Oh well, maybe next year. And maybe next year, I'll MAKE their costumes. Halloween is becoming such a big deal, people probably won't blink an eye if I start planning some time after New Year's.

Have a safe and happy Hah-mo-neem!