Imagine yourself working in a factory. One day you smell smoke. What do you do? Ignore it? Panic? Or follow the fire drill procedure you learned at a training last week? What you choose could save your life.
Several thousand workers have been killed in factory fires across Asia in the last few years. All those deaths could have been prevented if workers had had unblocked exits and clear, practiced instructions for evacuation. That's exactly the goal of an innovative new partnership called Social Fingerprint Rapid Results. It's a collaboration among Rapid Results Institute, Social Accountability International, and my organization, Good World Solutions.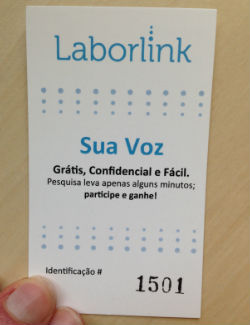 The aim is to make tangible health and safety improvements against ambitious 100-day goals, form internal teams of workers and managers to achieve the goal, and use our Labor Link mobile surveys to track worker participation and progress against the goals.
I visited a chair factory in Sao Paulo, Brazil, that's one of the first groups in the program and was completely inspired by what I heard. In 100 days, the factory reduced their fire drill evacuation time from six minutes to three minutes. It might not sound that impressive; in most offices, people roll their eyes at the good old-fashioned fire drill. In a real fire, however, that's the difference between life and death.
In a country like Bangladesh where the term "fire safety" is practically unheard of, this approach would be transformative. Imagine the potential lives saved by importing this framework to apparel factories in Dhaka, Bangladesh, where a single factory fire killed 120 people in November 2012.
In my mind, this methodology is nothing short of a revolution in how we approach the challenge of improving factory working conditions by applying the principles of change management. It turns the current system of top-down policing on its head: instead of focusing on symptoms, we can focus on systems. Instead of asking, "how many hours did you work this week?" let's ask, "do you feel comfortable talking to your supervisor if you have a need or a problem?" It's the internal relationships between workers and managers that matter.
One of the tools we're using to grease the wheels of communication between workers and managers is the simple mobile phone. Most workers have phones now, so polling them anonymously is easier than ever before. Instead of pen-and-paper surveys, we only need a single phone call with 10 simple questions asking, for example, "If you have an idea on how to improve working conditions, is there a way to discuss the idea with management?" The Labor Link mobile survey tool gives workers a voice,and gives feedback to workers and managers to help people solve their own problems. Labor Link surveys have reached 72,000 workers and farmers in nine countries since 2011.
Surveys also ask project-specific questions -- in this case on health and safety -- so the project team can track whether all workers attended and understood the training on the new fire evacuation procedure.
After all, you don't want to wait until a real fire happens to find out.