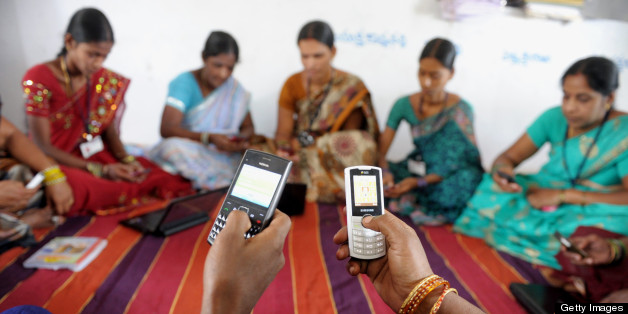 Is what we're doing effective? When you set a goal to deliver training to 500,000 people, you want to know if it's effective. Is the message getting through to those who attend? Are they changing their attitudes? Are they changing their behaviors? These are questions that any business needs to answer whether they are a large for-profit corporation like Marks & Spencer or a much smaller social enterprise like VisionSpring.
U.K. retailer Marks & Spencer, as part of its ambitious Plan A corporate responsibility strategy, made a commitment to train half a million people, and is partnering with local organizations in the countries where it manufactures to train factory workers on topics that enhance their lives. In India, the focus is Financial Literacy.
Approximately 2.5 billion of the world's adults do not use formal financial services. If the goal of financial literacy training is to bank the unbanked -- to enable more low-income people to access banking services -- then it's essential to first know how many people in the target population have a bank account, whether they're using it effectively and, for those who don't have a bank account, what beliefs or structural problems prevent them from opening an account?
To get this data, you could interview workers one-on-one, but that approach is expensive and not scalable. Garment factory workers have low literacy, so pen and paper surveys are not an option. Likewise, they lack internet access, so online surveys are out.
What's left? Mobile.
Today, the number of mobile subscriptions globally is approaching the total population. In developing countries, mobile penetration is 89 percent. USAID estimates that 41 percent of mobile subscribers use their phones to increase their income and professional opportunities. If that's true and if our aim is to increase financial capabilities, then we're missing an opportunity if we don't leverage the power of mobile.
Marks & Spencer saw this opportunity and enlisted Labor Link to develop simple multiple-choice surveys that could be deployed easily to thousands of factory workers through their own mobile phones. We asked questions like "Do you have a bank account?" "Do you have money saved?" and "Do you know what happens to your savings when you die?"

Bank account ownership jumped 33 percent after training, tracked by Labor Link mobile survey data.
Before Financial Literacy training, only 59 percent of factory workers near Delhi and Bangalore, India reported having a bank account, compared to 95 percent of adults in the United Kingdom. Over half of those surveyed do not have savings (compared to 22 percent of adults in the U.K.). Those with savings typically choose to keep their money at home (43 percent). Nearly 20 percent of workers surveyed do not know what happens to their savings when they die, and another 12 percent believe the bank or MFI where savings are kept get to keep the funds.
Armed with this data, M&S and its local partner in India were able to target the training to the specific needs of workers. By the end of the first phase of the program, we measured an increase of 33 percent in the number of workers with bank accounts. Changing attitudes was one of the success factors. The other was eliminating bureaucratic barriers by reducing the paperwork needed to open an account.
This process is essentially the same for a large for-profit corporation like Marks & Spencer as it is for a much smaller social enterprise. For over a decade, VisionSpring has been fighting poverty by selling affordable eyeglasses to the poor. Historically it has been too difficult or too expensive for them to get good data about their customers. While this data is clearly valuable, its value to VisionSpring must always be balanced against the cost of collecting the data and therefore the cost of running the business.
It is a very straightforward ROI calculation. Like many social enterprises in the developing world, VisionSpring sells its products in difficult and emerging markets where the cost of doing business is high especially when the intent is to reach underserved populations. Using mobile phones, the Progress out of Poverty Index(r) (PPI(r)) and the Grameen Foundation's TaroWorks to collect customer information at the point of sale, VisionSpring now has access to data that gives them the insight they need to continuously improve their products and services.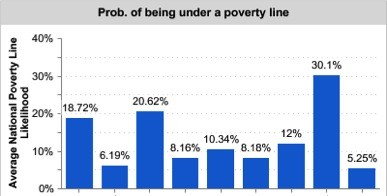 This chart shows the likelihood that a customer is below the National Poverty Line for each of 9 different regions where VisionSpring sells reading glasses.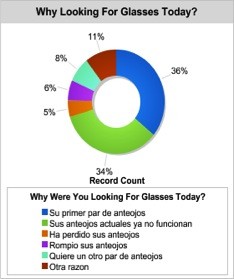 Looking at these graphs, it is easy to imagine how VisionSpring might adjust their products and services to improve their outcomes, as they can more easily target the areas with the greatest poverty. Additionally, they can more effectively design their products and their marketing to address the specific needs and referral channels of their most important and impactful customers.
Technology is transforming how we gather and use data. The challenge is how to move from an interesting anecdote to common practice. How can your organization leverage mobile to collect better data in real-time? And how can you use that data to inform strategic business decisions that drive better outcomes? If you knew it wasn't effective, would you keep doing it?