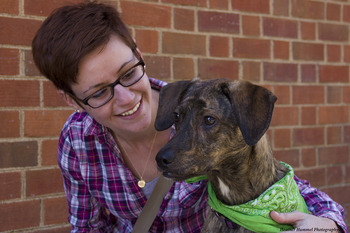 "Renae and Nala"
Photo Credit: Heather Hummel Photography
There is little doubt in my mind that the love of dogs is a pure ingredient that makes the world go around. What I've also discovered is that people love to talk about their dogs and how they met. Since my friends razz me for being outgoing everywhere I go (what can I say, I love talking to people), and since my camera is essentially my third arm, I began talking to more and more people about their pups. Soon enough, enthusiastic nods of agreement came when I held up my camera and asked permission to capture a few images to preserve their story and the moment.
When I visited the Humane Society's website, I found the fascinating statistics below from the "2013-2014 APPA National Pet Owners Survey and estimated by The Humane Society of the United States using statistics provided by The National Council on Pet Population Study and Policy":
• 83.3 million -- Number of owned dogs
• 47 percent -- Percentage of households that own at least one dog
• 70 percent -- Percentage of owners with one dog
• 20 percent -- Percentage of owners with two dogs
• 10 percent -- Percentage of owners with three or more dogs
• 1.47 -- Average number of owned dogs per household
• 20 percent -- Percentage of owned dogs who were adopted from animal shelters
Photo Credit: Heather Hummel Photography
I fostered over a dozen dogs prior to adopting sister and brother, Julie and Stephan (the two on the far left in the crate with their litter mates at 11 weeks old, and a more recent photo). When I was fostering, curious people wanted to know how I was able to give up my foster dogs. It's a legitimate question, but I always responded with, "Finding them the right home is way more important to me than meeting my emotional needs."
The dogs I fostered were all sorts of sizes and breeds. In time, they willingly and excitedly found their way into the hearts and homes of their new owners. With each wet-nosed kiss goodbye, I learned that that life really is full of pawsibilities.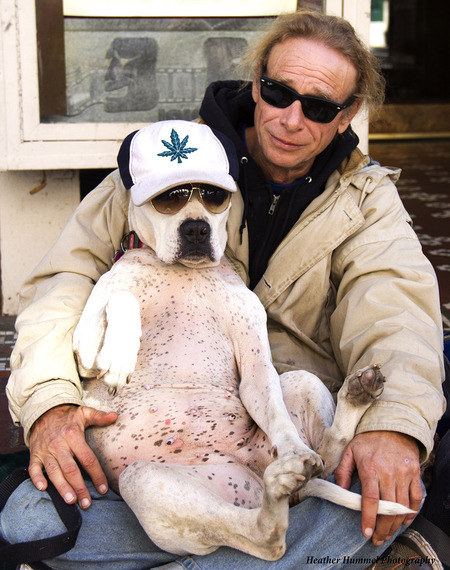 "Mike and Jada"
Photo Credit: Heather Hummel Photography
Some owners and their dogs are unlikely pairs, and some, like these two, are quite likely! These two characters are Mike (human) and Jada (dog), who moved from Venice Beach, California to Charlottesville, Virginia. "I've had her since she was a puppy, and the first time I put the hat and shades on her, she didn't mind at all, so she's worn them every day since," Mike shared with me.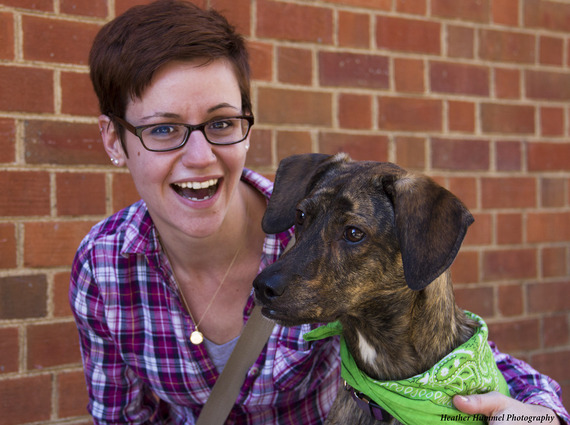 "Renae and Nala"
Photo Credit: Heather Hummel Photography
Renae (human) and Nala (dog) warmed my heart with their adorable story.
"I had been begging my husband for months, actually years, to please let me have a dog. I'm a dog person, and all we have are two cats," Renae shared with me as she pet Nala's head. "My thing that I do when I'm upset is to go down to the SPCA to visit all of the animals and cuddle with them. When I saw her, I didn't go to any other cage. I called my husband and said, 'I found my dog.' I looked at her and she looked at me, and we agreed, 'I love you so much.' My husband was a little apprehensive at first, but now Nala sleeps under the covers between the two of us."
Note: The Charlottesville, Virginia SPCA is a no-kill shelter. Several years ago I was a volunteer photographer who helped photograph and name the incoming pups. It was the most rewarding volunteer work I've done. I encourage you to visit your local SPCA or other facility to see how you can help save a dog's life.