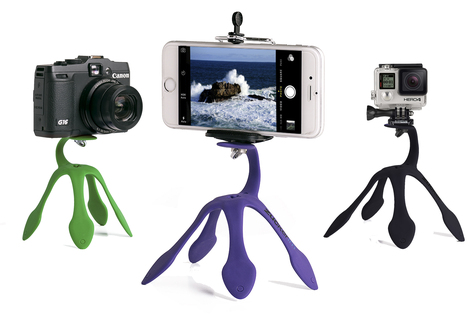 Photo Courtesy of Zuckerim
Accessories are a photographer's best buddy in the field. From filters to tripods to camera bags, there are so many to choose from, and figuring out what works best for your needs can be daunting. I learned this recently when I started a YouTube series titled "In the Field with Heather Hummel Photography" where I walk viewers through the shot being captured and the settings used. It has been a lot of fun taking my audience into the field with me. My iPhone captures great videos; the only problem was trying to set it up where it would stay stable while recording the in-the-field footage! My short-term solution was to hold the iPhone myself and video the scene before me. This worked as a good solution because viewers can see the scene through my eyes. However, I like to connect with my viewers on a personal level and by my not being in the scene, I felt a bit disconnected. That is until I discovered the Gekkopod!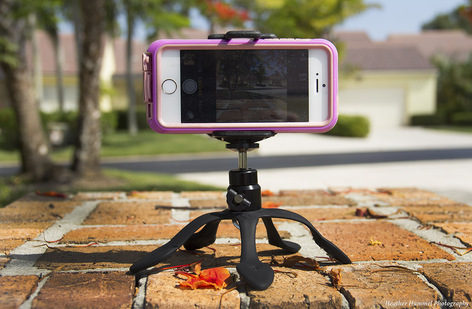 Photo Credit: Heather Hummel Photography
I've written about the importance of using a tripod in low light photography, and now I have to share my new favorite accessory in the tripod division. The Gekkopod. Developed by Zuckerim, this cool, five-legged handy gadget has quickly become my go-to accessory for my iPhone when I use it to video record the "In the Field with Heather Hummel Photography" series.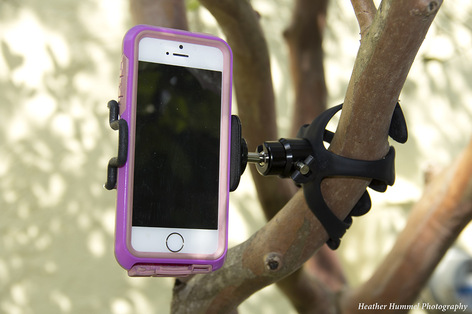 Photo Credit: Heather Hummel Photography
What I love about the Gekkopod, and although I have only had it for a short while, is that I am discovering countless uses for it. I use it as a simple stand for my iPhone, whether on my desk or nightstand. As a cyclist, I can wrap it around my handlebars, keeping my iPhone in view as I use the AllSport app, my speed and mileage et al tracker. Other athletes, especially those with GoPros, can take it on the run, bike, hike, or paddle with them and be able to capture their moments without needing someone else to take the shot or without having to outstretch an arm. Which brings me to one of the best aspects...the Gekkopod eliminates the need for the typical selfie, whether taken with an arm or a stick (which still often requires an outstretched arm to use it). Instead, with the Gekkopod, I can stand it up on a surface or wrap it around a branch or pole a few or several feet away. Then, I set the self-timer on the Camera app and within a few to ten seconds I have a natural looking shot without a bicep taking up half of the frame!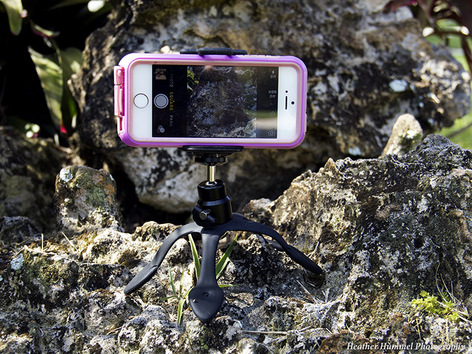 Photo Credit: Heather Hummel Photography
Weighing in at just 50-grams, I can clip the Gekkopod to my camera bag or wrap it around my tripod while trekking to my shoot without adding hardly any weight at all. The Gekkopod fits all popular smartphones. I have the iPhone 5s and it snaps in perfectly. There are also a few add-on adapters that allow me to swivel and turn the iPhone from horizontal to vertical, and anywhere in between, allowing for a variety of shots or to accommodate awkward angles. For example, if I'm shooting a video on a hiking trail and wrap the Gekkopod around a tree limb, I can adjust the swivel to make the iPhone as level as I need it during a shoot.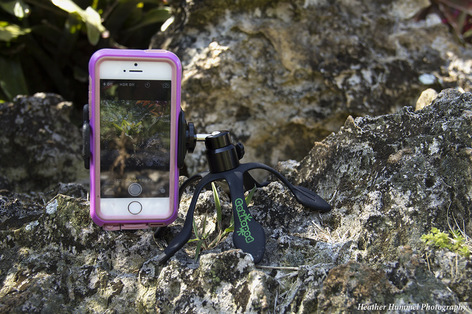 Photo Credit: Heather Hummel Photography
As I shoot new footage for the "In the Field with Heather Hummel" series, I will be using the Gekkopod to ensure my ability to be in the shot. While I'm on my bike rides, I'll be using it to stabilize my iPhone as I track my success for each mileage covered. While at my desk writing my next book, one of which is due to my publisher in ten days, I'll use the Gekkopod as a stand to hold my iPhone next to my laptop. The next time I Skype with a client, I'll also use it as a stand. The uses are countless, and this five-legged gadget will surely go on a lot of photography adventures with this photographer.