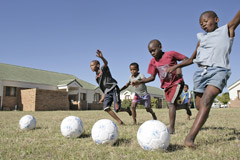 The 2010 World Cup is in full swing, and as CEO of SOS Children's Villages-USA I've been thinking a lot about what soccer means in the lives of children around the world. At SOS we witness the power of play every day. Every one of our 500 Villages has a simple playing field where a child who has lost everything can start to heal. You just have to see the quick smile on the face of a child who has been through untold misery to know that a pick-up soccer game can melt away -- if only for a time -- the suffering he has known. That soccer ball stands for a bright future that is still possible.
Being able to control his own game means everything to a child who can control little else in his life. Soccer is all about self-reliance and self-empowerment. Neither money nor education nor family status can make a soccer player. All children need is a ball of any size and the semblance of a playing area -- any surface of dust, stone, cement, or grass will do. Unlike most other sports, soccer is accessible to all. As John Carlin recently wrote for Time.com in his article "The Global Game," soccer rules are simple, and motivated kids can make a ball out of socks, plastic bags, and even animal bladders.
In very poor areas of the world, soccer is sometimes a child's only escape from days of monotony, where family, school, or a bright future seems unattainable.
So many of the world's best players come from humble beginnings. Take Cameroon's Samuel Eto'o, whom Carlin writes about in "The Global Game." The 29-year-old currently plays soccer for Inter Milan, though he's on his home country's team for the 2010 World Cup. Carlin calls him "the spearhead of an African contingent that has taken Europe's soccer citadel by storm." Eto'o began life in a crowded home where six siblings slept several to a bed. When his father lost his job, his mother rose at 3 a.m. every day to buy fish to sell on the streets. As a kid he played soccer barefoot with balls made from plastic bags taped together.
Samuel Eto'o is now a famous soccer star. The game fulfilled his dreams. "My whole life is a dream, a dream come true, a dream I'll only wake up from the day I stop playing football [soccer]," he told John Carlin.
For me the best part of soccer is what it does for ordinary kids who, unlike Eto'o, won't become famous soccer players -- and that's just about everyone. Soccer fosters the kind of focus, discipline, and cooperative spirit children need to succeed in life, whatever they do. And those are values we hold dear at SOS Children's Villages.
Forged by soccer, Eto'o says his goal is to make an African child happy. He is giving back through a foundation he created that provides African children with soccer shoes, medical treatment, and educational scholarships.
Making children happy, productive community members is just what SOS Children's Villages works hard to do for kids who've had a raw deal. In 132 countries SOS raises children without parental care. That puts us in almost every country that is competing for the 2010 World Cup. SOS children in 44 different African nations no doubt feel special pride as they laugh, shout and kick that soccer ball today. And I bet the hundreds of children in South Africa's eight SOS Villages are laughing and shouting all the louder and kicking the ball all the harder as they watch matches in their home country. At SOS, the power of play lies in letting children be children, and letting them dream. Because dreams of a good and decent life can come true, certainly at SOS. So I say, hooray for soccer!