Ten years ago my son and I fell in love with a dog at a "Pet Adoption Event" in our grocery store parking lot. He was five at the time, and we went to the store for a couple of groceries, and came home with a dog. My son and the little dog bonded immediately, and while I questioned the likelihood that a Lhasa Apso was a good breed for kids, she was already in my son's lap. He walked her around the parking lot. She played and barked a happy sound. The volunteer said the dog had not left the laundry basket she was in, nor had she made a sound, since they received her. Clearly this was a love connection. She had a fluff of hair around her head, and her body had been shaved to treat and heal some wounds. She was kind of pathetic, and we were in love. We named her Annie.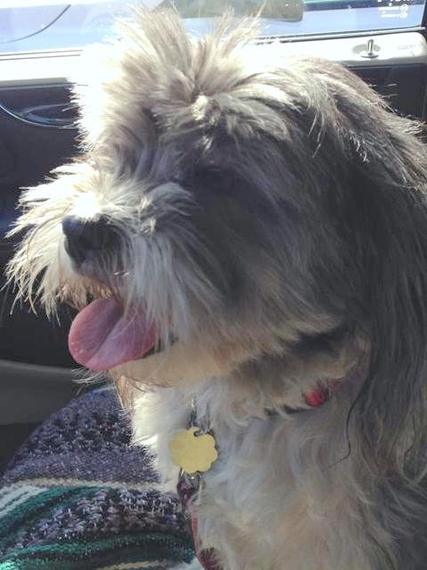 Annie has been an easy, reliable companion. She has survived three moves, two more babies being brought into the house, and the loss of her own companion, my husband's dog. Her needs are minimal and she is loved by all. Very few are the moments she chews something, makes a mistake in the house, or bothers anyone or anything. Our biggest challenge with her is that she likes to sneak out. She has never gone far, always ventures about two doors down, and comes right back when we call her. With the chaos of four kids, it might take a bit to realize that she has escaped, and if I don't notice right away, she is sitting on our front porch giving me a low pitched "woof" to be let back in. Our whole street knows her and her wandering ways. Her collar has my mobile number and she has a microchip.
Yesterday morning was gut wrenching. After school drop off and pouring our coffee, my husband asked, "Have you seen Annie?" My eyes got wide, and we both started to look around. Depending on the weather, she likes to sleep in our office, downstairs, or under our bed, upstairs. She is usually present for breakfast, stealing whatever Cheerios the baby drops off the high chair. The weather just turned cooler, and she is getting older, so she has been slow to rush downstairs like she used to. After inspecting the entire house and yard, we realized she was not home. My heart sank.
It was possible that she had got out in the early evening the night before. Now I'm feeling like the worst mother ever. Really? I lost one and didn't even know it? There are seven of us. I have one husband, one self, four kids and a dog to keep track of. I do inventory nightly. How did I miss this? Then I realized she wasn't wearing her collar. This is rare, but we had just bathed her and washed her collar, and we were letting it dry and, of course, forgot to put it back on right away.
We live in the city. Stray dogs are everywhere. I take them in often, have helped return many, and have even found suitable homes for strays with no tags or chips. We try to keep our "doggie karma" alive because we know we have a wanderer. I spent the day hoping, but also accepting, that way too much time had gone by. Every hour I would try something new. I kept driving around looking for her, checking shelters, websites, put out old-fashioned "lost dog" signs, and spread the word every way I knew how. We plugged a phone into our landline (it is usually fax only) in case that was the number I had registered with the dog rescue. It's been 10 years... I couldn't remember.
Night fell, and no Annie. I was having visions of someone taking her, and keeping her. She is so cute and sweet. I was also worried that perhaps it was her time and she wandered away to sleep for good, not wanting us to see. My now 5-year-old said a very teary prayer at bedtime, asking God to keep her safe and help her find her way home. One of my best friends came over with a bottle of wine, that knowing look, and hug that said, "This sucks. I'm going to sit here with you."
It was nearly 10:00 p.m. when that phone we plugged in RANG. I was afraid to answer it, fearing it was animal control with bad news. After saying, "Hello?" a beautiful voice on the other line said, "Are you missing your dog?" This became a delightful relief as she explained Annie was found.
As I arrived first thing in the morning to pick her up, I saw the other rescue dogs in a play yard, but not Annie. I suddenly grew worried that there was a mistake. Then, they brought her out to me, and as the baby laughed and I cried our precious dog was happy to see us and jumped in my arms. After many hugs and thank yous, I left a donation for the rescue group, and on our way home we went.
It seems someone must have picked her up, but then she escaped again as she was five miles on the other side of town from where we live. She was then taken to a shelter even farther away. When the shelter scanned her for a microchip, the pet rescue was alerted. They then picked her up, and were able to track us down through the information given at adoption a decade ago. She was gone a little more than 24 hours, traveled a circle of about 50 miles, and we will never know what really happened. All we know for sure is that a tiny little microchip lodged in the back of her neck saved her life and brought her back to us.
Are we sure we don't want to put these in our kids?