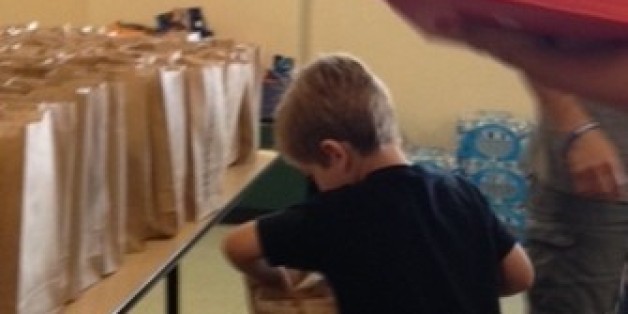 It's a Saturday. My alarm went off at 6:00 a.m. I had no idea what kind of day it would be. My first thought was, "Why, why, WHY did we volunteer for something this morning?" There were no classes or practices; there was no church or school. Rather than taking a day to sleep in, I was waking up sleeping babies and rushing out the door. None of us knew what to expect. All we knew was that we agreed to show up for something called #KidsMovement. We were making lunches for homeless people and that is all we knew.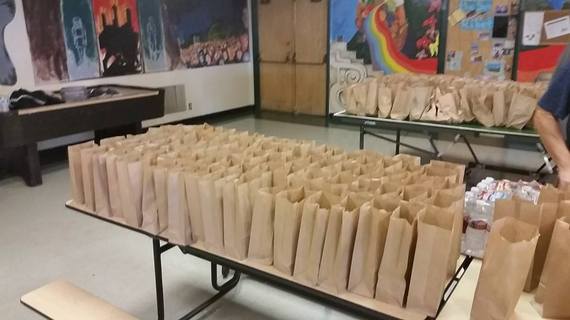 I arrived with my three sons, and knew that Zakary (age 5) would be the one to get enthusiastic. My teen watched my baby most of the time while Zak and I began to help. Donated food and supplies to make 1,500 sack lunches with pb & j, fruit, water, a cookie, a napkin, an inspirational note and dog treats all awaited our helping hands.
Zak dove right in. He opened bags and helped put water and fruit in them. He worked with adults he had never met, did what they asked and when one table was done, he'd move on to the next. He loved helping with the cookies, and I was shocked he didn't try to sneak one.

In less than 90 minutes, 1,500 lunches were packed and ready to go. We all stopped for a group picture. Then, everyone started loading up their cars with the lunches.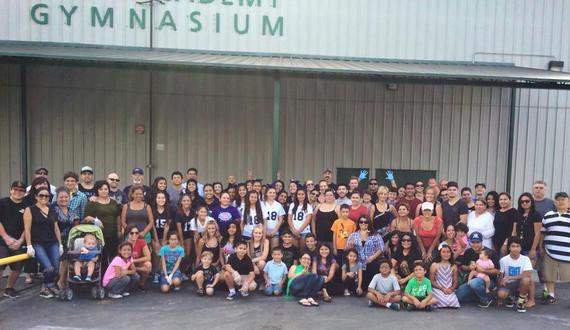 The majority of the group was going to downtown Los Angeles, where hundreds of people were in need. Considering Zak's age and how much I thought we could do with a baby in tow, I asked if we could spread the love a little further and go straight to our own neighborhood. We see plenty of people just a few blocks from our own home. Once we got the green light, Zakary and I grabbed one box. It had 12 lunches.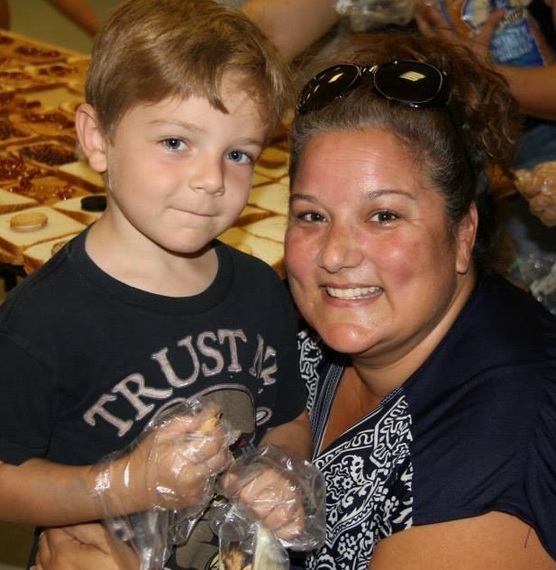 Zak had a lot of questions. "How will we know they are homeless? How will we know they are hungry?" We chatted about these things, and agreed mommy would know and help him decide who to choose. One block off the freeway, we saw our first guy. I pulled over, helped Zak out and we approached a man that was definitely without a home. He was quite dirty, didn't have many teeth left and seemed to have nothing but the shirt on his back, and even that was torn. Zak walked right up to him, without an ounce of trepidation, and holding up a sack lunch as high as he could said, "Excuse me, would you like some lunch?" The man's face lit up with joy, he took the lunch and said, "thank you." Zak replied, "Your welcome, Sir." The man reached out his hand and Zak grabbed it and shook his hand. The man was grinning from ear to ear, and as we walked back to the car, I looked back. The man did not take another step. He sat right down and broke open his lunch. As we drove away, Zak waved bye, and got a thumbs up from the man. Holding my tears back, I heard from the back seat, "Eleven more, mom."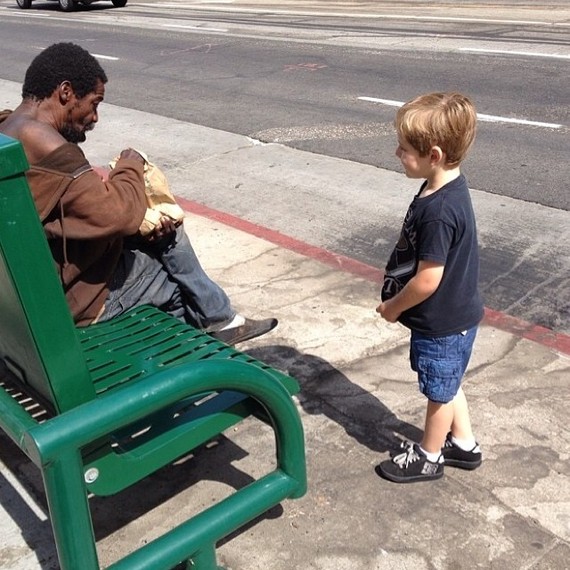 We proceeded to find many more in need of lunch. For some, we would just roll down the window; Zak would ask if they would like some lunch and if capable, our customers would accept the lunch from him through the window and be on their way. We met car window washing guy, collecting cans guy and a deaf lady at the bus stop whose eyes gleamed like Christmas when my child handed her lunch.
We had two lunches left, and my little 5-year-old helper was running out of steam. I saw two interesting folks sitting on a corner. One played the guitar, the other seemed a storyteller. They were an unlikely pair, but all of my senses lead me to them. We got out one last time, with those last lunch bags, and Zak walked up and offered them lunch. They were elated! They were hungry and they were happy. Then, out of the blue, the lady says, "WAIT! I have something for you. You give me something. I give you something. Close your eyes!" He did, and I watched her dig out of a large and interesting bag. Much to my delight, it was two pieces of toy-like plastic. She fumbled and bumbled and put it together, and all of a sudden presented him with a giant toy rocket ship. "This, son, is for you. People who do nice things deserve something." Now, Zakary and I were feeling quite full of love and hope with the 11 smiles we received before this. Number 12 gave back, and it was astonishing.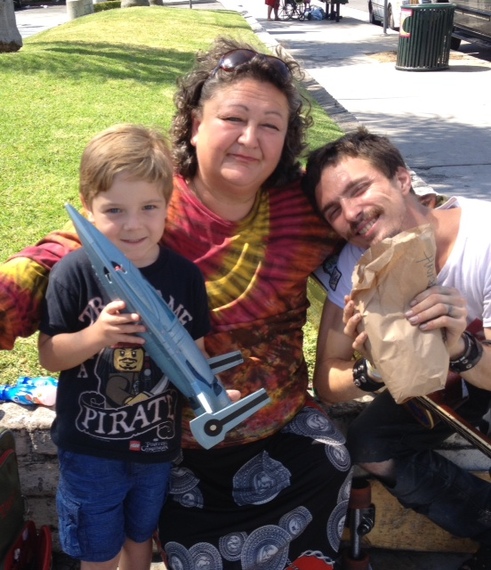 I have been a mother for 17 years. It has taken all this time for me to realize children are never too young to teach them to open their hearts. Zakary has always been concerned about people going hungry. He got an award from school for remembering to bring food every day for those in need. It took 12 people and 12 lunches to help him understand, and remind me, exactly who these people are. We will never forget this day.