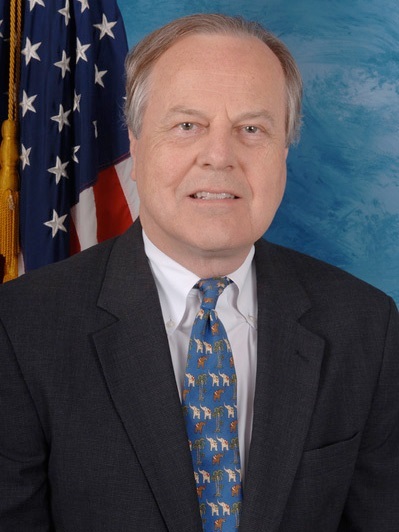 Today's Dirty Denier$ is Congressman Ed Whitfield, a Republican from Kentucky who chairs the House Subcommittee on Energy and Power. From that perch, Whitfield has been a general in the fight against the so-called "War on Coal." Unfortunately for Americans who breathe, Whitfield's battle has amounted to a War on Health that would have devastating consequences if he were to succeed.
Whitfield has earned a dismal 15 percent lifetime League of Conversation Voters score, and has had particularly bad years since assuming a leadership role; in 2013, Whitfield earned a mere 7 percent. Whitfield's most significant energy legislation this term was H.R. 3826, which would, according to NRDC's David Hawkins, "prevent EPA from doing anything meaningful to reduce carbon pollution from America's biggest source of that pollution: coal and gas-fired power plants." This Polluter Protection Act passed the House, but has thankfully stalled in the Senate. Whitfield wants to pursue this plan because he sees "no benefits" to reducing carbon pollution.
In addition, Whitfield has sided again and again with Dirty Denier$ in votes to undermine bedrock environmental laws, block clean energy and prop up dirty fuels. He has voted in favor of offshore drilling and drilling in pristine Bristol Bay, he's voted for Big Oil giveaways and against reducing smog, soot and toxic air pollution like arsenic and mercury.
It's no wonder Whitfield so perfectly fits the mold of a Dirty Denier$, when you look at who bankrolls his campaigns for Congress. Whitfield has received a whopping $694,115 from electric utilities, $475,497 from oil and gas companies, $310,377 from mining companies and $277,506 from railroads that want to continue shipping trains full of coal to power our country's power plants. That's more than $1.75 million from dirty energy interests.
Our advice: Congressman Whitfield should learn the many benefits of reducing pollution. Lives saved, asthma attacks prevented, and heart attacks avoided just to name a few.