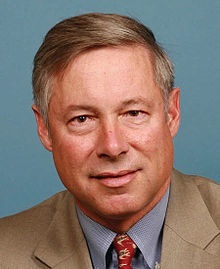 Today's Dirty Denier$ is Rep. Fred Upton, a Republican from Michigan and Chairman of the powerful House Energy and Commerce Committee. Upton has used his leadership position to try to move the nation backward, and his record on clean air and climate change keeps getting worse.
Upton has been all over the map on the facts about climate change. In 2011, he said he didn't believe humans are contributing to global climate change. Since then, he's been mostly silent on that basic issue, but he's been loud in his opposition to doing anything about climate. He has used extreme rhetoric to characterize the Environmental Protection Agency's (EPA) Clean Power Plan, calling it "an unconstitutional power grab that will kill millions of jobs" and a "train wreck."
And consider that one of the first bills that Upton sponsored upon assuming the chairmanship of the committee would have permanently blocked EPA from doing anything at all to address carbon pollution. Moreover, the bill would have increased America's dependence on oil by undermining efficiency standards for motor vehicles, and cost consumers $58 billion. Upton has also given his blessing to multiple bills to undo various aspects of the Clean Air Act.
Michigan has a lot to gain from a clean energy policy. In 2013 alone, Michigan announced more than 1700 jobs in the renewable energy sector, placing it 12th in the country for new job creation. And in a signal that better days are ahead for both the economy and the environment, 380 of those jobs were in clean vehicle manufacturing.
Our advice: It's time for Congressman Upton to once again reinvent himself. It's time to stop being a Dirty Denier$ and start being a clean energy champion for his state.