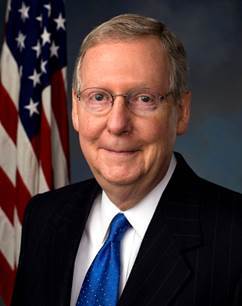 The Senate is (sadly) full of climate deniers, but none of them is more dangerous than Senate Minority Leader Mitch McConnell (R-KY). That's because Sen. McConnell possesses that dangerous combination of denialism and power. As the leader of the Senate Republicans, he doesn't just sponsor or vote for pro-pollution bills, he tries to take bills to the floor that would drastically reduce oversight of rich oil companies drilling in the ocean, and he continues to block popular, bipartisan energy efficiency legislation. And this is just the short list.
McConnell (with this lifetime 7 percent score from the League of Conservation Voters) has been rewarded handsomely for his support of fossil fuels. In his career, he has received over $3.6 million in campaign contributions from the energy and natural resources sector, which includes coal mining, oil, and gas. In July, his campaign used part of their largesse to pay for an ad targeting President Obama's leadership on moving beyond coal.
In 2014, embroiled first in a heated primary election and later in a very tough general election, McConnell's main target has been the Environmental Protection Agency. Before President Obama even announced his Clean Power Plan, McConnell tried to foist on the Senate an arcane legislative maneuver of his own invention as part of his relentless efforts to block action on carbon pollution. In that case, McConnell was trying to allow new power plants to dump unlimited amounts of carbon into the atmosphere even though there are alternatives available. Now that he realizes this is not a popular position, he is trying to hack away at the EPA in other ways.
McConnell would rather stick his head in the sand (or maybe a coal mine?) and pass this problem on to future generations. "I suppose over decades and maybe centuries we'll figure this out," he said in 2012.
Our advice: At the NRDC Action Fund, we know that we don't have that much time, so the best course of action is for McConnell to change his dirty ways.
*Beginning August 4, the NRDC Action Fund will name "Daily Dirty Deniers" each weekday, featuring members (#DailyDenier$) who allow polluters to foul our air by casting dirty votes and accepting dirty money. To read more about the campaign and the relentless Republican assault on basic health and environmental protections visit: http://bit.ly/1zmBt99.