This week's massive flooding in Colorado shows that climate change doesn't care whether you vote red or vote blue. The flooding, which the National Weather Service has described as "biblical," has devastated towns represented by two members of Congress who seem to have diametrically opposed views when it comes to climate change.
First, let's deal with the facts here. Colorado's Front Range saw incredible amounts of rain in a very short time period during the last few days. For example, the city of Boulder received 17.16 inches of rain in a week. Five people have been killed so far and more than a thousand are still missing as I write this. Actual climate scientists are more qualified to talk about the detailed science that links the ruinous flooding with changes in climate (here and here, for example), but suffice it to say that experts have been warning us for quite some time that climate change will lead to more extreme (and more tragic) weather events. This certainly seems to qualify.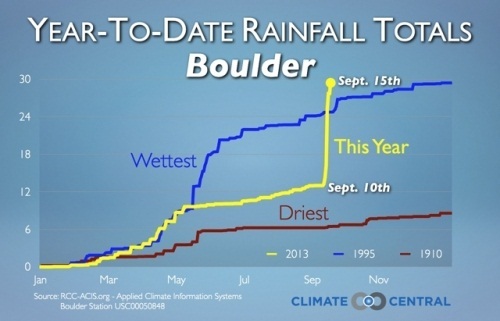 (Photo credit, Dennis Adams-Smith/Climate Central http://www.climatecentral.org/news/flood-ravaged-boulder-colorado-sets-annual-rainfall-record-16481)
Now, let's look at the climate record of two congressmen who represent the hardest hit areas.
Republican Rep. Cory Gardner represents towns like Greeley, Evans and La Salle. Gardner is a climate denier, who has said, "I think the climate is changing, but I don't believe humans are causing that change...". Gardner is a Dirty Air Villain who has consistently opposed efforts to address climate change and has even said that he'd like to defund climate change research.
In contrast, Democrat Jared Polis represents towns like Boulder and Estes Park. You'd struggle to find someone more clearly committed to tackling climate change. Polis is Vice Chair of the Sustainable Energy and Environment Coalition in Congress and a Clean Air Hero. He has called climate change "undoubtedly the most challenging environmental issue of our time" and voted consistently for action to address this challenge. Polis's congressional websitepresciently discussed "more intense storms" and "increased likelihood of flooding" in his district as likely outcomes of a changing climate.
Unfortunately for Polis, climate and weather don't care that he's right when it comes to climate science and his neighbor is wrong. Polis's district wasn't rewarded for his votes in favor of climate action. Gardner's district wasn't punished because he fails to acknowledge the science. And nothing we can do now can undo the damage done or bring back the loved ones lost in this flood. All we can do now is hope, pray and work hard to convince the Gardners of the world that it's time to open their eyes to the world around them and change their minds.