Today U.S. Senator Martin Heinrich (D-New Mexico) stood on the floor of the Senate and delivered his first speech as the newly elected Senator from New Mexico. The first floor speech for any member of Congress is a monumental occasion and sets the course for his or her term of office. While Senator Heinrich had a plethora of topics to choose from, he chose to focus on energy and climate change and how his state has and will shape our future.
Not Surprised
Senator Heinrich is a champion for conservation and energy innovation. We knew that when we supported him in his bid for the U.S. Senate in the 2012 election. So today's speech came as no surprise to us at the Action Fund.
Senator Heinrich shared many of these thoughts with the Action Fund when he sat down for an interview for our Running Clean: Good Policy, Good Politics report and video series.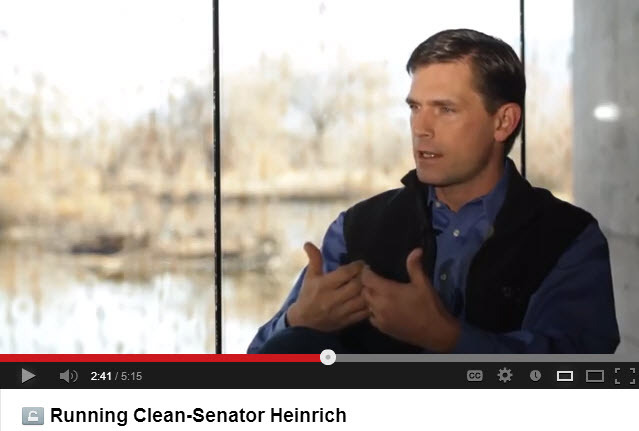 (Watch Senator Heinrich Interview)
In his interview Senator Heinrich said, "I think it's important for people to realize that this new cleaner energy economy is coming. And it's not only critical to addressing climate change, but there are going to be winners and losers within that economy. And there are going to be people and countries who lead and there will be other countries that are going to be following and catching up. I want to make sure that not only New Mexico, but the United States is a leader in that. That we realize the jobs and the layers of jobs from the people who manufacture these technologies to the people who install it, to the people who maintain these technologies. You want to maximize your economic impact as part of this new economy by having all of those things done here. We need to move our energy portfolio in a cleaner, more domestic direction over time. It's not about being right; it's about moving the country forward."
New Mexico as National Leader
In his speech today, Senator Heinrich spoke to the fact that New Mexico has built its economy around innovation and technology. Collaborations between the state's national labs, research universities, defense installations and private sector companies have created jobs and lead the way on developing new frontiers.
He went on to remind everyone that while we are entitled to our own set of opinions, none of us are entitled to our own set of facts, especially in the context of climate change. He urged the Senate to better use facts, data and science to address the challenges we are facing as a nation as our climate continues to change. And in a bold statement, he called on his fellow Senate members to think big and to commit to solving climate change within the decade.
Refreshing
In today's political environment, isn't it refreshing to see a candidate elected on his principles and then sticking to them once they arrive in Washington, DC? Senator Heinrich is part of a new crop of leaders from a state ready to lead on progressive energy and climate policy that will protect our health, environment and create jobs. This type of courageous and inspiring leadership will be our nation's path to energy and climate security and economic prosperity.