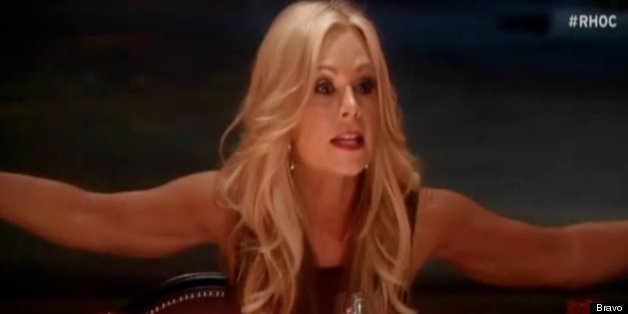 Note: Do not read on if you have not yet seen Season 8, Episode 4 of Bravo's "Real Housewives of Orange County," titled "It's My Party and I'll Scream If I Want To."
Before launching into this recap, I must divert your eyeballs to Huffington Post contributor/NBA legend Kareem Abdul-Jabbar, who posted a whip-smart, utterly engrossing take on "The Real Housewives" and the reality genre at large.
To see his theories in action, let's ease on down the 405 for the latest installment in the "OC Housewives" saga, forebodingly titled "It's My Party and I'll Scream If I Want To."
Le shriek ... c'est chic? We shall see.
We open on Vicki, wearing a sausage casing-taut maxi dress in cascading tones of red, white, blue and puzzlingly, purple. Alexis stops by to offer her support for Vicki's recent "doctor visit," bearing a welcome-to-collagen gift. It's a bejeweled mirror, to make Vicki realize how beautiful she truly is. A questionable choice for a freshly minted plastic surgery junkie, but I'll give Alexis props for good intentions.
Tamra and Eddie's CUT Fitness opening gala is this week, and Vicki implores Alexis to be her date. This seems a bit suspicious -- a whiff of producer prodding. Why would Alexis, who is vocal about being on the outs with the group, put herself in that precarious position? The thin rationale is that Alexis is Vicki's new BFF and will go into the shark tank to support her.
Alexis announces that she'll also bring new cast member Lydia along for the ride, and caveats this with, "You think I'm Christian? Lydia is Christian on steroids." Eek.
We alight to Heather and Terry's manse, where Heather drily asks her husband if the electric fuchsia blousy look she's working is a good "radio outfit." Apparently Heather is an occasional guest host on KFI AM 640 (literary nerd note: This is the station of right wing-nut John Ziegler, as profiled in David Foster Wallace's legendary Atlantic essay, "Host").
The on-air topic is, of course, bullying. Heather speaks of being bullied at a young age and how it drove her into The Theater, as Terry looks through the glass adoringly. Next, Heather and Terry go out on the town with Lydia and Doug at a nondescript Mexican restaurant of the upscale airport-bar variety.
They discuss the lingering possibility of the Dubrow's house being featured in Beverly Hills Lifestyle Magazine. Doug demurs, "I wish I could offer you the cover, but I have to go with a household name, like Helen Hunt or Kristin Chenoweth."
In other words, major A-list. Heather is not amused.
Lydia rolls her buggy eyes skyward and deflects conversation to the social event of the season -- the CUT Fitness dinner. "I'm excited to meet all the ladies," she says, sounding appropriately terrified.
Meanwhile, Slade is heading to New York to see his 12-year-old son, who is having surgery for an unnamed condition. It sounds serious. Gretchen interviews that it will be hard on her, because she's used to being with Slade every day. Then she sheds some tears on her turquoise rope necklace over Slade's plight as a father with a sick child. Despite last season's Slade-as-Deadbeat-Dad storyline I genuinely feel for him and hope for the best here.
Preparing for their CUT Fitness unveiling, Eddie patiently deals with a Tamra-Tantrum. Yes, she allowed that Alexis could come to the party, but she doesn't want to hear any (finger quotes) bully nonsense. Then she says her stomach hurts and she's going to the bathroom to "get it all out of her," at which point Eddie says, "Oh baby, don't forget to flush."
Is this a thinly veiled eating disorder reference or just a case of garden-variety irritable bowel syndrome? I'll be charitable and assume the latter.
It's party time! CUT Fitness has been transformed from a nondescript concrete bunker to an "amaze-balls" pink-lit, rose-bedecked relatively high-end caterer-devised paradise. Tamra hovers over the dining room table and makes a point of pointing out customized "special glasses for special friends" (a.k.a. Gretchen, Heather).
Over classier stemware at Chez Dubrow, Gretchen and Heather pregame and mull over the what-ifs. Gretchen thinks it's crazy that Alexis is going to the event, botches a "Mean Girls" lunchroom metaphor, and intones that Alexis is "asking for it" by attending the party. Which .... is, um, bullying, right?
Meanwhile, Vicki, Alexis and Lydia convene at Vicki's place. It turns out that Lydia, in addition to being a hugger and 'roiding Christian, is also a "Woo-Hoo"-er and hence, Vicki is enamored. The lines of demarcation are clearly drawn.
Since "Housewives" consider bogus spiritualists to be on the same rarefied plane as chilled moscato, Tamra has enlisted a psychic to come in and read/bless the CUT space before her guests arrive. It is deemed that all will be well in a few weeks hence, but not tonight. Tamra's trepidation deepens, as she declares that she's going to look Alexis in the face and say, "Why the f*** are you here?"
Which, pause for a moment. I understand that these two have issues. We know that Alexis (or her Disneyworld Country Bear Jamboree husband Jim) threatened to sue Tamra after alleged derogatory comments last season. But Alexis was, albeit as a plus-one, invited to the party. Tamra had the option of turning her down. And she didn't. So, the right thing to do is to welcome her and be as decorous as possible, correct? As un-bullying as possible?
Instead, as the group enters, Tamra goes crazy-shark-eyed and intones, "There she is. The girl that wants to sue me. Walking into my business."
And walk in Alexis does, along with hapless Lydia and frozen-faced Vicki who brandishes an oversize orchid/succulent planter reminiscent of the Adrienne Maloof arrangement-of-shame. There are stilted greetings all around.
Gretchen and Heather arrive. Heather adroitly remarks that the décor looks like "The Bachelor." Everyone takes a seat, sipping mojitos in lowball glasses. Alexis tentatively congratulates Tamra on her business acumen, saying, "It takes a lot -- anything, a small dress line, it takes a lot." To which Gretchen makes a jerk-off motion.
Now it's ON. Two couches, two sides: Lydia, Alexis, and Vicki versus Heather, Gretchen, and Tamra. Lydia gives Gretchen a backhanded compliment about being too pretty to not be married yet. Tamra touts the industrial nature of the space, and then Vicki announces that her company, Coto Insurance, is just across the street, which is perfect in the event that someone gets injured at Tamra's gym.
"This is so beyond awkward and weird," Gretchen accurately assesses. As viewers of these shows, we've collectively sat through a lot of tense dinners, but this one takes the crab cake.
Tamra stares smoky-eyed daggers at Alexis and says, "I have to be 100 percent honest. I don't know why you wanted to come here. The last I heard from you, your husband wanted to sue me."
Alexis pulls the now officially maxed-out bully card and says, "I don't need to get ganged up on once again," pointing at Heather.
Heather counters, "Don't point your finger at me."
Then, after Alexis bleats out a protest, Heather says perhaps the greatest dinner party diss of all time: "I've glazed over. I can't hear you anymore."
Alexis then sallies forth, ordering Heather to stop talking, and at long last, Tamra has had "enough." She kicks Alexis out of the party, semi-physically removing her from her chair. Then, she demands Vicki to choose sides -- now.
I don't know about you, dear reader, but I've certainly found myself on the wrong side of a good friend and it feels, for lack of a better word, miserable. It's a heartache that cuts deeper than romantic loss or familial estrangement, because so often it is our female friends that we love the most purely; that we relate to with the deepest complexity, and that we give to so freely, with nothing in return but the promise of their acceptance and companionship. And when, through the faults of our own or out of unforeseen circumstances, that friendship is abruptly cut off, a chilling, confusing sort of terror sets in -- a despair that settles like a discordant cloud of Saks perfume samples at a CUT Fitness soiree.
For the love of Kareem Abdul-Jabbar, help me understand these women's bizarre machinations. You there, sharp-eyed commenters, please assist in making some sense of it all!
Next week, Vicki faces Don withdrawl. Alexis plans her revenge. There are seemingly fresh roots on everyone! Till then, my friends!
"Real Housewives Of Orange County" airs on Mondays at 8 p.m. ET on Bravo.
PHOTO GALLERY
BEFORE YOU GO
The Real Housewives of Bravo
PHOTO GALLERY
The Real Housewives of Bravo