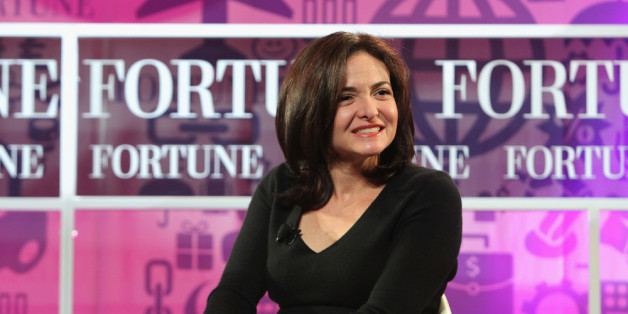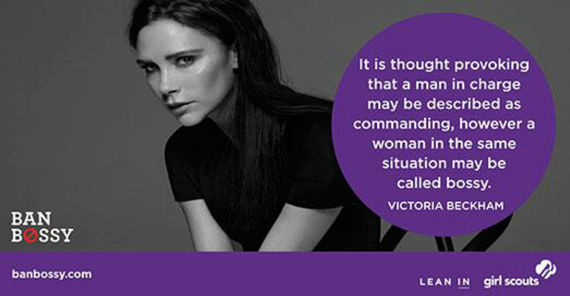 via banbossy.com
Everyone's already written about Sheryl Sandberg and her Lean In organization's new initiative to ban the word bossy. Time magazine even published a roundup of all the coverage because its been so extensive.
Whether the attack is coming from a concerned parent blogger or a highly credentialed cultural critic, the message is the same: Sheryl Sandberg isn't doing enough -- or she isn't doing it right.
• Time's James Poniewozik argues that Sandberg is pushing a different double standard by arguing against another. "Why is the solution to encourage aggressive, domineering behavior in women, rather than discouraging it in men?"
• Keli Goff at The Daily Beast challenges the Facebook billionaire to put her money and influence into things with greater global impact, such as helping the underprivileged and non-white majority women gain an equal footing with their white counterparts. "Trying to ban 'bossy' to improve gender equality is like saying we can solve racial inequality by banning the terms "you talk white" or "act white" in the black community."
• Ann Friedman defined her problem with the "ban bossy" campaign in New York magazine as such: Banning words rather than advocating for greater choices for women is latent feminism. "Despite the nonthreatening tone and digital platform of Ban Bossy, the campaign is an heir to that earlier type of activism, which sought to restrict bad stuff rather than create a compelling alternative."
These are all important arguments. The effort to change the gendering narrative for children should be equally focused on girls and boys. I have a son, and I have as many concerns about the gender trappings to which he many fall victim as I would have with a daughter. I understand the importance of his role, as a future man, to the efforts of feminism. I also know that he, a biracial child, will likely experience the kind of discrimination non-majority races and women have in common.
And it's true that the heavy lifting of feminist work -- and Sandberg identifies as a feminist -- lies not in semantics, but in how the most underrepresented women are being treated. We need to find ways to let victims of abuse speak up in a safe, protected way -- and then implement policies to protect them. We need to do more than just pay lip service to the idea of an integrated feminist movement and actually force the collaborative discussions with women of all races. We need to fix the fucking wage gap, which is even wider for women of color.
I cheer along with these writers as they argue for these things. But I also want to cheer for Sandberg, and here's why.
She's one of the most influential people in the most influential industry in the world -- and she's advocating for women and girls. She developed Lean In to inspire women in the workplace because that's what she knows. She helped change the way women are depicted in countless media by creating a whole new set of Getty Images, featuring women of color, various ages, differing body types, and doing things beyond drinking wine with friends and carrying babies in briefcases. She's encouraging college students to discuss gender politics that undoubtedly influence academia -- both behind and in front of the lectern.
None of this work is helping single mothers in poverty. Lean In circles aren't reaching illiterate teen girls. Fewer instances of "bossy" on the playground likely won't make the girl who is abused find the courage to speak up.
But this work still matters. Something I learned on the journey to my own feminist identity -- and something I'm constantly reminded of daily now that everything I read, write and encounter is influenced by it -- is that no woman is a perfect feminist. And also: No two feminists are alike.
Just as we should not pressure women to "have it all" or be super women, we should not expect every feminist to do all the feminist work at once. Cecile Richards and Planned Parenthood focus on reproductive rights. Racialicious owner and editor Latoya Peterson is a culture writer who has experienced first-hand the dual effects of racism and sexism. Geena Davis experienced sexism in Hollywood and is a mother to girls, so she founded the Geena Davis Institute on Gender in Media to fight for greater representation of women and girls in entertainment. Even Hillary Clinton has a specialized agenda: international women's rights, which draws from her hands-on feminist work as the former Secretary of State.
Sheryl Sandberg knows business, media and academia, and she knows what limits women in these areas. She's putting her expertise to use where it has the greatest influence. Whether Ban Bossy effectively changes how girls are labeled for all time, or increases the confidence of just a few, it's work worthy of praise.
Everyday, non-famous feminists such as myself do this too -- and I truly believe this is where we all have the greatest power to change things.
I'm a writer and a teacher, so my most effective work is making conscious choices about the things that I cover, and helping women find their voices through their own writing.
Carefully guiding a young woman to complete an essay that makes her proud is the feminist work that gives me the most hope -- whether that young woman is a college student in one of my classes, or an Afghani woman who has compromised her safety in order to sneak to an Internet cafe and express herself, an act made possible by the wonderful Afghan Women's Writing Project for which I volunteer as a mentor.
None of us should lose sight of the big picture of the fight for gender equality. But if we can all make little dents where we have the potential to make the most change, that picture will continue to improve.