This post is a continuation of the events at Art HK 12 as recorded here.
Friday, May 18, 2012
Running back and forth from Art East Island (Chai Wan) back to the gallery in SoHo and to the fair and back again in the pouring rain -- no matter how much you prepare for a fair, small details are always overlooked and dealt with at the very last minute.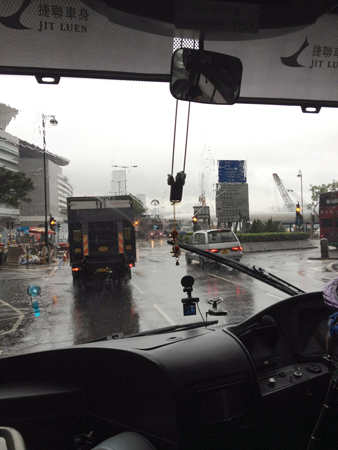 Taking a group of early bird visitors to Art East Island in Chai Wan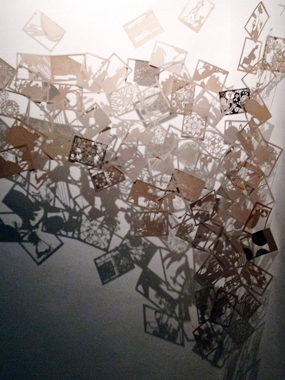 Beautiful shadows from Hong Kong artist Carol Lee's show as part of the Art East Island event.
One never really knows what to expect from booth visitors. My conversations with potential clients have ranged from topics such as cow parades, the vulgarity of Buddha sculptures with signatures, luxury property development in Tai O (an old fisherman's island of HK rarely visited by anyone I know), macrobiotic diets, and a gentleman who mistook me as hailing from Luxembourg and was convinced we had met there before years ago. Interesting encounters.
As fairgoers clumped around Petroc's "Élan Vital," we decided to lay a boundary of masking tape around the sculpture in efforts to dissuade climbing, fingerprints, and face-smearing on the glass sphere and stainless steel podium. In the end, our genius idea was only mildly effective.
Attempting to remedy the fingerprint situation.
Afterwards, headed to an event at the Diesel store in Central: There seems to be a trend of executing parties in retail environments with young lanky people spread out here and there. Didn't remark much going on so I met a friend at the hip gallery, The Space, where I ended up wading through the crowd of tattoos, backpacks, and printed dresses to see the exhibition. A showcase of young British artists was on display including works by Rob and Nick Carter and an alarming holographic portrait of Queen Elizabeth II.
The Space hosts an evening cocktail introducing a selection of works from rising and established British talents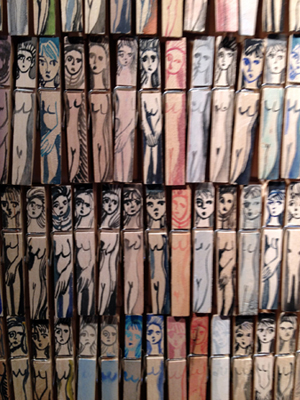 Peg Painting by Annie Morris.
Saturday, May 19, 2012
Arrived at the gallery early to help set up for our brunch event with artist Ai Yamaguchi and director of Mizuma gallery in Tokyo, the effortlessly cool Mizuma-san himself. Visitors helped themselves to croissants and coffee before taking their seats to listen to a presentation by both artist and curator on the subject of Japanese contemporary art today.
A talk on Japanese contemporary art takes place at 10 Chancery Lane Gallery in presence of artist Ai Yamaguchi and director Mizuma of Mizuma Art Gallery, Tokyo.
Later in the day, a friend pops by the gallery in hazy state quipping that she will need at least a month to recover from last night's after-party with the Saamlung Gallery. Somehow she ended up in a karaoke bar in Wan Chai with a group of people vowing to "only stop by for 10 minutes to say hi" ending up being the last ones belting out show tunes at 3 a.m.
Today is also the official opening of Chai Wan Mei. Twenty-five spaces including workshops, studios, and installations in Chai Wan's industrial spaces open their doors to the public. As Chai Wan is increasingly becoming home to many local artists and creators, it is a wonderful way to make use of old factory spaces in Hong Kong and for creatives to gain exposure during the period of Art Fair.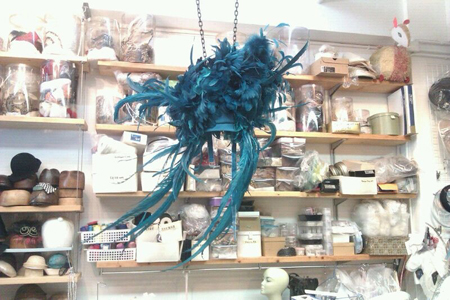 One of Hong Kong milliner Jay Cow's exquisite head ornaments created in his Chai Wan studio
Sunday May 20, 2012
Last day to close the deals. We are mustering up the last bits of our internal forces to make the final moments count. Our eyeballs are hurting from the accumulation of the past few nearly-sleepless nights and ongoing level of alertness, but the adrenaline is still buzzing in our brains...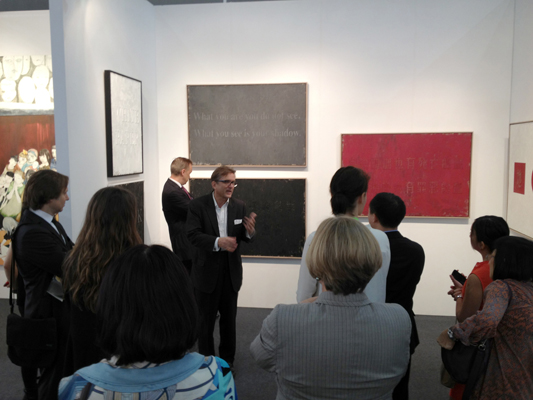 Georges, Hedge fund manager and husband of director Katie de Tilly, gives a talk to a tour group visiting our booth.
It is quite extraordinary that some exhibitors take the risk of putting forth six months of operation costs in order to be represented at the fair. I realize I didn't get to see much of the works on display other than what I observed while purposefully choosing an alternate route to arrive to the booth every morning. Luckily I have my network of fair-attending friends to 'what's app' me photos of works they find interesting.
At Osage Gallery Hong Kong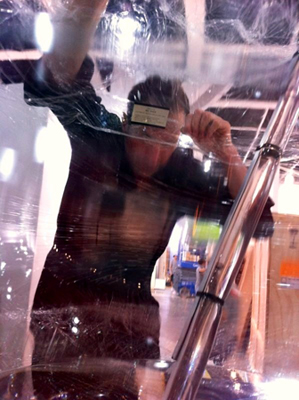 Artist Petroc Sesti dismantling his masterpiece
Huge thanks to my dedicated colleagues of boundless energy and enthusiasm and our legendary artists (Huang Rui, William Furniss, Ken Matsubara, Dinh Q. Lê, Ai Yamaguchi, John Young, Shi Guorui, Petroc) for their hard work and contagious spirit. Despite the grumbling and manual labor involved, we are all overjoyed to participate and can't wait to see what the Art Basel production next year will bring. Stay informed of 10 Chancery Lane Gallery's events through facebook, and sign up for the e-mailing list to receive invites on upcoming exhibitions!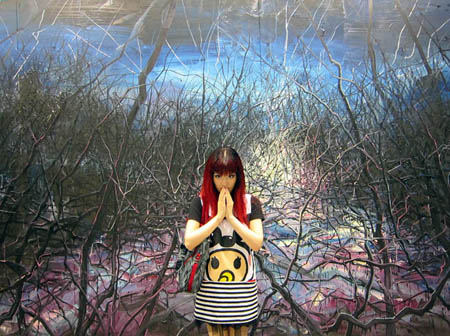 La Carmina at Art HK 11
And check out a glimpse of last year's fun at Art HK with gothic blogger/author/fashionista extraordinaire La Carmina.