In the chaos of a digital life it seems harder and harder to find the sacred, those singular epiphanies when a body of work or reflection of society in art stops us in our tracks. Moments where the screen disappears, the chaos of childrearing, and exhaustive schedules and noise cease to exist because what stands in front of us is arresting, beautiful and singular.
I stumbled upon three new artists that nourished and I wish I were telling you that I were in Dubuque, or some far flung corner of Vermont when I had these experiences because they surely exist there; but rather, they were in the epicenters of chaos New York City and the heart of Harvard Square, a melting pot onto its own. Perhaps it was that juxtaposition that made them so powerful, stacked back to back.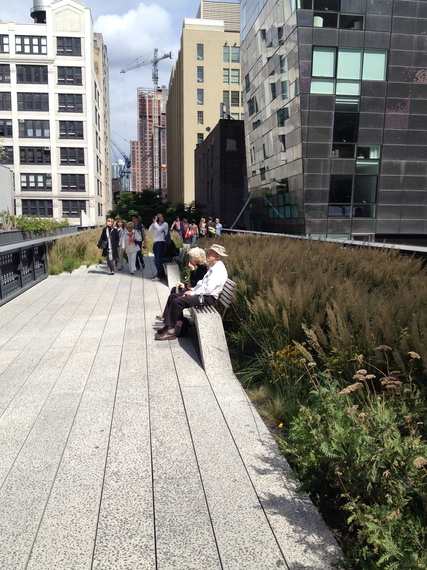 Last week in New York City I finally had a chance to walk the High Line. For years I have been reading my children The Curious Garden by Peter Brown, a darling book about a boy who plants a garden on an old rail line and excited to find the time to walk the path. Last Valentine's Day I took my husband of 14 years to a talk by the acclaimed landscape architect for the High Line, James Corner, where we pored over slide after slide of his engineering, vision and plant species projected on the wall inside the new addition by Renzo Piano of the Isabella Stewart Gardner Museum. Reading to children Renzo Piano's work, a Valentine's Day that actually involved a date after many years of marriage -- you're thinking these were my moments. Nope. I mean they were great and lovely but the moment came as I walked the length of the High Line for the second day in a row.
The High Line delivers. Languages, ages, and styles transcended the walk. Everyone seemed to be there: Every nation, every age, every wild botanical species one could imagine, allowed to germinate and run the length of the rail and yet placed inside of it, I felt incredibly at peace. There was tranquility to the walk while traffic rushed down 12th and 11th. It was a glorious fall day in New York City. Golden light flashed off the metallic sheets cutting across one building while cranes lifted steel beams another yard ahead. The grey stone glimmered against the translucence of the glass wall where passersby sat and watched the tableau of real life unfolding. It was religion.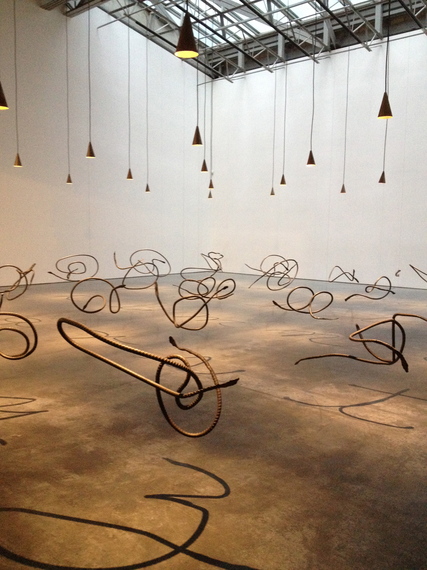 A friend has suggested a few galleries on West 22th and West 21th where the High Line ends. I have tried to visit many of them before, in an attempt to explore something new and different that the normal consumptive state that seems to take over my visits to NYC and often failed. This visit I was determined to check them all off. I went through one, then two and tried to applaud and appreciate the motel photography of outlaws and the scribbles and sketches of a poet. They were good. Better than anything I could create. They made me think but thinking is not something I am lacking. I was looking for God. Then I walked into the Gladstone Gallery and my jaw dropped. I stood alone in the corner of the 100-square-foot space and literally giggled, then felt like praying, then writing poetry and finally crying. Damian Ortega's centerpiece of twisted steel rebar sculptures is a solitary experience that cuts to the core. A private foundation in Canada has purchased the entire installation and all I could think was, please put it in a public space where I can visit it again and again. It felt like an altar, an altar to what is possible for one person to create out of nothing, in life. It was arresting. It was beautiful.
The High Line and Ortega were within a 24-hour moment. That is enough to convince any cynic that I was clearly in an otherworldly state (48 hours away from kids and said husband on a girls trip), calm enough to appreciate what was in front of me, or simply in NYC in the fall -- a drug onto itself.
Until last Friday night, when I sat down in Club Passim in Harvard Square, long home to early musicians breaking onto the scene. Rose Cousins, a university friend of my sister's from Halifax, Nova Scotia, Canada was playing off her new album. I had heard her at the Frye Literary Festival in New Brunswick, Canada in April 2012 and was mesmerized. I knew that in the past year the rest of the country was taking notice, she had recently been awarded a Juno for best Canadian folk artist, but deep down I imagined it was my own pride of place that drove me to drag everyone to see her. Surely like all of us, we clamber back to music that reminds us of our place of origin, to youthfulness that we can revisit and this was simply an indulgence that satiated a longing for what once was. But arriving late and cramming into the dark subterranean space (Passim holds about 70 people), shoulder to shoulder with strangers who had been seated before they dimmed the lights, she sang. How could I be privy to another incredible moment in just one month? I felt like a moment magnet being shuttled from one religious experience to another without a mission.
Next to her cellist, Cousins started to sing her soulful and achingly beautiful poetry and again I felt this rise of deep gratitude for something real that pulls us out of the smartphones, the screens, the chaos and renders us into the design. I invite you to listen to "Go First" or "One Way" and be mesmerized. For it is these communal moments uncloaked from any religion, these offerings called a real experience that brought me the sacred in a way that seems new and daring. I am going to be bold and say, the visionaries know that we are lost and they are begging us to experience what they can create for us all to share.

Heidi Legg writes about visionaries, thinkers and smart people at www.theEditorial.com