Summer has the undeniable quality of discovery. Be it to explore places of great history and absorb acculturation or simply return to childhood summers with their familiar dirt paths, ice cream shop, and for many, a wharf. And in 1937, a floating wharf for luxurious seaplanes.
Summer for me will forever be associated with jumping off the wharf, mooring to the wharf, youthful loitering and drinking on the Pointe-du-Chêne Wharf in Shediac, New Brunswick, Canada. It is a place where only my most trusted urbanite friends have been invited to visit, where I bring my children and husband to share the lore and reunite with friends whom I have known for 40 years. It is rectangular wooden edged wharf with a lighthouse, breakwater, marina and dotted fishing shacks selling trinkets, Moosehead beer, fried clams and lobster traps that I presume no one but my neighboring Acadians with their joie-de-vivre and extended families, by the camper-full, call a destination. But this summer the world opened up. I noticed a newly minted plaque hinged on the eroding wood and asphalt.
I had no idea that our beloved wharf was built in 1937 by the Pan American Company as a floating wharf for its Boeing 315 Clipper seaplanes carrying passengers and airmail between America and England.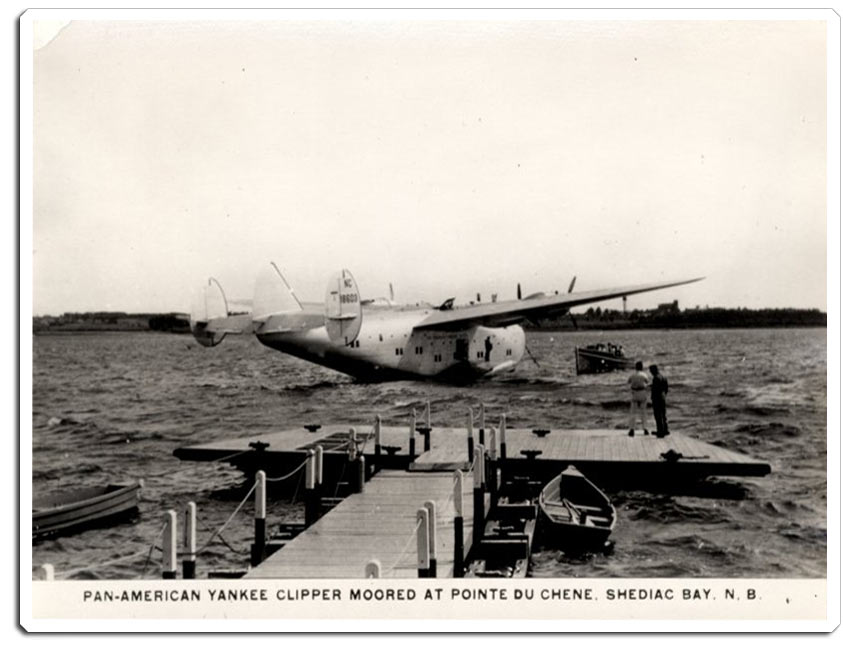 photograph permission from the Pointe du Chene Harbour Authority
Glamorous movie celebrities, privileged passengers and politicians paid $375 for the one-way trip from New York to Southampton, England. In those days, the same price as a car. The full service, elegantly hosted flight took 30 hours. Efficient, exceptional travel for the Casablanca and Great Gatsby set, circa 1938.
The Boeing B-314 Clippers were the biggest civil planes with a high level of security, comfort and speed. A seaplane that landed on the sea not an airstrip and powered by four propeller engines, it was the fastest way to travel out of Britain, transatlantic, before the start of the Second World War. The luxurious flight with its flush passengers in stylish travel dress would stop intermittently during the flight at Foyne, Ireland; Botwood, Newfoundland, and at the floating wharf in Pointe-du-Chêne, Shediac Bay for mail, maintenance and fuel supply.
Beneath the laminated sign that now venerates our wharf is a dinner menu from 75 years ago not dissimilar from what one might expect in first class today... minus a vegan option or raw juices. The menu shows that the privileged few imbibed in a bar Hemmingway and Lady Ashley would respect: Champagne, Cognac, liqueurs, spirits, red and white wine, premium beer, and aperitifs. Freshly prepared Norwegian smoked salmon, filet mignon with Zinfandel red wine sauce served with Dauphinoise potatoes and California baby vegetables or a Filet of Salmon poached with a creamy dill sauce, complimented by rice pilaf and medley same said California produce. The final course was chocolate mousse cake with raspberry coulis.
How was luxury flying different than today? Six times longer with intermittent desolate stops, a full service dining room with amusingly beverages that read more like a roadside diner: Taster's Choice decaffeinated, Coffee, Country Time Lemonade, Canada Dry Beverages, Pepsi, Coca-Cola, Diet Coke.
I cannot help but imagine a rich heiress or Countess stepping off for a breath of sea air only to disappear down the dirt red roads in search of a new life, an escape from something tempestuous, suffocating and into the arms of a French Acadian fisherman who delivers her safely back to the flight, loved but unharmed. Or a rugged Humphrey Bogart taking a beautiful French Acadian heroine, immortalized in Henry Wadsworth Longfellow's epic poem Evangeline, as his companion while having a smoke under the lighthouse as the night air rolls off the Northumberland Strait and convincing her to join him for the remaining flight to New York. This until her Acadian mother demands her daughter's safe return... or, perhaps, two tickets to Delray Beach for the winter.
The service was regular until 1939 but carried over in a near regular fashion during the Second World War. Ken Follett immortalized the story of this flight in 1991 in his novel Night Over Water, noting the stop in Shediac. I always knew there was an allure to this wharf. Now I know why.