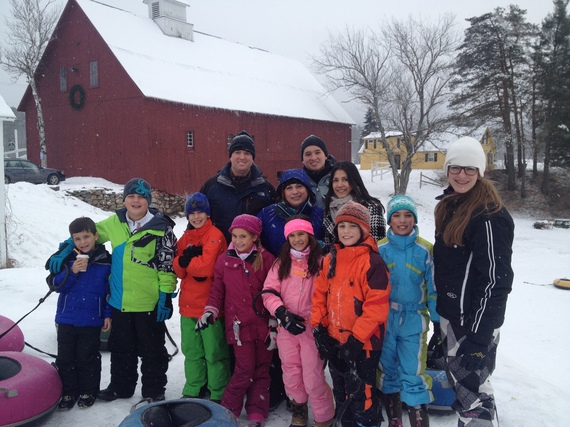 On a blue bird day in the North East, in the tiny town of Franconia in the White Mountains of New Hampshire it was seven degrees Fahrenheit. A red barn, normally the birthright of Vermont, houses horses for sleigh rides and up the hill Robert Frost is said to have written "The Road Not Taken." So the last thing I expected to hear in sub zero temperatures in front of the roaring fire was this. "We love coming here every year from Miami."
I'm like, "Whaaa?" And they were like, "yes, Miami, Florida."
"It is a great sense of wholesome family and adventure in the outdoors. It's an experience you don't have anywhere else," says Marilu Lawrence who comes to the Franconian Inn every New Year's with four to six families from Miami. "There are 20 to 24 of us each year. It started about eight or nine years ago when one family discovered this really wonderful inn and we all decided to come up and join them and now, we take over."
For almost a decade, a gathering of Miami families led by patriarch Ralph Penalver and his wife Ana, includes his three brothers and additional families and friends. Each December they gather every layer they can find in their closets to fly to Boston and drive deep into the White Mountains for a week of skiing, sledding and outdoor revelry in frigid temperatures and blue ice.
"It's wonderful! We love it because it is always so warm in Miami and it is such a great change, and the kids love it. It is such a family-friendly place," said Lawrence. Since they began the migration, all of them have learned to ski and snowboard.
"For some of us it was our first time seeing snow. Many of the adults were born in Cuba but we are all Americans now."
When the trip comes to an end this week, they will give out their annual awards: Most Improved Skier, Best Ping Pong Player, and Biggest Diva named after their favorite beauty salon in Miami.
On the last morning of 2013, my daughter and I sled down an icy slope where barren trees were crystallized under the morning sun and snapping branches cracked loudly against the silence of a hibernating world. Her cheeks burned red from the cold wind as we held on tightly amidst barrels of laughter from the Miami children riding next to us. In forty-two days we have tickets to fly south, in four more months we will see the blooms and buds return, but for now, I see the beauty in seven degrees thanks to the Penalvers. At least, I do under all this down.