While in India, I'm still amazed how useful Facebook is for news. Similar to my Michael Vick post, I became aware of ridiculous cowtowing via a FaceBook group, clearly named:
Boycott UFC - Dan Hardy's "Tibetan tattoo' wiped out to please China.
After a quick Google search (and by the way, props to Google for HAVING a spine as their move from China accelerates) -- I was indeed quickly able to find this image: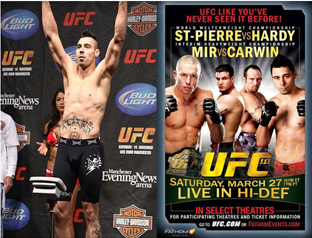 The UFC is 'erasing' the Buddhist prayer of Compassion tattoo from one of its fighter's bodies for their promotional materials to gain China's favor?
Hardy is rumored to have said:
"It doesn't really matter to me. Obviously, it would have been nice to have the tattoo on there, but at the end of the day, you can see my face, and that's the important thing. If they'd airbrushed my face off, I'd be a bit more concerned."
Perhaps he should change the mantra, sacred to so many, to something more fitting for his actions: "Oh Money, Pay Me Soon."