I was only six years old when the Second World War ended. There was a radio broadcast announcing Germany's surrender. I remember how relieved everyone was. No more nightly alarms. No more running from my grandparents' house into a nearby field when bombs began falling from the sky.
It was a happy day, but life did not get much easier when the fighting ended. My father had been killed in a bombing raid less than two months before the end of the war, leaving my mother to raise me, my three-year-old brother and our soon-to-be born sister. Food was already rationed during the war, but after the war the rations got even smaller. When I got a mild case of tuberculosis, my uncle, a doctor, exaggerated the severity of my illness just so I could get extra food rations to share with my siblings. The two winters after the war were exceptionally cold and there was no heat. I remember wearing scratchy woolen clothes made for me by one of my grandmothers or aunts. I also remember I was still very, very cold.
It must have been in 1947 or 1948 when my mother brought home a package given to her by the church we attended sometimes. Inside the box there was food and a dress with a very full skirt. It was almost impossible to buy clothing or fabric in Germany at that time other than on the black market, so my mother unstitched the dress and used the fabric to sew dresses for my sister and myself.
I can still remember how happy my mother was to receive these gifts. And also how surprised we all were. The gift was a CARE Package -- one of 100 million such packages of food, clothing and other vital supplies donated by Americans in the aftermath of the Second World War.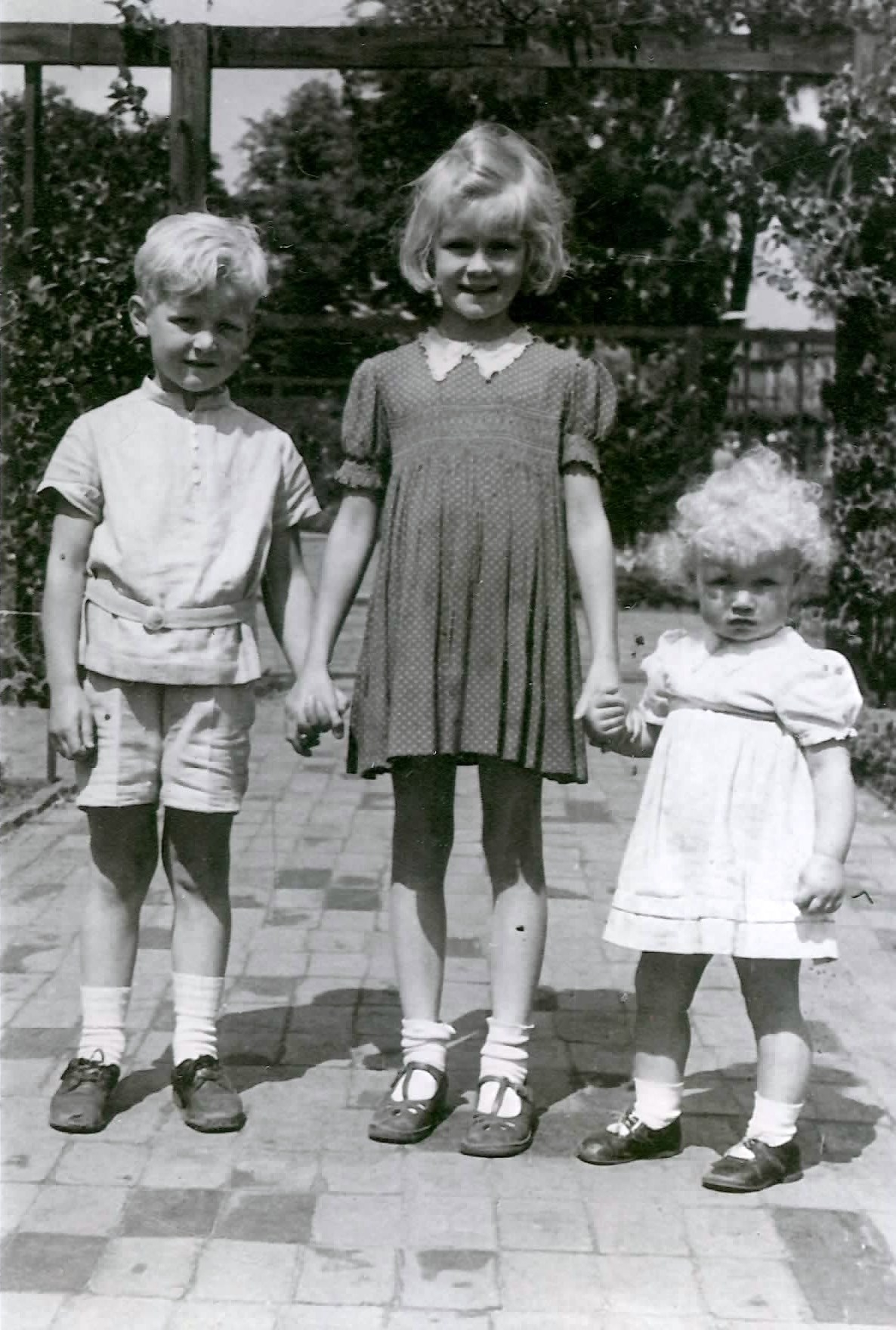 Photo courtesy of Heinke Clark. Heinke Clark (center) and her family received a CARE Package from an anonymous American donor when she was a child in Germany. More than six decades later, it still reminds her that generous giving is one of America's greatest attributes.
Why would someone in the United States send such an important gift to far-away strangers? And not just any strangers. We lived in Hamburg. We were Germans. I was too young to understand the war or its causes, but I was old enough to know that Germany had been America's enemy in a war that had left many Americans dead. Still, Americans had reached out to us in the spirit of kindness and generosity. I located America on a map and wondered who these people were and if I would ever meet any of them. It was an early lesson on the power and meaning of charitable giving and it stayed with me.
I came to the United States in 1967 and, over time, embraced the American spirit of sharing and generosity. Charitable giving became an important part of my life. Eventually I discovered that the same organization that sent me CARE Packages still existed and was still helping people around the world. I became a CARE donor and then a volunteer.
Like a lot of groups that work in global development, CARE's understanding of poverty around the world has evolved since the days when they were shipping CARE packages to families like mine. Today we know that smart, sustainable aid isn't simply about helping people, but about giving people the tools they need to help themselves; tools like education, access to health care and access to basic financial services. To paraphrase an old saying, when you give a woman a fish, she'll eat for a day; when you offer her the tools and access she needs to fish on her own, she and her family can eat for a lifetime.
The U.S. economy isn't in great shape and a lot of people are struggling. But there are still many of us in the United States who can easily afford to make a donation to help people who are less fortunate. Each gift sends a powerful message, something I learned firsthand as a child. Our willingness to share what we have with others is one of America's greatest traits. This holiday season, find out more about how you can help.
Heinke Clark received a CARE Package from an anonymous American donor when she was a child in Germany. Today she lives in Seattle and is a CARE donor and volunteer.
This blog is part of our #GivingTuesday series, produced by The Huffington Post and the teams at InterAction, 92nd Street Y,United Nations Foundation, and others. Following Black Friday and Cyber Monday, #GivingTuesday - which takes place for the first time on Tuesday, November 27 - is a movement intended to open the holiday season on a philanthropic note. Go to www.givingtuesday.org to learn more and get involved.