This time of year brings cooler weather and warm comfort food. On a chilly day, our family's favorite fall meal is anything made in the Crockpot. The comforting aroma of a Crockpot meal is everything we love about fall wrapped up in one easy dish.
This hearty soup recipe is just that. I took traditional escarole and bean soup and increased its nutrient power by adding kale and sweet potatoes. Sweet potatoes add fiber, calcium, and iron. They also give us a boost of vitamins A and C, which is much needed during flu season. Sweet potatoes may even help regulate blood sugar levels. Kale is a great source of fiber, vitamins, and minerals that make this soup even more nutritious. For those that like a little more protein in their meals, I also added lean Italian turkey sausage. The turkey sausage provides a nice balance of flavors and satiety to an easy family meal.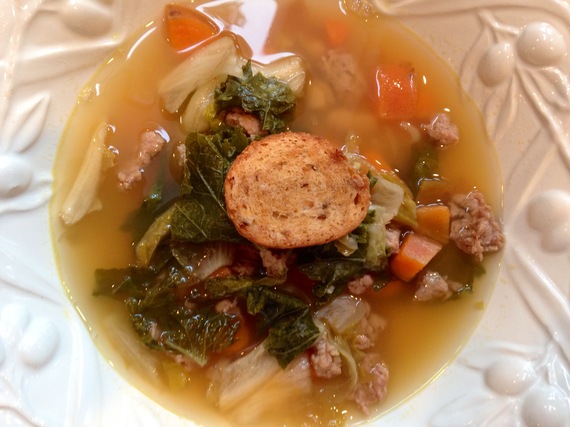 Ingredients

(10-12 servings)
1 tablespoon extra virgin olive oil
1 Parmigiano Reggiano rind
2 cloves garlic, finely chopped
2 large sweet potatoes, chopped
sea salt to taste
pepper to taste
2 (32 oz.) boxes organic chicken broth, low-sodium
4 cups escarole, chopped
4 cups kale, chopped
1 (15.5 oz.) can cannellini beans, drained and rinsed
1 pound Italian turkey sausage (optional)
Directions
1. Drizzle olive oil on the bottom of a warm crock-pot. Add the Parmesan rind and garlic.
2. Place the sweet potatoes in the crock-pot, season with salt and pepper.
3. Add the remaining ingredients.
4. Set crock-pot on high heat for 4 hours or low heat for 6+ hours.
5. Ladle soup into bowls and top with whole grain crostini.

~Enjoy Healthy Easy Crock-Pot Soup!
For more healthy recipes and nutrition advice visit ProNutritionConsulting.com and "Like" Professional Nutrition Consulting, LLC on Facebook.