This easy 3-ingredient peanut butter mousse is satisfying and guilt-free. Peanut butter is a healthy fat and it's a good source of protein, which makes this mousse an energizing snack or dessert. Serve it by itself or double the recipe and use it as a decadent pie or cake filling. Our family enjoys it as a dip with sliced bananas and strawberries--nutritious and delicious!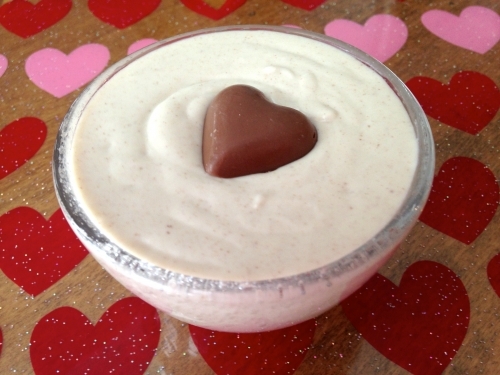 Ingredients
1 can (13.5 oz.) light coconut milk, unsweetened
2 1/2 tablespoons creamy peanut butter
1 1/2 tablespoons honey
Directions
1. Refrigerate 1 can of coconut milk for at least 4 hours. Remove the lid and scoop out the solid cream into a mixing bowl.
2. Add peanut butter and honey.
3. Use a handheld mixer for approximately 1 minute or until mousse is light and fluffy.
4. Serve immediately or chill until mouse reaches desired firmness.
5. Top with whipped cream and chocolate shavings, or use as a dip for fruit.
*Use regular coconut milk for a traditional firmer textured mousse.
~Healthy Happy Eating!
For more healthy recipes and nutrition advice visit ProNutritionConsulting.com and "Like" Professional Nutrition Consulting, LLC on Facebook.