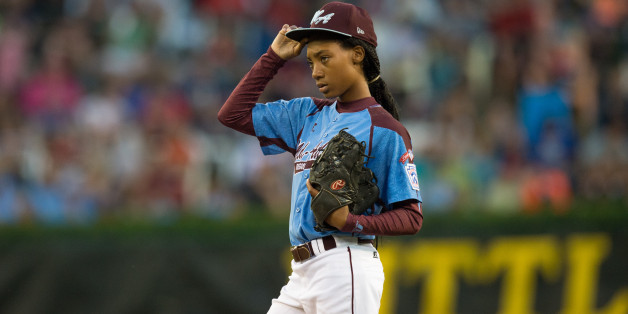 What can I say about Mo'ne Davis, but wow! This 13-year-old girl has the entire country talking, as her pitching skills have helped to lead her Philadelphia Little League team to the Little League World Series. This month, she led her team to a 4-0 victory over Nashville becoming the first girl pitcher in Little League World Series history to earn a win through a two-hit shut out. Now, this young phenom is gracing the cover of the world's most well known sports magazine -- Sports Illustrated. It's the first time that any Little Leaguer -- boy or girl -- has been featured on the cover. Mo'ne is one of only 18 girls (out of nearly 9,000 total players) to have played in the Little League World Series since it began in 1947.
Mo'ne has accomplished so very much at the young age 13. So what can we learn from her steadfast competition and humble nature? A lot. Here is a list of four things that I believe girls can learn about leadership and success from this inspiring athlete.
You cannot succeed alone.
Sports is one of the best ways for girls -- and boys -- to learn about the world. In team sports, you learn to recognize your own strengths and weaknesses, to assist others when needed and to determine when you should lead, or hold back. All of these are necessary skills in order to succeed. In an ESPN Sports Center interview, Mo'ne talked about the importance of teamwork saying, "Without my teammates I don't think we would be here right now." Wise words from a young person.
You will fall; get back up.
While Mo'ne excels at baseball, she is also a basketball player. And I'm sure she has had many moments in both sports where she failed. However, Mo'ne does not seem to be afraid of failing, she just gets right back up and tries harder. This idea of learning to "fail well" is something that is an important ingredient for future success. Former Secretary of State Hillary Clinton discussed this idea, and the importance of sports, with me in April when she was the keynote speaker of the 2014 Simmons Leadership Conference. During our conversation, Secretary Clinton said:
... in the suburb of Chicago where I grew up ... school was important, but sports was important too; winning and losing and getting knocked down and learning to get back up. I was never very good, but I was game ... Years later I saw research that said that girls who played sports were more resilient because you knew you were going to lose, you weren't going to win 100 percent of the time.
Break the stereotype.
If you told me a few months ago that there was going to be a tremendous 13-year-old pitcher in this year's Little League World Series, I honestly would have pictured a boy. Mo'ne is certainly breaking the stereotype of what we consider to be a Little League champion, and this is good. A recent video from Always looked at similar negative stereotypes related to the phrase "like a girl." It's wonderful for everyone to see that girls can in fact excel in many things like science, math, running... and baseball. Mo'ne has forever changed the meaning of the phrase "throw like a girl." I think many boys (and perhaps even some Major League players) would like to throw like this girl!
Dream big.
In life, it's so important to have big dreams. Mo'ne certainly understands this as she told an interviewer on ESPN: "I want to got to UCONN and be the point guard on the basketball team; that is my dream, and then go into the WNBA!" For those unfamiliar with UCONN, their Division I women's basketball team has won 9 NCAA championships and has produced numerous Olympians and WNBA stars. Not too shabby. I love Mo'ne's self-confidence in proclaiming this "big dream" of hers! And I have no doubt that will continue to be successful in sports, and in whatever else she puts her mind to as she develops into a young woman.