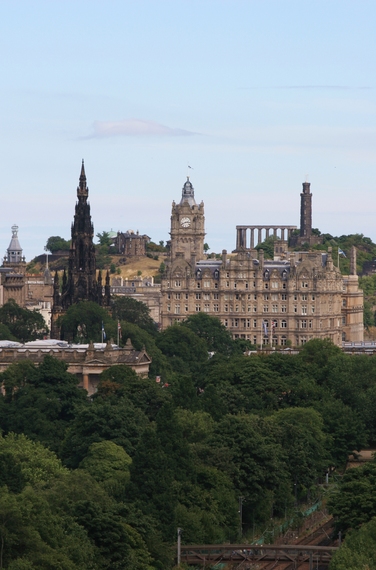 By a "Royal Mile," Edinburgh, Scotland is the motherlode of all festivals. Playing host to a dozen internationally renowned festivals, the capital of the tartan-clad country doesn't shirk from its title of cultural and intellectual crown of Great Britain. In August itself, there are six simultaneously running festivals, including the Edinburgh Festival Fringe, Edinburgh International Festival, Royal Edinburgh Military Tattoo, Edinburgh Art Festival, Edinburgh Book Festival and the Edinburgh Mela.
One of the oldest festivals of its kind, the Edinburgh Festivals began with cerebral aims. In the aftermath of World War Two, as nations around the globe were recovering from awful devastation, the idea sprung from Edinburgh to foster the "flowering of the human spirit" by inviting artists from all over the world to come together. That spirit gave birth to the Edinburgh International Festival. Setting the tone for the alternative nature of the Edinburgh Festival Fringe which started the same year, eight theater companies showed up - even though they were not invited - and put on shows anyhow.
Today, the Edinburgh Festivals include 12 incredibly diverse celebrations that take place year round. The numbers are awe-inspiring. The audience numbers 4 million, outsold only by the Olympics and the World Cup. Over 25,000 artists and entertainers putting on over 1,000 shows on peak days. The late great Robin Williams performed there. Hugh Laurie acted in his native British accent with the Cambridge Footlights, not the American accent he puts on for House. Edinburgh resident J.K. Rowling read her first draft of Harry Potter to 20 kids. Incredible history is made at the Edinburgh Festivals.
Sometimes it might be a hit or miss what you see but that's the great thing about art. The treasures you discover make your heart skip a beat, even it means sometimes digging through the quagmire.
Though August is a peak time for Edinburgh Festivals, you'll find something stimulating and entertaining throughout the year. Edinburgh Hogmanay is now a three-day festival centered around New Year's. You've also got the Edinburgh International Science Festival, Edinburgh Film Festival, Edinburgh International Storytelling Festival, Edinburgh Jazz and Blues Festival and Imaginate Festival.
For more information on all the festivals, go to Edinburgh Festivals.
Here are some highlights of what went on this year:
Edinburgh Festival Fringe
Most people in the world might have heard of the Fringe Festival, only because there's one in practically every major city now. The original Edinburgh Festival Fringe has burgeoned into a cottage industry, spawning Fringe Festivals all over the world, from Philadelphia to Paris, from Taipei to Toronto.
Always pushing the envelope, this year had the most number of shows in Edinburgh's history with nearly 3,200 different performances. Circus was added in the Dance and Physical Theatre category. Children's shows grew by 22%. It's one of the only festivals that doesn't forget that kids are theater lovers too!
For more information, go to Edinburgh Festival Fringe.
Edinburgh International Festival
As the seed fest of the Edinburgh Festivals, there are more than three weeks of a diverse range of dance, opera, music and lectures, capped off with the Virgin Money Fireworks Concert against the backdrop of the iconic Edinburgh Castle to the tune of Tchaikovsky's "1812 Overture" from the Scottish Chamber Orchestra. To commemorate the 100 years since the end of World War I - a war that pummeled Europe in ways that Americans don't quite grasp, this year's theme celebrates the works of artists who rose above their challenging situation to create things of beauty. Scotland goes to the polls to vote for independence and playwright Rona Munro looks back at history with The James Plays, focusing on the three kings of Scotland before the performances are staged in London. From the producers of War Horse, the Handspring Puppet Company restages Ubu and the Truth Commission about South Africa's Truth and Reconciliation Committee after apartheid. Sudanese rapper Emmanuel Jal discussed his transformative experiences from child soldier to rapper and actor.
The caliber of music is so good that BBC3 broadcasts 14 of its concerts live, including the brilliant Frank Peter Zimmerman, Christian Zacharias, Stéphane Degout and Simon Lepper I watched perform at Queen's Hall.
For more information, go to Edinburgh International Festival.
Edinburgh Royal Military Tattoo
A unique parade of military pomp and circumstance with its foundation set firmly in British Army precision, the 90-minute performance has spread its wings to include Zulu dancers, steel drums, motorcycles and camels. Over 46 countries are represented at the lively show. Sold out every year, over 50% of the tickets are bought from overseas visitors and 70% of the spectators come from outside Scotland.
Tattoo, to me, means ink on skin. But apparently, during the 17th and 18th centuries, last call at the pubs in the Low Countries, which includes parts of Belgium, Netherlands and France, was "Doe den tap toe," which meant "turn off the taps." This year, an upstart Edinburgh distillery called Pickering's Gin put out special bottles of gin capped with miniature, puffy, black British soldier hat, called "bearskins" because the real ones are actually made out of the pelts of black bears.
Tickets go on sale on December 1. More information can be found at Edinburgh Royal Military Tattoo.
Edinburgh Mela
A celebration of ethnic dance, music and food, the three-day festival on Leith Links has a bit of everything. From entrancing Senegalese drummers to mesmerizing Indian Kathak dancers. Get-up-and-dance Cuban salsa to hybrid Brazilian Capoiera-inflected futebol, it's a feast for the senses.
There are three stages to offer up a wide array of entertainment. Curated by Dance Base, the World Dance Feste hosts high-caliber professional dancers, from Bollywood dance to hip hop to Beethoven. The Main Stage has plenty of dance floor space directly in front of the stage and toward the back. The Mixed Stage is more of an open-air performance space, featuring Eastern European folk music and the Edinburgh Chinese Choir. It's a successful formula that's sustained the Mela for 20 years now!
For more information, go to Edinburgh Mela.
Edinburgh Art Festival
A month-long celebration, some of the Art Festival commissions becomes permanent features of the Edinburgh landscape. For example, Martin Creed's Work No. 1069 provides a multi-colored marble stairwell in a hidden pathway next to the Scotsman Hotel linking Edinburgh's Waverly Station to the upper tier of Edinburgh's cityscape, "FAILE BÄST's Deluxx Fluxx Arcade" is mind blowing. Talk about psychedelic foosball! Neon yellows, pinks and lime greens in a dark basement room is reminiscent of the '80s arcades that fostered addictions like illicit speakeasies for children. The adrenaline rush that comes from pounding silver balls with flippers to trigger bells and colorful lights and blasting space aliens to oblivion surely set the path for adults to find other channels to wile one's time away.
Gary Baseman's "Mythical Homeland" features Disneyesque grotesqueness, like porcelain dolls impaled on stakes. Exploring the ideas of identity and culture, Baseman reflects on his father's survival as a freedom-fighting Austrian Jew during World War Two Europe as well as his eventual immigration to America.
At the University of Edinburgh's Talbot Rice Gallery, "Counterpoint" explores Scottish politics by shooting off hidden confetti cannons for the Scottish Referendum vote.