Going away for Christmas with little kids, who wonder how Santa will find them, can be tricky. As a parent, I fret about the logistics of trivial things like: Where will the stockings hang? As easy as it is to stay at home, we try to spend it with extended relatives who live a seven-hour drive away. This time, after several years of disappointing misses. I think I've mastered a winning formula. As an American expat in U.K., I've learned to embrace the British traditions, which can be much more full on and festive than American ones.
Rule #1: Stay in hotels that'll feel homey! We stayed at the Macdonald Antsy House in Coventry, England where there were Christmas trees and garland around a roaring fireplace. It's a manor house built in the 1800s with two fireplaces in our room -- one in the bedroom and one in the bathroom -- so the kids thought Santa would have no problem making his way to the stockings we brought. On Boxing Day, Dec. 26, we headed to London's Athenaeum Hotel in London's tony Mayfair neighborhood, where you can book an elegant, yet comfy, townhouse flat, complete with a clever sofa design that converts to a bunk bed or sofa bed for the kids.
The Kids' Concierge provided scooters we could borrow to scoot through Green Park in front of the hotel all the way to Buckingham Palace.
Rule #2: Plan an attraction to visit! Even though we get plenty of Harry Potter in our adopted homeland of Scotland, like Hogwarts Express and JK Rowling as an Edinburgh resident, London has Hogwarts at Christmastime in the Warner Brothers' Harry Potter Studio Tour. All eight Harry Potter movies were filmed there so we stepped into Diagon Alley and entered the Great Hall with Christmas Trees and plum puddings alight with real fire. The kids saw how to make fake snow and put their hands in very real-looking, movie-magic fire. You feel like Harry Potter spending Christmas at Hogwarts Wizarding School because he's not at home either. Pretty awesome!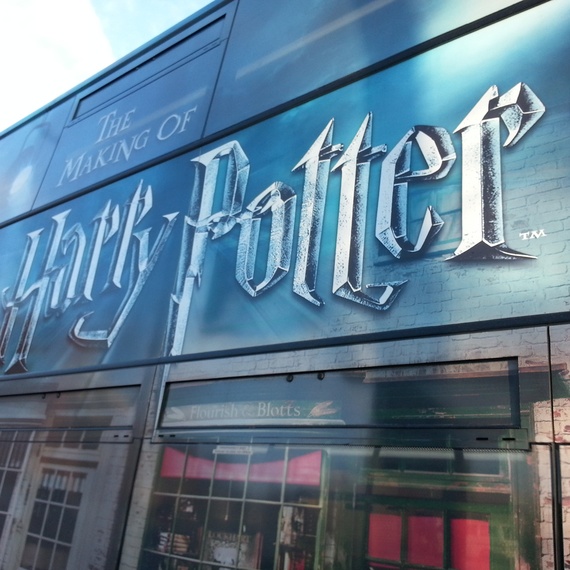 Rule #3: Take advantage of your new locale! Afternoon tea in a London is like no other. The InterContinental Park Lane hosts a Christmas Afternoon Tea with the theme of the Twelve Days of Christmas cleverly interwoven throughout the dishes. Five golden candied rings on a tiny chocolate cake! Salmon finger sandwiches! Pigeon and mushroom pie! Pastry shaped like swans where you can bite the heads off! And of course the wide array of teas and fresh scones and clotted cream. Yum!! Plus, the InterContinental Park Lane is where the current Queen called home as a child.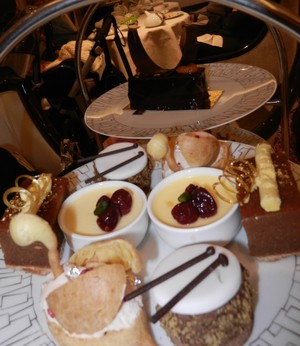 Rule #4: See a show! West End in London has the best musicals in the world! Charlie and the Chocolate Factory, directed by Sam Mendes, is incredibly fun. The Roald Dahl story is updated with funny references to computer hacking and Ritalin. The soundtrack included techno, Motown, rap, along with the rousing sing-along numbers.

Spending Christmas away from home can be challenging. Creating cool traditions, like incorporating new adventures into the holidays, can be just as fun for the kids as waking up in their own beds.