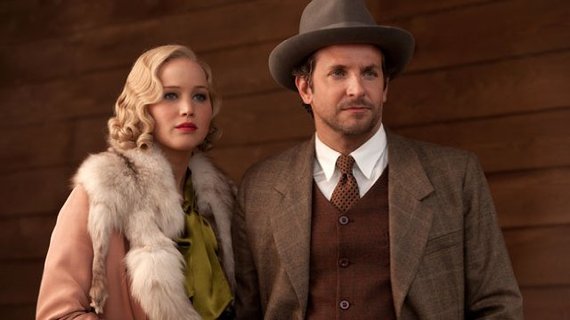 Just when you think Jennifer Lawrence and Bradley Cooper can't appear together in another movie, out pops another.
In the third film that Jennifer Lawrence and Bradley Cooper have starred in, Serena is a dark, somber film focused on emotional entanglements with the slight feel of an independent film. More literary than blockbuster material, it depicts what human nature looks like when life begins to spiral downward, set off by tragic circumstances. In other words, it's not the typical feel-good vehicle that Lawrence and Cooper have usually taken audiences for a ride in.
Based on the book of the same name from American author Ron Rash, the plot is centered on a rugged North Carolina timber baron named George Pemberton, played by Bradley Cooper, who logs to make money and provide jobs for the locals, or so he says. His capitalist ambitions are at loggerheads with the local sheriff, played by the delightful Toby Jones, who wants to designate the lands as national parks in order to protect the forests. When Pemberton goes to town to bankroll his operations further, he meets the enigmatic Serena, played by Jennifer Lawrence. He becomes completely enamored with her when he finds out she is the only surviving daughter of another timber family dynasty in Colorado who was wiped out in a fatal fire.
Later as their marriage unravels, Serena confesses that she had run away to safety in spite of hearing her younger siblings and mother screaming for her help as they burned alive. This is a pretense to her veiled cold-heartedness when she becomes immensely jealous of her husband's illegitimate toddler after she finds out she can never have children and the innocent will be the only progeny her husband will ever have. The babe becomes the target of her venom.
Serena was actually made after Silver Linings Playbook but before American Hustle. Lawrence recommended that Cooper play her co-star after working together as Philly amateur dance competitors. Released only this year with the U.K. premiere at the London Film Festival, producers may have doubted the star treatment that this gloomy film could garner for its lead actors. The U.S. release isn't scheduled until early 2015 after the awards season. Lawrence won an Oscar and Golden Globe for best actress in Silver Linings Playbook and American Hustle did well in the 2014 Golden Globes.
The movie almost has a feel of a systematic, careful (a bit too careful) independent film, which may not be a driver for box-office sales with superstar names. Watching the plot unfold made me think there was a disconnect from the novel to the screen as Lawrence and Cooper struggled to make sense of their characters' transition from lovebirds in marriage and admirable equals in business to suspicious spouses with obsessions moving in unhealthy, stealth trajectories. The symbolism of uncatchable panthers that might be subtle in a novel translates as a bit too hokey and obvious for the screen.
Nonetheless, the cast is engrossing to watch and the set design of a recreated small American lumber town (actually filmed in Czech Republic) is breathtaking and believable. I wouldn't write it off because Serena doesn't have the typical Hollywood pizzazz to a Lawrence-Cooper film. The actors move the film nicely along, even if the plot is a little disjointed. I still came away with a bolstered admiration for Lawrence and Cooper in their acting abilities. I bet this won't be their last film together, even if it may be a while.
Serena is now playing in the U.K., including the Glasgow Film Theatre, Glasgow, Scotland.