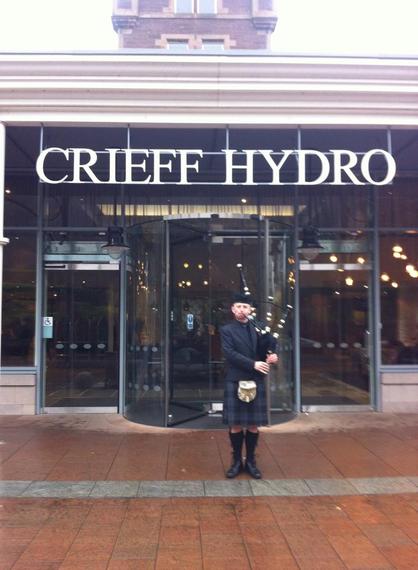 As gray clouds rolled in on the setting afternoon sun in the Highlands of Scotland, bagpiper Steve Harper stood guard at the entrance, ringing a haunting melody in front of the Crieff Hydro hotel. Once a Victorian spa retreat built in 1868, the resort has expanded to a 900-acre getaway for families, weddings, hen nights, conferences, and all sorts of escapes, just over an hour's drive from Glasgow or Edinburgh.
Crieff used to be the market town for Highland drovers, who brought their cattle down from the remote, hilly countryside, and the Lowland merchants who turned an easy profit from their poorer Scottish brethren. During World War Two, the British government commandeered the hotel and housed the Free Polish troops there.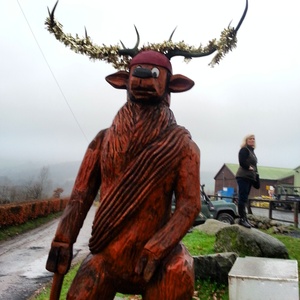 In 1868, Dr. Thomas Meikle founded Crieff Hydro as a hydropathy resort when "water cures" were thought to remedy all sorts of ailments. He chose the Perthshire location for the "salubrity of the climate." One of the endearing fables from the past is the guests used to queue in a "bath procession" in their stylish bathrobes to the bathtubs in the basement since none were in the rooms and "bath maids" would be on hand to help the wealthy visitors.
The Victorian spa is still one of the main attractions of the hotel. Above the pool are three murals of cherubs, gods and goddesses, and winged horses so as you do your swimming lengths, you get a glimpse of the view ghosts from yesteryear would've seen as they alleviated their aches. A cozy Jacuzzi sits alongside the pool which I shared with an elderly Scottish woman who began to pour her life story to me. I wondered if that's what spa days were like in the Victorian tradition -- people conversing intimately with strangers so muscles and feelings alike opened up.
A blue-lit steam room, sauna and shower area all shared the adults-only pool area. Cordials of lime and blackcurrant as well as tea and coffee were free on a help-yourself basis. Spa treatments are available, and Mhairi provided one the best Swedish back massages, using elbows and deep pressure to iron out my knots.
Another leisure area has two pools and a Jacuzzi for families so kids can partake in their "water cure" as well. All are welcome to a challenging treetop outdoor adventure course with zip slides high in the air. My 9-year-old daughter called the experience "epic," where she and her dad relished the bonding experience.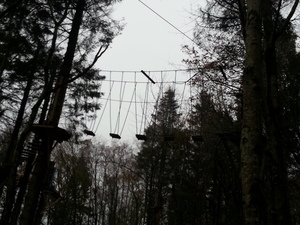 The equestrian center is excellent where my 5-year-old happily hopped on for a pony ride for the first time. Usually, she screams to get her off the beasts. Meanwhile, my 9-year-old cantered for the first time with an excellent riding instructor who gave her frequent guidance. Archery also involved high-caliber coaching so that you not only got to try out new skills, you learned more about a hobby to give you a taste for more practice.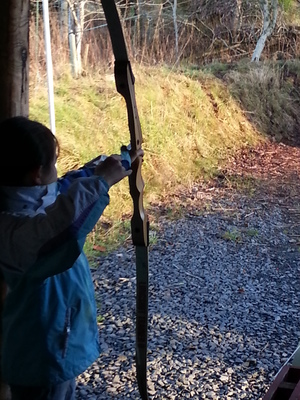 In the evenings, there was a disco on one night and a celidh, or Scottish dancing, the next night. The DJs were interactive enough to explain dances and entice parents to dance with their kids. It was nice to crawl back to our nearby rooms after an exhausting turn on the dance floor.
Included in your stay is 12 hours of daily childcare, which included morning, afternoon and evening sessions. My husband and I took advantage of one session for dinner together before grabbing the kids for the family celidh. Bedrooms are comfortable with a separate adjoining twin room for the kids.
Childcare is a hotel feature many Americans aren't familiar with but maybe we should. On-site dining can sometimes be confining but there were several restaurants to choose from. Each menu was varied and cooked to a high standard, so we were pleasantly surprised.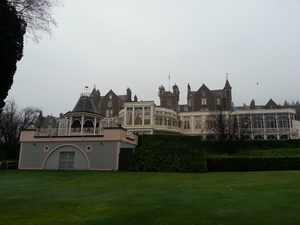 Crieff Hydro is what you make of it. The atmosphere felt friendly and relaxed. If you wanted a family vacation, you could have that. If you wanted couple time and have your kids entertained for the whole weekend in a spacious, well-maintained crèche with a gargantuan castle soft play area, you could do that. If you wanted to chill out with friends, you could do that too.
With over 200 bedrooms on a sprawling estate, the Victorian spa resort has modernized itself to the needs and wants of what holidaymakers look for today.
For more information on bagpiper Steve Harper, go to Sharperpiper.