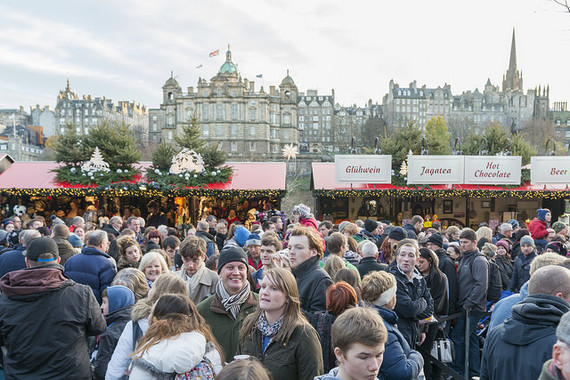 In a tradition that has stood for hundreds of years, the European Christmas Market is a throwback to what it was like to do anticipate the Winter Solstice long before the holidays became so commercialized, especially in America. In Europe, you get a cozy outdoor carnival atmosphere. In the United States, you wander in recirculated artificial air with franchised cookie-cutter stores, one on top of another. Sure, you get holiday music in the background in both environments. Long before online flash deals as you click in your pajamas and tiresome behemoth shopping malls, the holidays were a time to greet people n the community and share the excitement of winter with strangers. Here, the Christmas market is a non-religious celebration so you won't see Jesus Christ on a cross or even much of the loud Santa Claus tat.
Here's a rundown of what you'll see at a European Christmas Market:
1. Stalls - These numerous stalls are run by one or two individuals. At Edinburgh's Christmas Market, there are 106 stalls spread over four levels of hilly ground. Featuring plenty of Gluhwein (warm mulled wine, translated from the German for "glow-wine") along other traditional and nontraditional treats. You can get the requisite truffles and marzipan, knitted and ceramic crafts, and amazing German and Austrian bratwurst off a red-lit, charcoal barbeque. You can also get mulled cider and sun-dried and mozzarella haggis snacks. The Scottish twist adds a lot more personality. Recently, CNN rated Edinburgh's Christmas Market as one of the best in Europe.
2. Carnival rides for kids and adults alike - There are neon-lit rides galore speckling the landscape in Edinburgh. The traditional British rides, like Helter Skelter (a long, twisty, roughhewn slide that starts from three stories up), vintage double-decker carousel rides and two outdoor ice-skating rinks are there. The Star Flyer (a harrowing chair swing ride takes you a hundred feet in the air) is alongside the Walter Scott Monument, a historic apex where Ben Whishaw sits atop in the film Cloud Atlas. The Santa Train and Christmas Tree Maze have expanded with more gems to spot like Rudolph peeking out from fir trees. The Santa's Grotto doesn't end at a requisite photo shoot with a uniformed shopping-mall Santa Claus where you're expected to pay for the requisite photograph of your kids frozen in terror sitting atop the lap of a stranger.
3. A Plethora of Shows - Julia Donaldson's Stick Man family show is quirky and well embraced by the children. With a cast of just three actors who mostly bear an uncanny resemblance to skinny, wooden sticks, kids are transported to the perils and tribulations of sticks who come to life with feelings and families to consider. Beach balls and pantomime shout-outs of the tried-and-true jokes about being "behind you" foster audience interaction. Pantomimes are the staple of British shows usually dripping with innuendo and puns. For the grownups, there's also shows from a pub philosopher, camp comedy, a Christmas Ceilidh and an all-male burlesque cabaret called Briefs. Edinburgh has even brought out their Spiegeltent from the summer Edinburgh Fringe Festival for the winter to showcase more acts.