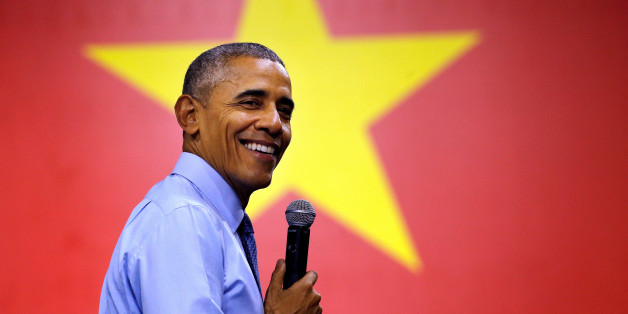 PERTH, Australia -- U.S. President Barack Obama's Vietnam visit last week was geared towards lifting the arms embargo and bolstering the Trans-Pacific Partnership. China loomed in the background but all involved chose to focus on the bright future rather than the long shadow cast from the north.
The odd trilateral playoff between Hanoi, Washington and Beijing picked up momentum last year when General Secretary Nguyen Phu Trong of the Communist Party of Vietnam visited Washington. Communist Party general secretaries tend not to call on U.S. presidents, not least because protocol dictates a visitor should meet his counterpart and such office holders have none in America. That hardly mattered in the end -- we are in strange times.
Last week's Vietnam trip was a long time coming given that in his eight years in office -- and his Asia "pivot"-- Obama had yet to visit the country. But with Chinese aggression growing in the South China Sea, it was a good time. In addition to the increased maritime tension, a souring of relations between Beijing and Hanoi occurred after China moved its oil exploration vessel into Vietnam's exclusive economic zone in 2014. This kicked off violent protests that saw deaths and factories sacked -- as well as the evacuation of Chinese citizens from Vietnam.
Obama's Vietnam visit was geared towards lifting the arms embargo and bolstering the Trans-Pacific Partnership.
Chinese President Xi Jinping visited the country in November of last year, addressing the National Assembly, which functions as Vietnam's parliament, in a rare event for a foreigner. His visit was aimed at finally resetting relations and pursuing agreements related to Vietnam and China's comprehensive strategic partnership. Xi said the strong history between the nations would survive any "disruptions." It was the closest he got to mentioning the events of 2014. In other words, revolutionary friendship -- i.e. ideological similarity -- trumps all.
During Xi's Vietnam trip, some 12 agreements were signed and over $600 million pledged towards Chinese investment in schools, hospitals and, the bulk of it, infrastructure. During Obama's visit, agreements soared into the billions, with Vietnam agreeing to an $11 billion deal with Boeing -- more than five times what it paid for its six Kilo-class diesel-electric Russian submarines.
Obama's visit, like Xi's, was the first presidential one to Vietnam in a decade and both were aimed at resetting relations, or normalizing them, in the case of America. The most obvious difference, however, was in the reaction of the public; Obama's frenzied rock-star welcome -- "he ate bun cha!", "he said xin chao!" were common comments on social media -- compared with, well, nothing much at all for the leader of the world's most populous nation. Though Vietnam and China may remain ideologically similar, the people err on the side of the States, not their comrades over the border.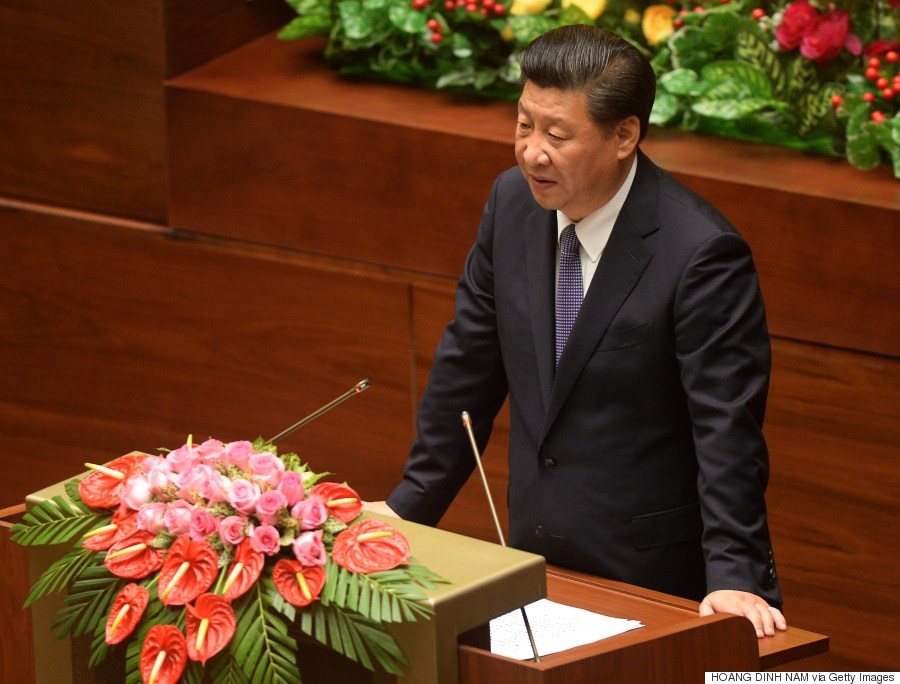 Chinese President Xi Jinping delivers a speech at Parliament House in Hanoi on November 6, 2015. (HOANG DINH NAM/AFP/Getty Images)
The most notable event of Obama's visit was the lifting of the weapons embargo, despite a partial lifting in 2014 on non-lethals like maritime security goods. Beijing apparently welcomes the lifting of the weapons embargo on Vietnam, calling it a relic of the Cold War era -- at least according to a foreign ministry spokesperson. Meanwhile, Obama says that China and its actions in the South China Sea played no part in the U.S.' decision but that it was simply another step on the road to a full normalization of ties that has been going on for 21 years.
Most analysts and even political activists, however, believe otherwise. James Holmes, for instance, wrote this in Foreign Policy:
Asian politics has seen few stranger bedfellows than Vietnam and the United States ... Chinese bellicosity in disputed waters in the South China Sea has created enough misery to unite the former foes in defense of Vietnam's offshore waters and skies.
While the embargo has been lifted, what Vietnam will actually buy is not yet known and each purchase is still subject to congressional approval. The question fascinating some, including Holmes, is whether Vietnam will open its deepwater port Cam Ranh Bay to U.S. ships. That is not known, but stronger U.S. involvement at Cam Ranh would be deeply unsettling for Beijing because it sits on the South China Sea and can accommodate large ships and, according to Holmes, submarines.
'Asian politics has seen few stranger bedfellows than Vietnam and the United States.'
Vietnam has significantly increased its arms imports in recent years, thanks to Chinese aggression and also budget for bigger ticket purchases. Moreover, Vietnam also wishes to be a stronger, more integrated and developed nation and a stronger military is necessary for that; it is hard to join large-scale multinational exercises with a few relics of old Soviet equipment. On the peacetime side of things Vietnam has also been pursuing stronger integration via work in ASEAN and a turn on the United Nations Security Council in 2007.
Vietnam was the world's eighth largest arms importer from 2011 to 2015, a move of 35 places upwards from the previous half decade. The country has also taken possession of the majority of the six Kilo-class submarines it ordered from Russia, which has long been its main arms supplier, at a cost of $2 billion in 2009.
For the U.S., the lifting of the arms embargo is tied to improvement on Vietnam's human rights record. Many things have been tied to this, including World Trade Organization accession to aid, but people continue to be locked up and there were arrests prior to President Obama's arrival.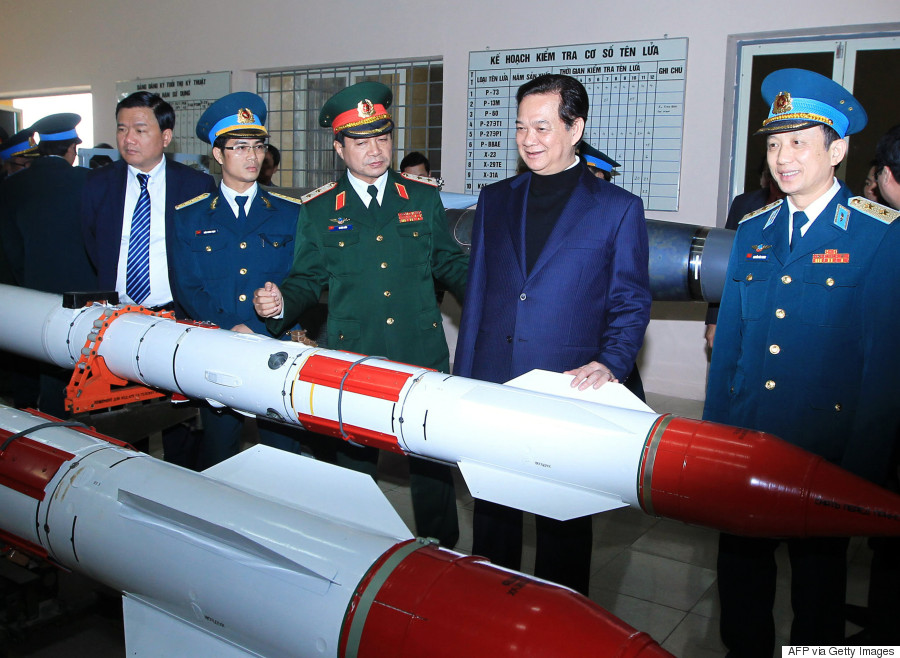 Amid rising maritime tension, official Vietnam media reported that Hanoi had ordered from Russia modern weapons such as submarines and missiles. (Vietnam News Agency/AFP/Getty Images)
More generally human rights and freedom of speech have waxed and waned, and I've found it hard to see a continued improvement since 2006, when I first moved to Vietnam (I left near the end of 2012). Then Vietnam was pushing hard for its WTO membership and Prime Minister Nguyen Tan Dung was asking for more open criticism of the government from the people (very loosely akin to a mini-Let One Thousand Flowers Bloom moment). It didn't last as there was a crackdown the next year. Things got better then worse in the six years I was there -- and even now it is hard to see direct change in the treatment of dissidents though a new and strong civil society has emerged and some non-political groups like LGBTI activists have in fact thrived.
But anecdotally some activists have welcomed the arms lift in Vietnam at least. Activists in Vietnam are a broad church, as they are anywhere. LGBTI civil society activists share little with activist Catholics in provinces like Nghe An. However one area that is something of a beacon is China: Hanoi's mishandling of Beijing or seeming capitulation to it is a good excuse to criticize the regime. But there is also genuine anger and fear and some have welcomed the lifting of the embargo despite human rights reservations. Selling weapons to Vietnam does allow the U.S. a little further into the region and could pave the way for more naval or military cooperation.
In terms of human rights, the weeks leading up to the presidential visit have been some of the more tumultuous in recent memory. Large public protests over some 100 tons of dead fish, supposedly killed by pollution from a new, multibillion dollar Taiwanese steel mill, ended in violence and arrests. "Terrorist organization" Viet Tan was later blamed for the protests by the government in local newspapers in an unusual opening to a presidential visit. The U.S.-based pro-democracy Viet Tan may be critical of the regime but a terrorist organization it is not.
Selling weapons to Vietnam allows the U.S. a little further into the region and could pave the way for more naval or military cooperation.
Obama remained oddly silent on both the environmental disaster and the thousands-strong protests. These demonstrations were unusual in that the wider public took part, not simply a coterie of well organized political activists, as has often been the case with anti-Chinese demonstrations in the past. The president did say Vietnam still needed to take steps to improve its human rights record, but spoke in broad generalities, save noting some activists slated to meet with him had been prevented from doing so.
So much talk, by both President Tran Dai Quang and Obama, was about the war now passed. Obama noted he is the first U.S. president who grew up after the war, like so much of the Vietnamese population who have only known "peace" and "prosperity," as he put it. He spoke of Vietnam's bright future and strong entrepreneurial scene at DreamPlex in Ho Chi Minh City.
By outsiders Vietnam is still often defined by its wars and relation to the United States. Visiting foreign correspondents can't help but lob "war-torn" or "formerly war-torn" into every second paragraph. But it is more often China that dictates its actions in ways the U.S. cannot -- not sharing a border, history, political ideology or contested sovereignty can change the perspective a bit. Vietnam, like many other smaller to mid-sized nations, must carefully balance its relations between the two large powers.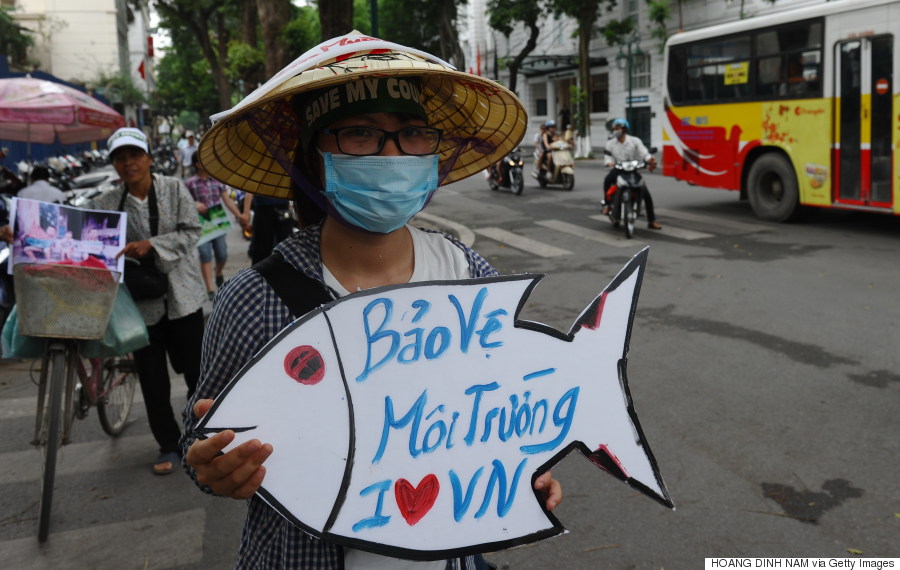 Around a thousand people protest against Taiwan's Formosa, which operates a steel plant they claim is causing mass fish deaths due to pollution. (HOANG DINH NAM/AFP/Getty Images)
Much happens in China's shadow. For instance, during Vietnam's 12th National Congress in January this year, China again moved its rig closer to Vietnamese waters, sparking tension.
At the same time the prime minister, who had been in office for a decade, lost his bid to become general secretary and was ousted. China played no direct role in this though the at-times divisive Dung was occasionally noted as a reformer who liked the United States.
Less nuanced analysis tends to divide the party into pro-China and pro-Washington camps (old school nomenklatura versus new school technocrat). General Secretary Trong's Washington visit was considered extraordinary not simply because of his position, but because of his apparent longtime position on the U.S.: distrust.
Much happens in China's shadow.
Vietnam has always favored multilateralism and has strong partnerships outside of the U.S.-China divide. It shares history with Russia and Cuba, strong ties with India and has strategic partnerships with other nations with their own China sovereignty issues like the Philippines and Japan.
Beijing knows this, but remains unhappy at the arms embargo lifting even as its foreign ministry spokesperson welcomes it. The ever-entertaining Global Times, wrote in an op-ed, "Obama claimed that this move is not aimed at China, yet this is only a very poor lie which reveals the truth - exacerbating the strategic antagonism between Washington and Beijing."
The piece continued: "Vietnam is playing a particularly special role in the U.S. rebalance to the Asia-Pacific strategy." It is, but Beijing does not need to look very far to know why that is.
Also on WorldPost:
PHOTO GALLERY
President Obama's Visit to Vietnam