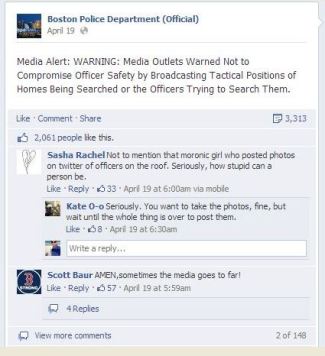 Leaving little to the imagination may result in serious consequences when it comes to public safety and law enforcement. In war zones, the armed forces, journalists, private contractors and even medical and supply units operate under strict security guidelines for sharing information. Unfortunately, for law enforcement agencies on U.S. soil, restricting how and when information becomes available to the public appears nearly impossible. Fully aware of these dangers, the Boston Police posted a warning to the press on its Facebook page as they hunted for the Boston Marathon bombing suspects.
Recent news reports reinforce the somber reality of too much posting power. Online research and inappropriate comments posted on social media from jurors in criminal cases, flash mobs arranged on the Internet and aimed at robbing pedestrians and stealing from stores in Philadelphia and unreliable police investigations based on disappearing online video images represent just a few of the law enforcement headaches triggered by rapid-fire social media exchanges.
Organized criminal activities and extra red tape create enough challenges for law enforcement agencies looking to manage the colliding worlds of social media and criminal investigation, but social media also has the potential to influence officer safety and jeopardize active investigations. Police officers who post details on their agency affiliations alongside personal information and family photographs may become easy prey to Internet savvy criminals. Likewise, if thousands of private citizens flood law enforcement pages with misinformation or unconfirmed details, the impact on both police resources and investigation timelines could be irreparable.
Real-time reporting from witnesses increases the potential for harm exponentially. The recent explosions at the Boston Marathon and the overwhelming response on social media show how expansive real-time pubic reports can be in a time of crisis. Eye witnesses may easily post personal details about specific events and criminal descriptions, regardless of any potential inaccuracies. In a world where everything exists in real-time, it becomes difficult to argue against immediate exposure, especially when it comes to crime and public safety. However, when the public reports everything that happens in a manhunt − from where the police are located to how many officers are on the scene − real-time reporting may also have life-threatening implications.
Fortunately, law enforcement agencies have started to learn from the setbacks caused by social media's inevitable involvement in investigations. Following the attacks in Boston, the Boston Police Department pioneered a response protocol for agencies responding to tips and misinformation following a crisis. They corrected inaccurate information via Twitter, provided updates that informed the public and gently admonished the spread of information from police scanners.
Undoubtedly, social media provides law enforcement with valuable leads for every type of criminal investigation. For example, the posting of images by a business owner on Facebook recently led to the arrest of a man accused of stealing a restaurant's patio furniture. Despite the obvious advantages, the public needs to show more restraint before jumping into the fold of an active investigation. Before rushing to social media during a crisis, consider the following:
Do not post any details or information that might put someone's life at risk, such as specific names, numbers, locations, etc.
Do not give away details before law enforcement can confirm that it is safe to do so (alerting a unknowing suspect that police are closing in may have serious consequences)
Confirm information before reposting
For more information on how social media aids law enforcement, see also Rescued on Facebook