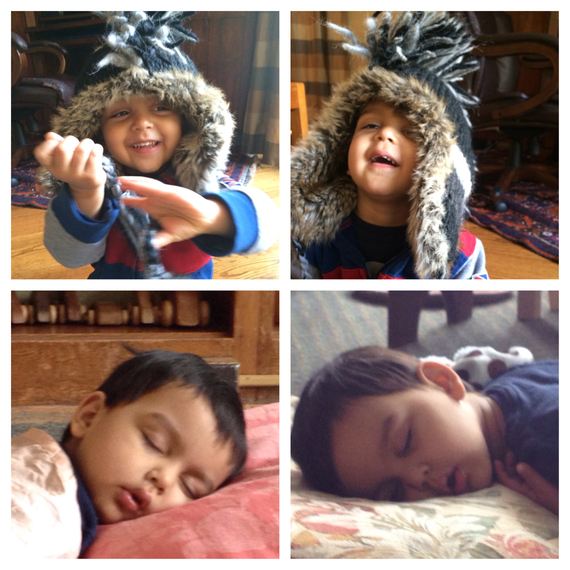 On January 28, 2014, Birmingham, Alabama fell under a civil emergency due to unanticipated, severe winter weather that included snow, ice and freezing temperatures. Many parents in the Birmingham metropolitan area, including myself, were separated from our children. Some children slept in schools, some parents made it to daycare where they slept with their children. Our family was comparatively lucky; my husband was able to reach our 2-1/2-year-old twins through to the kindness and support of many people along the way.
Rather than recount our entire two-day journey, I'd like to simply thank those who helped reunite our family and reach home safely.
Frederic Wagner and Mary Williams: In trying to reach the Alabama Waldorf School, my husband, Karim, was stopped a mile away. He was unable to get any closer by car, because a semi-truck had turned over and the roads were no longer drivable by early afternoon on the 28th. At that juncture, Karim met Fred Wagner. Fred lives in the neighborhood, and his daughter is a graduate of the Waldorf School (she has since moved onto the Altamont). Without any hesitation, Fred offered to walk Karim to the school. On the way, they stopped at Fred's home, and his wife Mary refueled the Daddy Duo with coffee and fruit. After arriving at the school, Fred and Karim had to figure out how to transport two toddlers back a mile in the snow and over ice. Fred pushed one toddler in a borrowed stroller while Karim carried the other to Fred's home, where he picked up two booster seats that Mary had set aside. Karim's car didn't have car seats.
Alabama Waldorf School: Dr. Lisa Grupe, Ms. Rachel Bray and Ms. Holly Thompson kept me sane for the earlier part of the day. I am that parent who called 10 times. The administration stayed calm and assured me that the school was committed to the wellbeing of their students. That meant that if children needed to stay overnight because parents couldn't reach the school, Alabama Waldorf would stay open and ensure their safety and comfort. Luckily, with Fred and Mary's help, Karim reached the school with snacks for the stranded children. By the time he arrived, Ms. Holly had fed my twins, given them a nap and created a calm environment. Brahma and Khidr knew something wasn't right, but they weren't panicked. Ms. Holly then lent Karim a stroller to transport the twins to the car a mile away.
Drs. Eric and Amanda Crowe: At 10:00 PM, after almost 12 hours of driving, Karim found himself at a point where he couldn't drive any further. The roads were too hilly and too slick. The twins were hungry, tired and were crying for their Mama. Karim knocked on a door and was welcomed into Eric and Amanda Crowe's home. Eric and Amanda have three children of their own and were hosting two more, so with the addition of the twins, they had seven children in their home that evening. Soon after arriving, the twins were fed, given clean pajamas, stuffed animals and a bed was made for the three of them to share. I arrived by foot the next day, and the Crowes opened their guest room/bathroom to us, allowing the boys to get a bath and to take a solid nap before we ventured back into the chaos.
The Merry Men of Shades Crest: After leaving the Crowe's home, we found ourselves driving uphill on Shades Crest Road without traction. Seeing our predicament, four good Samaritans hopped behind our car and started to push. We moved, and got stuck. The quartet pushed the car again, and again until we safely turned onto Beaumont Drive. I don't know their names, but thank you friends. Karim's sedan wasn't built for uphill on ice driving.
If you have been helped over the past few days, please consider making a comment to thank those who assisted during the Birmingham Winter Weather Crisis of 2014.