Is there really footage of someone picking up a gun near Kenneth Harding's body? The SFPD has been saying yes. By their account, they never recovered a gun because somebody snatched it away before they could find it. And in a press conference last week, Police Chief Greg Suhr screened a video that he said was proof.

But the video doesn't show what Suhr thinks it shows. Instead of the actual raw footage, what Suhr screened for journalists was actually a news segment about the footage. And the excerpted portions featured in that news segment (from KGO ABC7) leave out a very key detail.

Check it out. At 2:17 Suhr introduces the clip, and at 3:28 the video shows a man in a striped hoody standing up after having seemingly grabbing something off the ground. Suhr points to the man and says, "You can see that he just bent over and picked up the gun."

But if you watch the original video, you'll see what he's actually picking up is...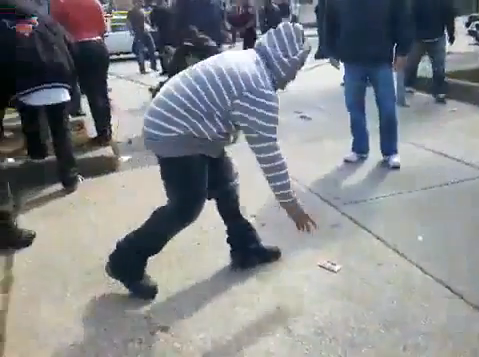 The full video is below. At 0:15 there's the object in the lower right hand corner that looks like it could be a gun. At 1:17, the man in the grey striped hoodie leans over and picks up an object that is not the object seen at 0:15.

Obviously, just because it wasn't caught on tape doesn't mean it didn't happen. But news accounts since the press conference have been repeating Suhr's description of the video unchallenged (such as the Chronicle, Examiner, KTVU, and the Bay Citizen.

Nevertheless, a media rep for the Police Department insisted there is, or there was, amateur footage up on YouTube showing that man picking up the gun. I haven't found it and she didn't know where exactly to look.