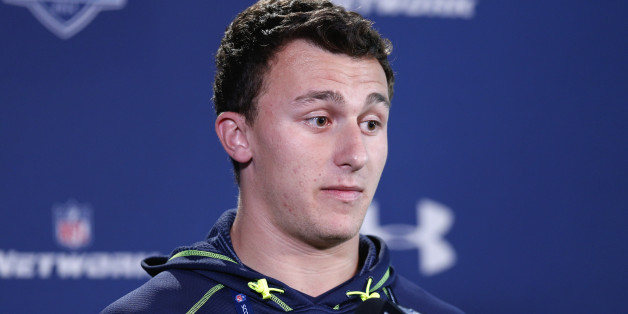 Getting drafted by an NFL team is like winning the lottery. The sky breaks open and it's raining money. Payment once received in college scholarships and textbooks now arrives in hard cash, likely more than they know how to spend, so they often spend gratuitously. Quarterback prospect Teddy Bridgewater already bought his mother a pink escalade. But they never said athletes had to be smart to play in the NFL. Some players don't even need to know how to read -- ask AJ Green. His 10 on the Wonderlic test indicates he is basically illiterate.

So, what's the first thing a rookie should do now that they've made it to the league? Get a job. A real job. Like at a shoe store. Baltimore Ravens' 2013 first-round draft pick Matt Elam is working at Finish Line right now. He wants to own his own sports merchandise store someday. But why would a man who signed for $6.77 million last year and has a base salary of $712,591 in 2014 be spending his off-field time trying to sell Nikes?

While seeing a six- or seven-figure paycheck feels like winning the lottery, players will quickly find out just how much, or how little, of their contracts are guaranteed. Just like the lotto, under most circumstances in the NFL, the figures cited are not paid in full. It neither hurts to have a second source of income, nor to finish a college education, or at least learn how to read.

But many will get paid handsomely and will find that instant wealth comes at a cost that can quickly jeopardize a career. On top of preparing for their new jobs as pro athletes, players must deal with distractions that can take hold in an NFL offseason with little structure. Friends and family will ask for money. Many of these players, like Johnny Manziel, a projected early first-round pick, are barely even 22.
Their newfound fame creates temptations: drugs, alcohol, nightlife, new acquaintances that may not have their best interests in mind, or old ones that represent a lifestyle they should no longer live.

Beyond their personal lives, injuries, trades and restructuring can all determine whether a player plays out their whole rookie contract. The owners' trepidation around investing millions in a 22-year-old is warranted. Players can thank draft bust JaMarcus Russell, the first pick of the 2007 NFL Draft. His six-year, $68-million contract changed the way NFL owners pay rookies. The NFL implemented a rookie wage scale after the 2011 lockout. Only four years after the Russell debacle, Cam Newton, the number one draft pick in 2011, signed for $22 million over four years. Not chump change, but it pales in comparison to Russell's mega-contract.

While most rookies are getting four- and five-year deals, the NFL Players Association says the average player lasts only 3.2 years in the league. The NFL claims the average is six, but the fine print reveals that this value is skewed. They boost the average by only including rookies that make the opening-day roster. This excludes the vast majority of rookies that start and sometimes end their careers on the practice squad. The gap between the NFLPA and NFL's projection of 2.8 years is huge. Considering the rookie base salary is $285,000 -- that's a difference of at least $798,000 over a career. That's enough to pay for college and a masters degree.

The NFL has taken steps to help its first-year players prepare for success in the league. During the rookie symposium, players are groomed for professional life and taught how to deal with life in the spotlight. The NFL directly addresses character issues through presentations, videos and workshops. The workshop focuses on "player health and safety, decision-making, mental health, substance abuse and domestic violence prevention, non-discrimination and maintaining positive relationships," according to NFL.com.

But some NFL players -- and not just the rookies -- know that this basic guidance isn't enough. So they establish their own exit strategy.

Terrance Ganaway made headlines by working at Jimmy Johns between his first and second season in the NFL. Ganaway spent two seasons in the NFL on two different teams. Like many former NFL players, whose stories you will never hear, he no longer has a job in the league. Ganaway took the job at Jimmy Johns to stay out of trouble, which he succeeded in doing. The structure of a job keeps players out of nightclubs or casinos, two venues that appear on ESPN's ticker enough to make you wonder if you're watching TMZ. Sometimes the desire not to have a hangover at work and perform a job to ones best ability could mean not going out, not getting in a fight at a club, and not getting arrested, all of which increase the likelihood of staying in the NFL.

Elam and Ganaway aren't the only football players to explore job opportunities off the field. Rashard Mendenhall, who retired this offseason, blogged with the Huffington Post. Jonathan Martin made the best of the bullying scandal and worked to finish his degree at Stanford, likely knowing that his future in the NFL was potentially in doubt. The NFLPA has also taken steps to look out for players' futures, arranging "externships" where they spend time at companies learning, just like an intern might.

Stories about young NFL players being caught in off-field pitfalls are all too common. Some players get arrested two days after the draft. If players don't form healthy habits early, a trip to a casino could end with him dragging the unconscious body of his fiancé out of an elevator -- apparently Ray Rice has a thing or two to learn from his younger teammate Elam.

When a story like Elam or Ganaway's goes viral, the NFL looks good. Their symposium had an effect, right?
But stories like that should not be so unusual that they go viral. Rookies should be encouraged to get second jobs from the onset of their careers, if not by the NFL itself, then at least by common sense. Structure, responsibility and a taste of humble pie can help these players understand how short their stint with the league could be, and how they might have to live after football. It can provide a safe haven from offseason distractions, and in Mendenhall's case, a writing portfolio. While many think their whole life has amounted to this moment of being accepted into one of the world's most exclusive clubs, they need to think beyond the NFL. They need to finish their education and get a job.