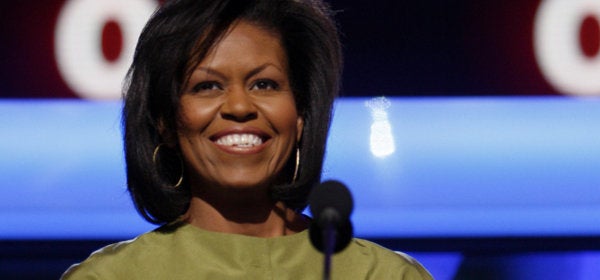 She was brilliant and beautiful as she stood dressed in aqua.

In a word, she was elegant. She spoke from her heart and soul. She spoke with passion. She remembered her husband's idealism, his words, "the world as it is and the world as it should be."
Michelle Obama has watched him mature from a legal eagle intern to a political powerhouse. He made his dream a reality. She knows his position and shares his dream. The Obamas want a life of public service. They want to share the common thread: the thread the holds us all together. The American thread, no matter where you are from. It's simple. Treat people with dignity and respect and work hard. It's the belief that America is the place where you make it if you try, no matter how humble your beginnings.
These are solid American values. Michelle, the girl from the Southside, told the world who she is. She defined herself and put the Obamas in perspective. Who she is defies stereotypes. Her vantage point unites.
As I listened to Michelle, her story was one that we know so well--a simple one. She went to school and was reared by parents from a generation who taught, "The world is your oyster. Go for it."
Her story is one of a group of young people who were told "Go to school and come back home to your community so you can make a difference."

That she did.
Michelle walked away from the structured, corporate life and its riches to give back to those who may not have had all that she did. She spoke of her family wealth and the desire for her darling girls, Malia and Sasha, to inherit them.

You heard a mother speak about her family. You heard a little sister speak about her big brother, Craig Robinson, whom she encouraged to walk away from his investment banking job to be the teacher he was meant to be. You heard her strong character. You heard a loving wife who had principles and standards before she committed herself. You heard a love story. You heard that her dream had come true. You heard a grateful daughter.
You heard the future of what the country should and could be. Michelle will work for family values. She will work for single mothers. We saw a woman of style and substance in control. The sound bite is such a detriment to addressing who people are and what they stand for.
Never should she have been on a national magazine cover with a machine gun. The image was wrong. The perception ill-conceived. She showed herself to be a professional woman who is a rock for her man and is living proof that you can have it all. She spoke with authority, and above all else, she spoke with love and pride.
We saw a woman raised on the South Side of Chicago, who returned home and won't stay away for long, no matter where she goes. She will move us to a new day and America will be proud to call her First Lady.
And we from the South Side of Chicago beam a new pride about our homegirl who beams with authenticity.