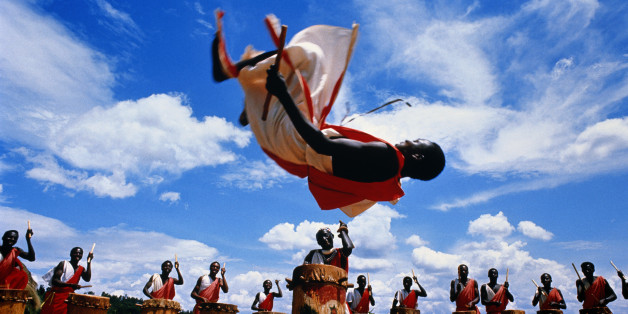 As a South African, I am used to hearing the sound of drumbeats. They have been a constant soundtrack to the milestones of my country and my personal life. They are the sound that bids me farewell when I leave and the sound that welcomes me home when I return.
Since before recorded history, Africans have communicated and celebrated with drumming. Drums have marked the sound of war, and drums have punctuated periods of lasting peace. And, through the centuries, African drumming has spread to all parts of the globe to influence much of today's popular music.

Drums always make me think of Africa and the ways we celebrate. In fact, we will go out of our way to find a reason to celebrate. Drumbeats accompany marriages, births, graduations, protests, celebrations . . . pretty much any major milestone. The birth of a child is celebrated with drums that have a particularly special meaning. After all, when an unborn child is developing, the first sound it hears is mother's rhythmic heartbeat.
What, you might ask, does this have to do with midwives or healthcare?
This past March, I was able to learn from and celebrate with 24 nurse leaders from Malawi, South Africa, Swaziland, and Uganda as they literally pounded out a drumbeat for improving the health of mothers and their children on the African continent. The festive, authentically African workshop I attended marked the commencement of the second cohort of the Maternal-Child Health (MCH) Nurse Leadership Academy in South Africa. Conducted in partnership with Johnson & Johnson, it pairs aspiring nurse leaders with experienced professionals to complete a maternal-child health improvement initiative.
During the workshop, participants incorporated the rich, African drumming tradition into the presentations of their health initiatives. They worked together to create a central drumbeat and produce three unique presentations with drums, song and dance.
While the celebration itself was festive, these nurses will be tackling some serious maternal-child health issues during the next 18 months, including:
• Helping babies breathe and reducing neonatal deaths
• Monitoring pre-eclampsia
• Encouraging breastfeeding and skin-to-skin contact with sick and newborn babies
• Establishing early antenatal care and HIV testing
• Addressing malnutrition in pregnant women
• Integrating traditional healers into maternal-child health
I was particularly pleased to learn about the initiative to integrate traditional healers, which often includes midwives, into maternal-child health. After all, in many rural areas of Africa, a midwife is the only accessible health care provider.
And that brings me back to the drumbeats. Just recently, I danced to the sound of drums at my own birthday party, and again at my daughter's wedding. As the strains of those drumbeats still echo in my memory, I have a lot to celebrate. I look forward to celebrating the continued positive impact of nurses and midwives in Africa.