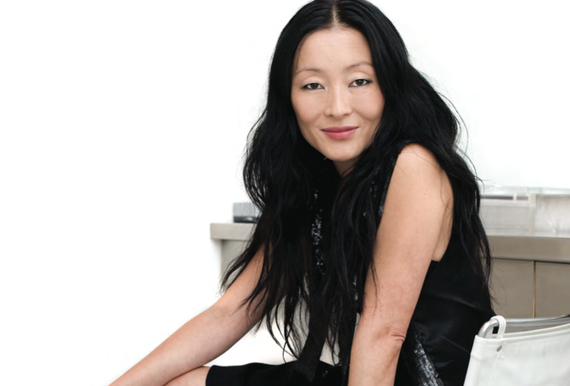 When businesswoman Ji Baek established the Rescue beauty salon in Manhattan, the year was 1998, and there was nothing else like it on the market.

"People were laughing at my idea back then," Baek remembers. "When I opened, they said: 'Oh, you're going to touch people's feet? That's so gross.' And I said, 'I'm going to do it like you'd do it in a doctor's office. I want to have an autoclave.' I wanted it to be absolutely sterile."

Word traveled about Baek's approach, and soon, business was booming. Rescue became the go-to salon for the City's most well-heeled women. One store quickly became two. But, in a surprising move, Baek shuttered her doors a few years later.

Some of her clients sobbed publicly when they found out, but she did it anyway.

"Every place calls itself a nail spa now," Baek told W magazine in 2011, soon after it happened. "It just wasn't turning me on anymore."

So what was turning her on?

Color. And lots of it.

Today, Baek is the successful owner of the Rescue Beauty Lounge polish line. Baek's nail polishes are routinely featured in Vogue, Lucky, People, and Allure magazines, among others. Her polishes are long-wearing, free of Toluene, Formaldehyde, DBP, and animal testing. It's taken her years of hard work to get them exactly right, but she's done it.

I caught up with Baek recently to talk about entrepreneurship, the importance of perseverance, and why we should all be concerned about the nail services industry.

HI: First of all, I have to ask you about the abuse of manicurists. Did you see the piece in the paper?

JB: Isn't it terrible? Terrible. I'm so happy I'm not in the (nail) industry anymore.

HI: What's the deal with these salons?

JB: Well, the reason they're cutting corners is because there's a consumer-demand for it. It's not just nails. It's like everything else. I think people disconnect when it happens overseas, but here it is, happening in New York, in our own backyards, and so it's striking a chord.

People need to understand that there's an equation to this. As a consumer, you have to decide for yourself what you want to stand for. It's a choice.

We're responsible for what we ask for; for what we buy, what we consume. Basically, it comes down to: don't demand cheap shit. Be better than that.

HI: When you started your business, were you mindful of this? Did you say: 'I'm going to offer clients an elevated experience?'

JB: Very mindful. I said I'm going to offer the most sterile, hygienic, chic experience. Disposable instruments. Gloves. I wanted my customers to not worry about it. But then, I asked that they pay for that experience.

That's why my manicure, in 1998, was twenty bucks. That was a lot of money back then. It's a lot of money now! Manicures cost thirteen dollars today. But what about inflation? We should be paying sixty.

But that's just me, and my customers. We're germaphobic.

HI: Tell me about it!

JB: Right? We're all pain-in-the-asses! But the point is, we united. We found a haven. That's my advice for entrepreneurs, actually.

HI: What is?

Find your tribe. Find an idea you're passionate about; that you believe in. People ask me that all the time. "Well, how did you know you wanted to have your own business?" You don't know in the beginning. But you evolve.

You get to a point where you say: "This is what I want. I'm so frustrated with the way things are, I just want it for me."

And then something happens. Things snowball. Someone writes an article, and word spreads, and you grow.

HI: Did the polish line start in a similar, organic way?

JB: Yes. It's actually very technical. There are so many components. There are chemicals, formulas, the thickness of the brush. The way the technician holds the bottle matters. For three years, I just analyzed everything.

I knew I didn't want to use Formaldehyde, DBP, and all the chemicals they've identified as being harmful now, but this was done in 2002, when no one was talking about any of that. We were pioneers.

HI: You were. But why nail polish specifically?

JB: Because it's genderless. It's sizeless. It's beyond race.

HI: So it's democratizing, in a sense.

JB: Yes. And that's freeing.

HI: Ultimately, why are you successful? Is it about perseverance?

JB: Perseverance, of course. To be a success, bottom-line, you have to be hard-working.

I think if you're hard-working and you're making your boss a lot of money, you should do your own thing. If your opinions, and suggestions are making someone rich, think about becoming an entrepreneur. But you want to be sure before you do it, right?

HI: How can you be sure?

JB: It's hard to learn without losing money. But if you know you can make a profit for someone, you're halfway there. The thing is, you don't want to be test-driving with your own money. Test-drive while you're working for someone. And then, when the time is right, move on. Improve on what you've already done.
Baek's latest collection, Blogger 3.0 will be available at the end of this month. Visit Rescue online here. And check out Baek's book Rescue Your Nails for tips on home-care.