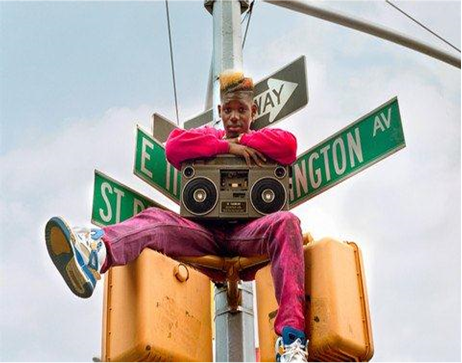 Awol Erizku "Kwame On Lexington." Image courtesy the artist.
My girlfriend, who grew up in the suburbs of Manhattan, says that one of the earliest memories she has of her father, an art dealer, is him struggling to carry her four-year-old weight through the vast galleries of the Metropolitan Museum of Art. She and her dad would have been likely participants in The FLAG Baby Art History Program -- one Saturday a month, FLAG founder Glenn Fuhrman takes participants to visit museums and artist studios in Manhattan and Brooklyn. Art galleries and museums have been a part of my girlfriend's life from such a young age, that she moves through them easily.
For me, art galleries and museums have not always been so familiar or comfortable. While I've been a professional painter based in New York for a dozen years, at heart I'm still the kid who grew up in Michigan under the attentive eye of my own father, who took me camping, taught me how to reel in fish from lakes, and brought home rolls and rolls of paper from his job at a paper mill to indulge my growing art habit.
And so, I appreciate FLAG for its educational efforts and its friendly and unintimidating vibe. It's a great space to look at contemporary art. The director, Stephanie Roach and assistant director, Rebecca Streiman aren't sealed away in back offices, but rather installed in public spaces that you can't help but stroll through.
Stephanie and Rebecca can be counted on to answer questions about the artwork and are happy to accompany visitors through the galleries, which are located on the ninth and tenth floors of a contemporary building in the heart of Chelsea. There's even a set of tables on the upper floor that can be used to jot down notes or simply take a quiet moment of reflection.
When I went to FLAG in June for the opening of two shows currently on view through September 7 -- Something about a Tree curated by Linda Yablonsky and personal, political, mysterious¸ I hadn't been there since my own show closed in May. I was fresh off of a work trip to Kauai where trees were a large part of my observational painting studies. And even so, back in New York City I was continuing to dodge painting trees because it's too easy to evoke anachronistic styles that can add an extra layer of content to a painting. I was curious to see how Yablonsky's roundup of painters were grappling with the "tree problem."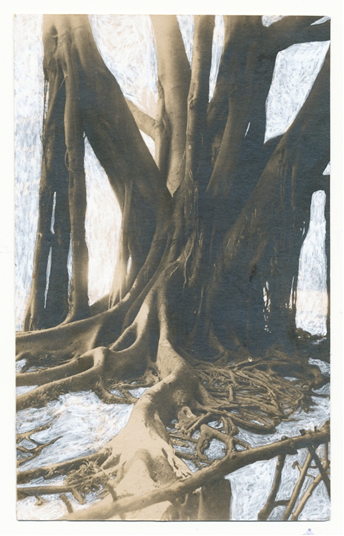 Tacita Dean "Taormina Tree," 2010. Image courtesy the artist.
Like a good art adventure, I went in looking for one thing and left thinking about another. In Something about a Tree, it was the photographic work that caught my interest. "Taormina Tree" by Tacita Dean is a small sepia photograph of a banyan tree that appears to be smoothed out by centuries of storms. The tree is too big and foreign to have a personality, but it still crowds the picture plane, defying any narrative script or characters that might be larger than a tiny forest creature. All the negative space around the tree has been blocked out by white gouache, making this tree seem to exist outside of a knowable place and instead it seems to reside in a secret core of the universe -- perhaps a place even beyond death. It feels right that the photograph is actually a found postcard from another era, sent from one long-forgotten person to another.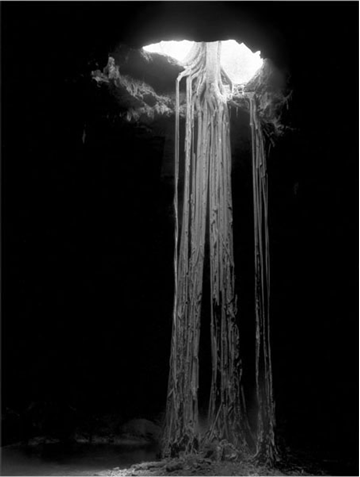 Sally Gall "Thirst," 2001. Image courtesy the artist and Julie Saul Gallery.
This feeling of the beyond continued in a photograph by Sally Gall, where the viewer is transported to an underground cave, perhaps even crouching in its darkest corner. The only source of light is through a hole high in the ceiling through which the roots of a tree are streaming downward, beckoning you to scale them like Rapunzel's locks. If you were to ascend, would you find yourself in the world as you know it -- or in a fairytale world of indeterminate malice? Best perhaps to stay in the cave rather than risk the embrace of the tree's roots.
The thoughts Something about a Tree had swirling around in my head were quite welcome as I climbed the steps to the tenth floor and personal, political, mysterious. There, I found a piece that had a strong resonance to the trees shown on the floor below. "Kwame on Lexington" (pictured at top) by Awol Erizku features a young man sitting atop crossing signals with a boom box -- his own urban tree -- the stoop reconfigured. His position implies ownership, control. Whether you are directed to "walk" or "don't walk," he will control your soundtrack. His perch above the ground becomes the gravitational pole of a metropolis -- his is the origin of the culture of the city. He held me in his gaze gently, confronting me with the sublime as I exited FLAG, still not sure what to do about my "tree problem," but inspired by the visit nonetheless.