The Lexington Herald-Leader headline blared that "McCain's Lead in State is Safe," but you wouldn't have known it from the bustle at Fayette County Democratic Headquarters. Volunteers had assembled two hundred new Obama-Biden signs on Thursday afternoon, and by 10 a.m. Friday they were flying out the door.
The phone rang continually:
"Do you have signs?"
"Where do I vote if I'll be away on Election Day?"
"Are the signs back in? Oh, GREAT! We'll be right there!"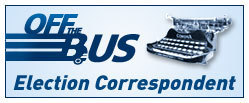 "You know that morning radio show on WLAP? I called in and ripped the guy a new one - and I'm a Republican, you know? - and now he's picking on me - I gave him my name, Trish - you guys have to call and set them straight about Obama - he's calling me names and saying that Obama is a terrorist, a Weather Underground member, a Muslim - and he's trashing me!"
"Do you need help in the office?"
"Can I sign up to canvass?"
Trish came in the door, shaking off the rain. "Did you hear him? He was still going on about me when I parked here! He's saying 'people like Trish' - he's calling me a 'left-wing liberal fascist!' I'm not your usual Democrat, you know? I voted for Bush twice, but I can't stand it any more." She unloaded for a while, talking to a tall man in a black hat who was there to get an Obama-Biden yard sign and a "Ditch Mitch!" (Senator McConnell) sign. Eventually Trish calmed down a bit, took a yard sign and headed out.
Two office-mates came in to pick up signs. They were laughing with excitement. The man turned to his co-worker and said, "This is the first time in our new office that we have all been Democrats." Signing his name on the "Picked up yard sign" form he said, "Always before we've had one - one vile person!" They headed off into the rain to hunt down "Teamsters for Obama-Biden" signs, further down the street.
A woman came in to purchase 40 Obama-Biden yard signs for Pulaski County, a Republican heartland county two hours to the south. A woman came in to get four Obama-Biden signs for her family's front yards in Paris KY, a Bourbon County town where, "There's only McCain-Palin signs!"
Another call, from a tired-sounding man: "I'm in Trimble County and I'm wondering if you have any stickers or car magnets?" The reply was "No, sorry." He sighed. "We live on a dead-end road, you know? If we put out a yard sign only we and the postman would see it. Well, thanks," and he hung up.
An enthusiastic, dignified gal came in and got yard signs, saying that hers had vanished in the night (a common complaint). Turning to go she spotted the buttons and began to shriek, "Oh! Buttons! Oh! I am so happy!"
A quiet working man came in wearing a red Obama ballcap, and got buttons and yard signs for his family.
These are the highlights of a single two-hour period on Friday morning. While the Herald-Leader's new poll results indicate that "McCain holds a substantial lead over Democrat Barack Obama, 55 percent to 39 percent, with only 3 percent of voters still undecided" (www.kentucky.com), the multi-racial, high-energy enthusiasm at the Fayette County Democratic Headquarters tells a different story.