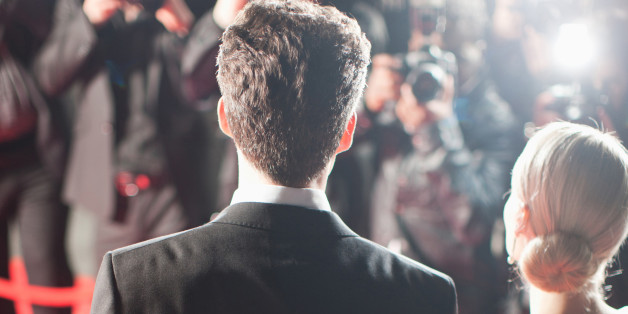 Ah, New York... Busy streets, trash on the sidewalks, and pollution in the air. These are things I push aside when I'm (quite literally) running to check in at my day job. Well, night job.
Managing to get to work on time (at any hour) is a problem in this town -- especially while jogging in 5-inch heels... but that's a story for another time.
I'm a red carpet reporter, which means a few things:
No. 1: I talk to celebrities, almost every day.
No. 2: I ask a lot of questions -- some are appropriate, some are borderline awk.
No. 3: I get asked a lot of questions.
Regarding numero tres: These queries often come from my mom ("I don't understand your job..."), my roommate ("Where are you now? It's 2 a.m."), and lastly, from mis amigos and the general public ("So, you're best friends with Heidi Klum, right?").
Right. Cue the internal eye roll, and a smile.
At my first industry party, celeb stylist Robert Verdi told me I had a cute outfit. This old thing? I thanked him politely. Who are we kidding? At 24, I died. Like, in an epic-seizure kind of way. Perhaps it was my dress he was complimenting, but I'm certain it was my Erickson Beamon Rocks that got his attention.
Umm, hello? Lady Gaga digs their designs -- and Sarah Jessica Parker, too. I'm not Carrie from Sex & The City, but this was definitely a New York moment for the books. On that note, I present to you a number of things that my dear friends "...couldn't help but wonder," as Ms. Bradshaw would so often say. And so, I've been asked:
Do you hang out with celebrities, like, for fun?
My job is fun, and we're friendly with each other, but I usually don't brunch with Brad Pitt on the weekends.
Interview me for an article!
Me: Are you a celebrity?
You: No.
Me: I love you, but no.
You should hook me up with [insert Victoria's Secret model here, i.e., Behati Prinsloo or Nina Agdal].
VS models usually date (or marry) other celebs, like Leonardo DiCaprio or Adam Levine. If you have anything in common with these dudes -- like millions of dollars, an absurd amount of box office hits or a sexy singing voice -- maybe then we can talk about my matchmaking skills (which by the way, are not that great...).
Who is your favorite celeb?
The most common question I've been asked. I usually reply, "You have to be more specific: To interview? To watch in movies? To envy? This could take days!" In short: Jenny McCarthy is always a riot, Chrissy Teigen has no filter, James Marsden is that attractive, and Ryan Gosling once saved me from being trampled by a photographer.
OMG, I really want to take a photo on the red carpet!
Typically, I don't go into my friends' work offices. If I do, I'm usually not snapping pics to later upload on social media with the caption "#MicrosoftOffice is so awesome!!!" -- but I digress. I get it. I say, go for it.
I want to hear all the gossip.
Me too! But sometimes that's between my editor and me, until it's published (sorries!).
What do you wear to New York Fashion Week, red carpets, after parties and premieres?
Depends on the season! As a former Floridian, it amazes some people that I never owned a pair of boots until I graduated college. Truth.
I will say this: You can never go wrong with an LBD and a statement necklace -- I'm a fan of accessories with personality. Sometimes I'll wear earrings. But, to be honest, most times I forgo the dangling kind -- there's no need for anything to get between whispers of celeb gossip and your ear...