Jersey Shore: Two words that ignite controversy, YouTube impersonations and fist pumps.
Here's the situation: In May 2010, US Weekly magazine asked me to interview the eight self-proclaimed "guidos" and "guidettes" who have taken over Seaside Heights, N.J., Miami Beach, Florence, Italy, and the world.
Interview the cast that pulled in 4.8 million viewers for season one's finale? "Of course," I ecstatically agreed.
Suddenly, flashbacks from prior episodes flooded my mind. Would they be obnoxious? Ostentatious? Orange?
I called my dad as I drove to their digs at the Metropole Hotel in Miami. I was looking for some reassurance, maybe some comfort. Instead, he warned me, "Don't get punched in the face like Smoochie."
"Snooki, Dad. It's Snooki." Even my father, who was going on 50, is aware of this MTV phenomenon.
Nevertheless, I arrived on Collins Avenue with my interview questions and recorder in hand. I spent two days with the gang. Day One I spent at their house and Day Two at Dream Nightclub for a photo shoot. Through one-on-one interviews with the cast, I became well-acquainted with these tanning titans.
Mike "The Situation" is beyond obsessed with his abs. If he could walk around shirtless 24 hours a day, he would.
Ronnie and Sam stayed away from one another -- and after watching season two, I understand why.
Pauly D loves his blow-out haircut as much as Mike loves his abs. So I had to ask him, "If you had to get rid of your blow-out and were to get a mullet, shave your head or get a Mohawk, which one would you choose?" Mohawk -- because of the spikes.
Angelina was out to prove herself to the cast and to the public. She's a very open individual and unafraid to share her opinions.
Vinny is down to earth and laid-back. He has ambitions to be a lawyer -- but not right now. Look out law school admissions officers!
Snooki is kind and smiley. "I've never partied so much in my life!" she told US, with a tall pouf atop her head. "I actually shocked myself, and I scared myself. I partied for two months straight!" said the petite, pickle-loving party girl.
JWoWW smokes a cigarette following our second interview. She no longer had the blonde extensions from season one, and she's prettier in person. The rough chick asks me if I grew up in South Florida.
It's the first time I'm answering questions instead of asking them. We talk for a minute before she is called away for photos. During the group shots, an MTV staffer turns to me, exhausted from the long day of media and pictures. She notes the Shore stars are "good kids," and by the vibe of the photo shoot, I can tell she means it.
These eight 20-something-year-olds may not be role models, but they are people. And while TV is saturated with reality shows, dramatic reenactments and formulaic episodes, these kids are doing what they do best -- being themselves.
I'm not advocating violence, promiscuous smushing (sex) with grenades (unattractive females), or binge drinking Ron Ron Juice (a combination of watermelon juice, cherries, cranberry juice and vodka), but as for being genuinely real -- well, I can fist pump to that.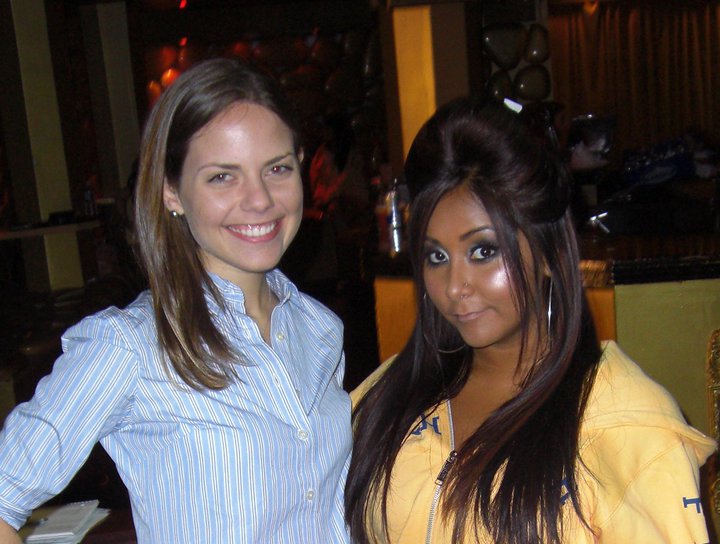 An earlier version of this article was published in The Independent Florida Alligator.