South Sudan is the world's newest nation, born from the people's vote in January 2011 after 30 years of devastating conflict and proclaiming independence on 9 July last year. Today we celebrate the first International Women's Day in independent South Sudan and together we must look at how we can address the great challenges faced by women and girls in one of the world's least developed countries.
This year the United Nations has devoted International Women's Day to rural women and girls -- those that routinely figure at the bottom of every economic, social and political indicator. This is fitting for South Sudan, whose population overwhelmingly lives in isolated rural communities. South Sudan is the size of France, with virtually no paved roads and none of the basic infrastructure even many developing countries take for granted.
I have the privilege of heading up the United Nations presence in South Sudan, as the Special Representative for the Secretary-General
As I travel around the countryside I see both the challenges and the daily courage of South Sudanese women. I see the sun baking down on the women and girls who carry goods, who line up at water pumps and walk miles bearing heavy loads to their tukuls, mud and thatch huts, in isolated villages.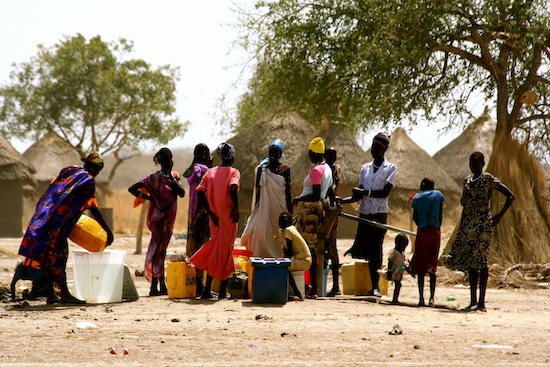 South Sudanese women collecting water at the village water-pump in Jonglei state on 14 February 2012 (Photo: UNMISS/Josephine Guerrero)
Life is tough for these women.
Many South Sudanese communities are partially or wholly nomadic and within this context far fewer girls get educational opportunities compared to boys. Maternal mortality rates are abysmal. One the most normal features of life - to give birth - is one of the most dangerous things a woman can do in South Sudan: 16 mothers die every day due to pregnancy-related complications.
South Sudanese women played a critical role in building the foundations of their country. Women are the backbone of society despite not having formal positions of power and, during times of civil war when men left to join the guerrilla movement, it was the women that held communities together.
But there is a long way to go for women and girls to enjoy equality in leadership roles. Despite the long history of male dominance in politics, there has been some recent encouraging progress on this front since Independence. In the Transitional Constitution, the Government has also recently introduced a quota of 25 per cent for female representation in all independent commissions and the council of ministers. Female parliamentarians make up slightly over 24 per cent of the National Legislative Assembly and the draft electoral legislation calls for a gender quota of 25 per cent.
I have been here eight months in this role, and as I meet women in the bustling capital or travelling within the large, remote sun-burnt states, they see a woman in charge of U.N. Peacekeeping in their country as an encouragement to them.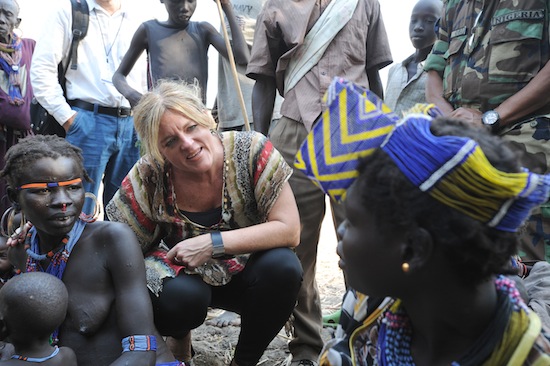 UNMISS Special Representative of the UN Secretary-General for South Sudan, Hilde F. Johnson interacts with affected community members in Pibor, Jonglei state on 7 January 2012 (Photo: UNMISS/Isaac Gideon)
The United Nations has taken important steps to improve its own gender balance, particularly at the leadership level. It is more unusual, however, to be a woman leading a large peacekeeping mission. The 10,000-strong, when fully staffed, mission is made up of military, police and civilian staff. It is here to consolidate peace and security and help establish conditions for development. It is a challenging post and in contrast to previous leadership roles I've held in the Norwegian government and at UNICEF, where women were an established presence, peacekeeping has traditionally been a male-dominated world. This is changing with a visibly growing female presence. I am accepted as a leader, and respected according to what I do: that is essential in order to deliver on the UN's mandate in such a challenging environment.
The United Nations mission has its role to play in supporting the government of South Sudan to achieve gender equality and to empower women.
Women have much experience to draw on in their role as peacemakers in their communities. They are also the mothers, sisters, daughters of the men that take up weapons and have a strong voice in preventing conflict and violence. We want to support their efforts.
The United Nations also works to support equality for women and girls through its agencies, funds and programs, whether in education or health or programs to empower girls and women. They are delivering positive results every day.
I want to use this first International Women's Day for South Sudan to place a spotlight on the lives of women and girls here. We, the international community, need to maintain our support for this newborn country, and continue targeting programs for girls and women. All evidence shows us that investing in women and girls over the long run is a critical step to securing stability, peace and prosperity. This is also the best development investment we can make. Let's do it.
Hilde F. Johnson is the special representative of the United Nations Secretary-General in South Sudan.
Find out more at www.unmiss.unmissions.org/ and www.un.org/peacekeeping