In 1969, at the intersection of the New Left, Counterculture and Flower Power, popular music's most avant-garde couple, John Lennon and Yoko Ono, launched -- together with Canada -- Rock & Roll diplomacy, amidst wars and revolutions.
1967 witnessed the anti-war and civil rights movements' convergence through developments such as the International War Crimes Tribunal and Muhammad Ali being denied his boxing license for refusing his army induction -- "no Viet Cong ever called me n----r." Turning 100, Canada was defining its complex identity, while the Beatles' kaleidoscopic-looking and psychotropic-sounding Sergeant Pepper's Lonely Hearts' Club Band was redefining Rock & Roll, and Mondovision was catapulting "All You Need is Love" to one sixth of humanity. In 1968, the Vietnam War Crimes Working Group and the first International Conference on Human Rights, in Tehran, were born. On the civil rights front, Martin Luther King Jr. was murdered, while Tommie Smith and John Carlos received their Olympics medals through the Black Power salute and shoeless -- symbolizing black poverty.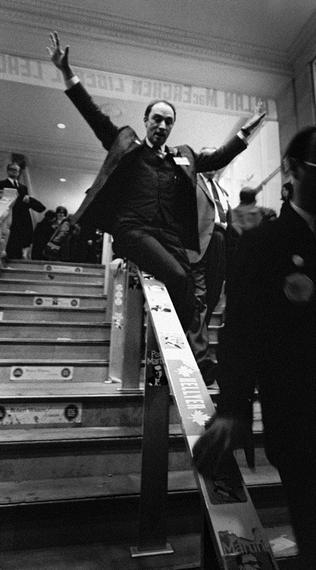 Photo by Ted Grant
In Canada, new Prime Minister Pierre Trudeau's past Marxist links and liberal views on homosexuality and divorce -- "the State has no place in the bedrooms of the nation" -- drove Trudeau-mania. As for Beatlemania, the iconoclastic White Album epitomized both Lennon's detachment from the Beatles and Rock's pandemonium -- proto-Heavy Metal and proto-Grunge suicide rage; revolution raptures; transgender laments; feminist civil rights melodies; children, superhero, bulimia and murder raves; oviparous, and pachyderms and reptiles' tributes. This simultaneous rise of Trudeau-mania and Lennon's Beatlemania fatigue favoured the birth of Rock & Roll diplomacy, throughout 1969s spring, summer and winter.
Following their March 1969 wedding, harassed by paparazzi hordes, John and Yoko turned their honeymoon into a "commercial for peace," through "total communication." The couple devised the Bed-in -- echoing anti-Vietnam War Sit-ins -- by letting journalists access their Amsterdam honeymoon bed, in exchange for peace and love messages; as well as Bagism: speaking through a bag, so as to avoid visual-based stereotyping. Failing to meet world leaders to whom they had sent acorns to be planted as peace symbols, John and Yoko aimed for a New York Bed-in. Denied U.S. entry because of Lennon's 1968 cannabis conviction, the couple flew to the Barbados but found it too hot and too far from the U.S. In May, they landed in Canada where Trudeau would obtain the decriminalization of abortion and homosexuality, as well as give equal status to English and French languages in the government. After a Toronto Bed-in, John and Yoko began a week-long Montreal Bed-in. Surrounded by celebrities such as Harvard academic turned LSD Guru Timothy Leary, and Beatnik poet Allen Ginsberg, the couple spoke about peace, love and war:
[Y]ou might sell [peace] like soap. You've got to sell and sell until the housewife thinks, oh well there's peace or war, that's the two products.
Echoing Saadi, the couple explained how "we are all married to each other" and that violence against any individual affects humankind. It was there and in pajamas that Lennon sang "Give Peace a Chance."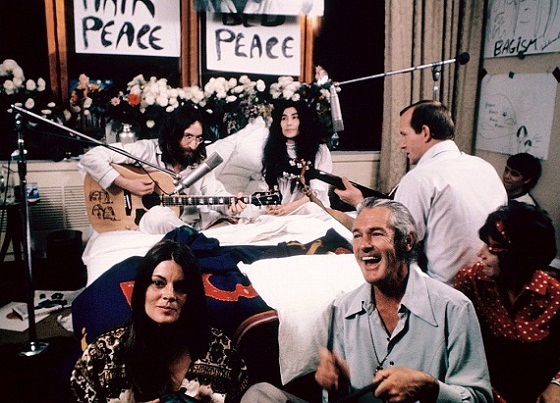 Photo by Joan Athey
In the summer of 1969, the disintegrating Beatles were Woodstock's main absentees, but their spirit infused the mud-bathed youth dancing to Joe Cocker's hypnotic rendition of "With a Little Help From My Friends", an ode to peace and love. Later, Marvel Comics made The Falcon the first black U.S. citizen superhero, teaming-up with... Captain America. On 12-13 September, chance again brought John and Yoko to Canada. Nearly cancelled due to poor ticket sales, the Toronto Rock & Roll Revival -- to feature 1950s acts and The Doors -- experienced an immediate sell-out when John and Yoko joined in. Struggling with heroin, a jet-lagged Lennon overcame his stage fright when the public's matches and lighters created a luminescent human rug, devising rock concerts' standard procedure. Today, this event is remembered as Live Peace in Toronto 1969 because of the first onstage performance of "Give Peace a Chance", the emergence of the idea of Music and Peace Conference of the World, and Lennon agreeing to return to Canada for a Toronto Peace Festival.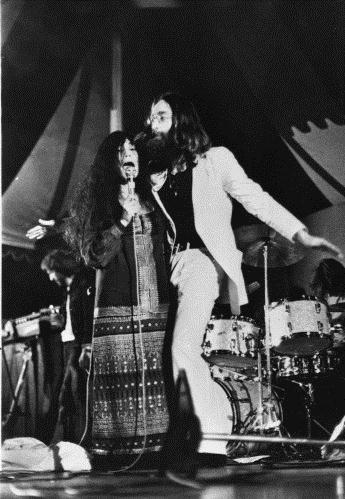 AP Photo
In autumn, following the Beatles' last recording session together, of their electronic and progressive rock Abbey Road, Lennon returned his MBE to Queen Elizabeth II:
As a protest against Britain's involvement in the Nigeria-Biafra thing, against our support of America in Vietnam and against "Cold Turkey" slipping down the charts.
With love.
John Lennon of Bag.
In December, back with Yoko to Canada to promote the Toronto Peace Festival, Lennon said:
[...] whatever we think about it, we keep coming back here without even having to think [and] ideas come to us from Canada. Normally, it is the other way around [...] It is a young country. It is right next door to the other place.
Displayed today at the Canadian Museum of Civilization and Canadian War Museum, gigantic billboards launched, from Toronto, the worldwide peace campaign message.
War is Over if You Want it.
Happy Christmas from John & Yoko.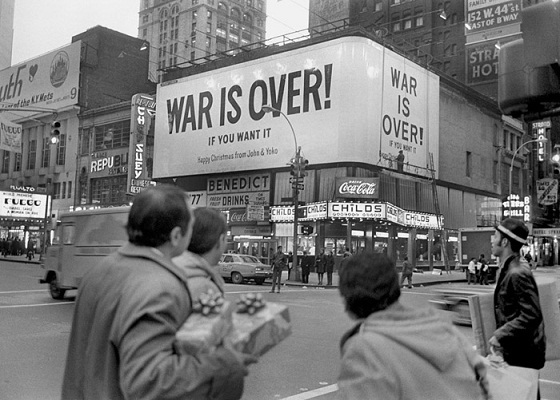 Photo by William Sauro/The New York Times Photo Archives
On 23 December, it took the maverick Trudeau -- who would do pirouettes behind Queen Elizabeth II -- to become the first statesperson to receive the anti-war hippy couple. Scheduled for 10-15 minutes, the closed-door meeting lasted an hour. Thereafter, in suit and tie, a hirsute Lennon said:
"We achieved something by communication. And talk, even as old-fashioned as it is, [...], it is still [...] the basic start to any communication."
The couple also spoke to health Minister Munro and the Le Dain Commission of Inquiry on the Non-Medical Use of Drugs. This pot-centered inquiry would constitute the final chapter of John, Yoko and Canada's Rock & Roll diplomacy, as the Toronto Peace Festival was denied permits. In a drug-marred cultural environment and polarizing Vietnam War, marrying peace and Rock & Roll demanded too high a sacrifice from sponsors, artists and politicians. Eventually, a toned-down 1970 Strawberry Fields Festival materialized without John and Yoko, through a Supreme Court ruling.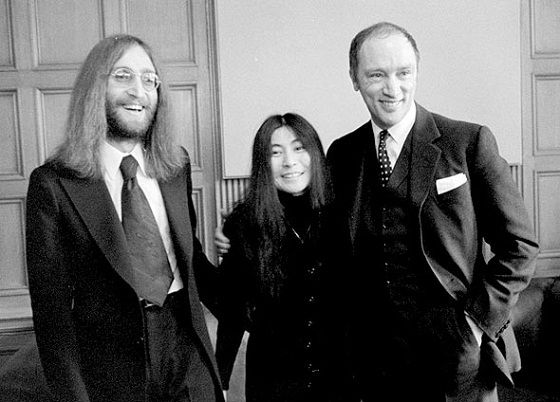 Photo by Duncan Cameron - Library and Archives Canada - PA-110805
Its improvised nature aside, John, Yoko and Canada's experimental Rock & Roll diplomacy showed the potential for politicians' and celebrities' planned activism. In 1971, the nascent Bangladesh's atrocities prompted Ravi Shankar and George Harrison to organize with UNICEF, the New York Concert for Bangladesh -- the first ever humanitarian Rock concert -- with artists such as Eric Clapton, Bob Dylan and Ringo Starr.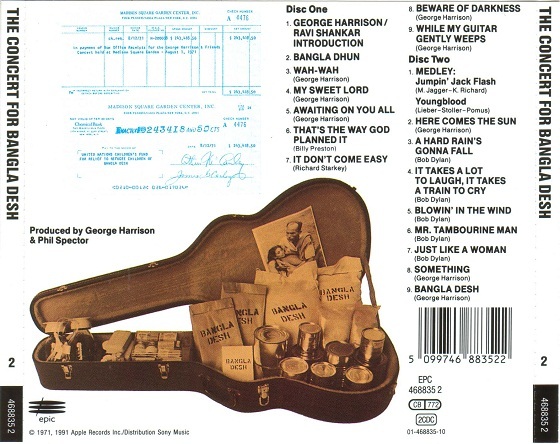 Copyright Apple Records
In December 1979, Paul McCartney and the UN organized the Concerts for the People of Kampuchea, the Khmer Rouge's victims. Under McCartney's leadership, the "Rockestra theme" involved members from the likes of Attractions, Led Zeppelin, Pink Floyd, and the Who; with Queen and punk rockers, such as the Clash and the Pretenders, also performing in the events. This was the realization of Lennon's vision, as laid down in Canada, ten years earlier:
We want to make peace economically viable. [...], if there is money in it, the establishment will come along [...]. Let them earn money out of it. Let them do what they like.
Today's youth may find it hard to believe that Lennon faced such obstacles to do what is nowadays part of politicians' and celebrities' routine. But in an era of compressed and instantly disposable news, to understand the historical context of this routine's mere genesis may help resist an Orwellian 1984. In an age of hyper-communication where voyeurism has become social media's by-product, politicians and celebrities have co-opted this media promiscuity, hoping to turn it in their favor, exactly as John and Yoko did. Unlike them however, today's deeds and words are increasingly pre-concocted and risks relentlessly calculated, often resulting in predictable choreographies. These are not to be blamed -- every age comes with its canons, but next time politicians and celebrities meet at grand receptions to discuss peace, war, justice, hunger, environment, or (trans)gender discrimination, it would be gracious of them to recall how their comfort zone was generated by those who, for similar causes, risked their careers decades ago. Their deeds may have been induced by psychotropic naïveté or political opportunism and ego. But if art is all about imagination and politics is all about reality, artists can help politicians remember the need for imagination in building a better world. As stated in Trudeau's Memoirs:
Give Peace a Chance has always seemed to me to be sensible advice.
The views above are those of the author's alone, in his personal capacity.