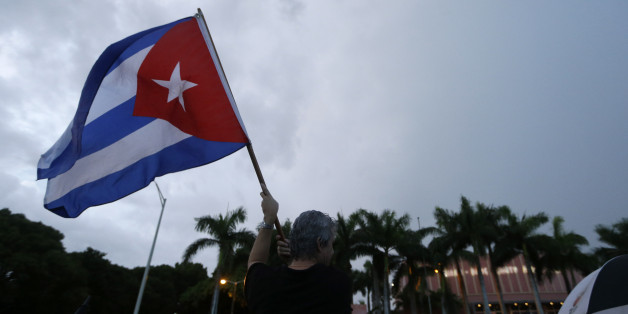 I couldn't hold back my tears. My sentiments were, and are, deeply felt. The feeling is very similar -- as a friend told me, reacting to the same news -- to when the Berlin Wall fell in 1989. It took more than 50 years to hear this announcement; it's a step towards unification, but brings brand-new clashes within the Cuban community, especially those in exile.
We have all lost in this fight. There are no winners, and with the announcement, pained feelings we have carried for five decades come to the surface. Three generations have been marked by this conflict, three generations destroyed by Fidel Castro, three generations repressed, three generations who have had to embrace new cultures, lives, and customs because we are denied the right to enter our own soil.
Today, a "relaxing" of relations between the U.S. and Cuba has begun, and the first things that come to mind are the relatives of members of the organization "Brothers to the Rescue," who were pulverized into thin air when their planes were shot down on February 24, 1996. I also think about all those who have lost their lives in the straits of Florida on makeshift rafts, I think about those who have left us and how they didn't let us come back to bury our dead, to take care of our sick, to smell and feel our land. Despite everything, even though we have U.S. passports, that island is our homeland; even if we never go back, it is still our land, and we live it each day in our hearts and in our actions.
Obama and Raúl Castro talked, they made an agreement, and politics prevailed over what the ordinary people in Miami or Havana may think. And more than just lifting the embargo can be expected: the opening of embassies, removing Cuba from the list of terrorist countries, more trips, more trade, access to technological opportunities for communication, which have been limited; simply put, today is the day that marks the beginning of an "official" cooperation between the U.S. and the island.
Today we say that Obama made the announcement to "relax" tensions between the two countries. For some it is a shame, for others joyous, for others it is confusing. But the bitter truth, that hurts especially many in exile -- those of us that have remained steadfast in not returning to our land, either by conviction or because we are denied entry -- is that a significant percentage of Cubans began "relaxing" these relationships before this; we ourselves have allowed this "relaxation," because of the Cuban Adjustment Act of 1996 (CAA).
Many of us are confused; many of us are still carrying our pain; many simply do not understand, nor will ever understand. While some travel almost every month to Cuba, by the different routes which have been invented, do illicit business between Miami and Havana, others are condemned to be stranded in exile, forced or not.
I have not been able to return to my island. I'm on a blacklist denying me access to walk the ground where I was born, and when they permit me entry they will watch and censor me. I cannot see my 80-year-old father; I haven't been able to celebrate a Christmas with him in 20 years.
Who will give me back this time which will not return? Who will help me heal the pain of what could have been and cannot be? Even with the pain I bear, the past does not define me. I'm betting on the future. I want to see my father. I want to return to my country with my rights because I was born there, even though I have decided on a harder path, the pilgrimage of exile.
Can I do this? Has the time arrived for my human rights to be respected, along with my "freedoms" as a Cuban citizen? Let's consider who brought us to the new chapter that's beginning.
Translated from the original on HuffPost Voces.