It is difficult -- well nigh impossible really -- to cover a career like that of Chip Taylor's in just a few hundred words. Taylor (born James Wesley Voight) grew up in a working class family in Yonkers, New York. His father, Elmer Voight, was a golf pro who worked at the Sunningdale Country Club golf course in Scarsdale. Chip was the youngest of three sons. His older brothers are Barry (a geologist and volcanologist of no small reknown) and Jon (the well-known actor, also the father of Angelina Jolie).
At 16 years of age, Taylor showed great promise in a country band which was signed by the King Records label. Chet Atkins asked to see everything he wrote -- not believing he hailed from Yonkers -- and Taylor became a Brill Building songwriter, writing hits for Waylon Jennings, Evie Sands, and Emmylou Harris among many others. I'd heard a folk tale that two of his most well-known songs -- which sound nothing alike -- were actually the same song. Chip corroborated the story for me. He had written "Wild Thing" which became, of course, the Teenage Anthem of All Time. The long, angst-y pauses in the lyric -- "Wild Thing... I think you move me... but I wanna know for sure. C'mon and hold me tight... I love you" -- were actually because he didn't know what to write next. Later on, he tried his hand at writing "Angel of the Morning" (which was to be recorded by the criminally underappreciated songstress Evie Sands, though Merilee Rush and the Turnabouts had the massive hit a few months later). He had overheard someone playing the melody of "Wild Thing" very slowly on a guitar. Those notes, he told me, inspired the lyric: "There'll be no strings to bind your hands/not if my love can bind your heart." And the rest... as they say... is history.
In the 1980's Chip left his songwriting career to go into professional gambling, which he was very good at. He studied the mathematics of gambling and proved to be nearly telepathic in his abilities to predict the right bet to make. He got so good, in fact, that he was banned by casinos in Atlantic City. In 1993 he returned to the music scene and met fiddler Carrie Rodriguez in 2001 at South by Southwest. Thus began a creative partnership which lasted for many years. Chip and Carrie remain good friends and continue to perform together occasionally.
Taylor's most recent work is with his new band, the New Ukranians, released earlier this year on Train Wreck Records: F**K All The Perfect People. He'll bring his smoky, dark and beautiful ballads from the new record to Hill Country Live in New York City on May 17. What actually began with a single song ("Too Dynamic") that Taylor wrote in response to a negative comment in a Swedish live review ultimately turned into an entire album of material recorded with the New Ukranians at Halden, Norway's Athletic Studios. The album consists of 15 originals plus a bonus track ("The Darkest Day" -- written about the July 22, 2011 killings in and around Oslo), and features longtime guitarist John Platania (Van Morrison), keyboardist Goran Grini, bassist Bjorn Petterson, guitarist Orjan Maki, drummer Magnus Olsson, and additional musicians.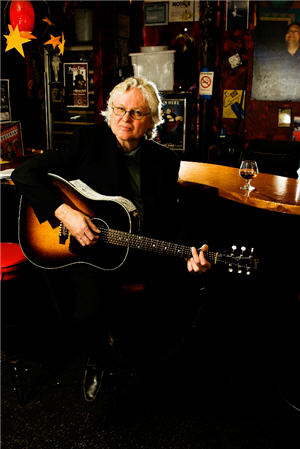 Besides his storied musical career, or in fact informed by it, Taylor also does regular podcasts on the Church of the Train Wreck website which are beyond fascinating. He ruminates on everything from his tour of Swedish prisons to Rosa Parks to his son's wedding. The philosophy behind the podcasts is "Be prepared for train wrecks... be ready to help others who have left the track... In life we're all going to encounter train wrecks of one sort or another. What's important is figuring out a way to get the wheels back on the track with the train heading in a better direction than before -- without eliminating all risks and adventures."
Check out this video for the new album's title track, directed by 4-time Juno Award winner Jeth Weinrich, featuring a few of the beautifully imperfect people who are the protagonists and the heroes of this beautiful, deeply felt album by one of America's greatest songwriters -- still out there chasing the chills. Chip told me that when he wrote a good song, he always knew because he could 'feel the chills' and -- luckily for us -- he continues to chase them.