World-renowned photographer Erika Stone's work is currently featured in a retrospective exhibition at the gallery at Battery Park's Hallmark Senior Residence through December 10. Stone, a very spry 90 years of age and a Hallmark resident, was present at the opening reception November 10. "I love to talk to people about their lives, their life stories," Erika told filmmaker Lars Gerhard in the 2011 documentary Erika Stone: A New York Scene. A stringer for Time Magazine and Der Spiegel, she was assigned to photograph the biggest celebrities of the day -- Marilyn Monroe, Pablo Casals, Leonard Bernstein, Alfred Hitchcock, Marlene Dietrich and others. But she preferred to photograph the everyday New Yorkers she saw on her walks through the city: "I usually took one afternoon a week, my husband did the babysitting and I went and walked and photographed."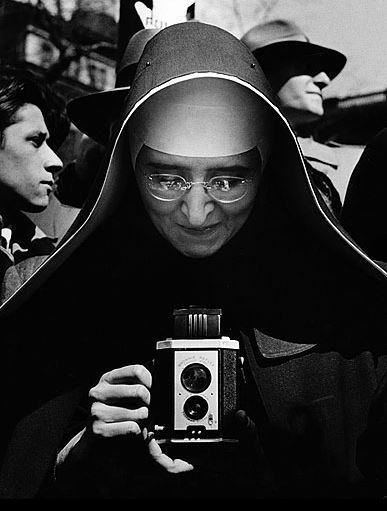 Photographing Nun, NYC, 1951
(c) Erika Stone
Used With Permission
Erika originally moved to America with her family during World War II. They were Jewish, but her parents didn't tell her this until they left Germany, because they felt everyone around them was a spy for the Third Reich. She started making images at a very young age, doing her printing in the family bathroom until her mother asked her to stop because she was staining the sink with processing chemicals. At that point, she joined the Photo League, a group of socially-conscious photographers who shared darkroom facilities. "I was always interested in doing something with my photography that would improve the world." This was the 1940's, the era of McCarthyism, and a spy was embedded in the League who reported that they were a communist organization, "and we were closed down."
Although she considers herself mostly self-taught, Erika studied photography with Berenice Abbott and George Tice at the New School of Social Research. She was chosen by Life Magazine as a prize winner in the 1951 Contest for Young Photographers. She published books about photography as well as her own photography collections. Stone was one of 20 women photographers whose work was published in the 1982 anthology Women of Vision. Her pictures appeared in the U.S. Camera Annuals 1952, 1954, 1955, and 1956. Her fine art and documentary work is in the collections of the Museum of the City of New York, The International Center of Photography, The George Eastman House, The Portland, Maine Fine Arts Museum, The New York Public Library, and The National Gallery of Ottawa, Canada. She is represented by the Howard Greenberg Gallery.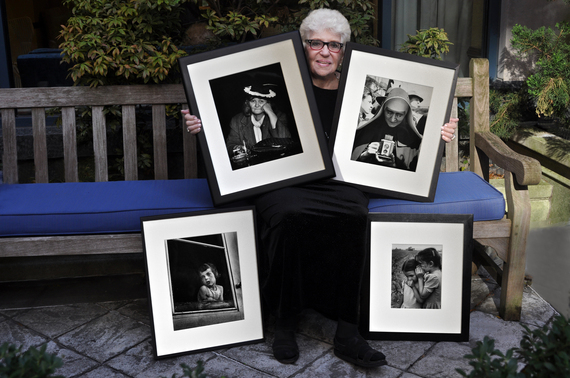 Erika Stone, photograph by Jane Feldman
Used With Permission
"Erika's unique ability of capturing the human spirit is powerful and goes right to the heart," says Whitney Bryant-Glandon, Director of Lifestyle Programming at the Hallmark of Battery Park City. "It reminds us that every person has a unique story to share and Erika's photographs are those special moments. These iconic black and white photographs capture the simplicity of the subject, Erika's favorite subject -- people."
"What makes Erika's work so extraordinary is how she uses her camera," says photographer Jane Feldman, a friend for many years. "Whether in her early years as a street photographer in Harlem and the Bowery when she focused her lens on the triumph of the human spirit, or when she photographed immigrants at Ellis Island, or when she photographed a transsexual documenting her journey, Erika has always approached her subjects with dignity, compassion, and complete objectivity."
"So many subjects inspire me, but mostly people inspire me," says Erika. "That's why my camera will always seek them out."
Harlem Street Photographer, 1950's
(c) Erika Stone
Used With Permission
The Erika Stone Exhibit at the Hallmark of Battery Park City is open by appointment through December 10 by contacting Whitney Bryant-Glandon.
For more on Erika's work please visit her website.