As we leave summer 2011 behind, it's time to curl up with a good book, remembering some of the moments that brought us to where we are currently in music and pop culture. The following five very different and all equally fascinating tomes will take you on an enjoyable and fascinating trip back in time.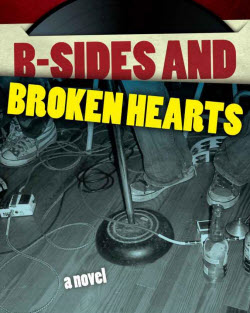 B-Sides and Broken Hearts by Caryn Rose
Till Victory Press, 2011
If you've ever sat in a diner at 3 a.m. after a concert and hashed over the set list minute by minute, song by song -- or marked the events in your life by what tour was taking place at the time, or which record was just released -- or waited in line all night to buy concert tickets - or drove across the country to see a show -- then likely you will enjoy this book as much as I did. Caryn Rose's book opens with the watershed moment of Joey Ramone's death in April 2001 and spurs her protagonist, Lisa Simon, to immediate and brutal life changes. Later on in the story, Lisa sagely advises one of her friends who is the lead singer in a band destined to be world famous, "Jake -- you are thinking Mick, when you should be thinking Keith. Keith, 1972." It's exactly this kind of dialogue that makes the book so wonderful and real. Rose is steeped in rock and roll history, this is her life blood, she walks the walk and talks the talk. So does Lisa Simon.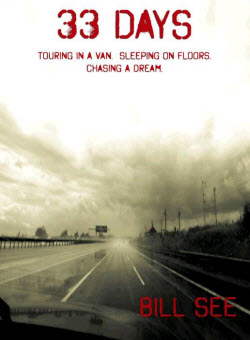 33 Days by Bill See
Lulu.com, 2011
33 Days is the true story of an indie rock bank from L.A., Divine Weeks, on their first ever tour through North America in the 80's as seen by author Bill See, who was the lead singer. It's the day by day journey of four guys in a smelly van with no windows in the back, staying at dive motels or crashing on someone's floor every night, eating peanut butter and jelly sandwiches to stay alive every day, and once in a great while getting to achieve the transcendence of really connecting with an audience at a gig where they are usually opening the show for the headlining band. This is the tender, often heartbreaking, and beautifully realistic story of a band taking its first steps into the real world. 33 Days captures perfectly the disconnect felt by the band members from everyday reality during their travels: "As we make our way out of Portland, we experience the completely alien concept of doing exactly what we want to do while the rest of the world carries on with their dull and dismal Saturday morning errands... For us, it's back on the highway to follow the breadcrumbs left by our heroes in this sort of parallel universe."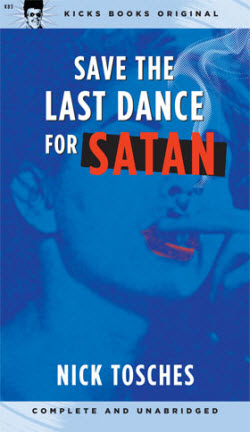 Save the Last Dance for Satan by Nick Tosches
Kicks Books, 2011
Back in the day, Tosches wrote a column for Creem Magazine called Unsung Heroes, in which he profiled what he called "forgotten rhythm-and-blues and country renegades." He's since become the author of many an iconic volume about the likes of Jerry Lee Lewis, Dean Martin, Sonny Liston, and Dante Alighieri. A piece he wrote for Vanity Fair eleven years ago, Hipsters and Hoodlums, was the impetus for this new book, published by the masterminds behind Norton Records in their new and fabulously groovy imprint, Kicks Books. This handsome, slim pulp paperback shines a light into the dark corners of rock and roll's beginnings in the netherworld of back room deals with the Devil, or the Mob, or both. One of the many highlights: the true story behind one of Rock and Roll's most haunting records ever, Sally Go 'Round the Roses by the Jaynetts.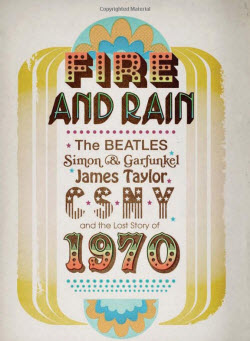 Fire and Rain: The Beatles, Simon & Garfunkel, James Taylor, CNSY, and the Lost Story of 1970 by David Browne
Da Capo Press, 2011
The Sixties were a period of total renaissance in the arts and especially in music. But there was a world of difference between the counterculture atmosphere of the later part of that decade and the stone cold sober reality of 1969; a year that ended with a violent death at Altamont all too painfully bringing the decade to a crashing halt. When the Seventies began, those of us who were there gazed upon them at first with more than a little trepidation. Music critic and journalist David Browne's book takes as its focus four artists at the peak of their powers, and the four landmark albums they released in 1970: Let It Be, Sweet Baby James, Bridge Over Troubled Water, and Déjà Vu. Fascinating doesn't even come close as we get a never before seen glimpse of the time leading up to Paul McCartney's announcement that he was leaving the Beatles and the intertwining, almost incestuous connections between all four of these artists, not to mention the tremendous cultural tremors going through the body politic as a whole and how this informed their music.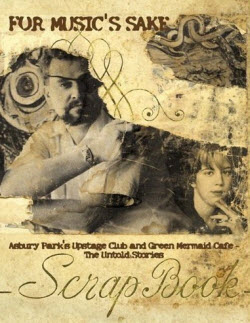 For Music's Sake: Asbury Park's Upstage Club and Green Mermaid Café, The Untold Stories by Carrie Potter Devening
AuthorHouse, 2011
Bruce Springsteen's story is for the most part rather well known at this point: teenage boy picks up guitar and can't stop playing it; joins a band; leads a band; plays all night and all day for years; eventually gets signed by famed talent scout John Hammond to Columbia Records; tours nonstop and builds a loyal following; makes covers of Time and Newsweek simultaneously in 1975; has a hit; becomes a global icon. Yet there are still some parts of the tale that remain shrouded in the mists of time and one of those parts is what this book is all about: Asbury Park's Upstage Club. Carrie Potter Devening, the granddaughter of club owner Tom Potter, spent years putting this incredible book together of her grandfather's priceless collection of photos and memories. For of course The Upstage was not just a club; it was a happening, a community, existing in the time-space continuum at the perfect moment. This was the site of the true birth of the Asbury Park music scene in the late 1960's. Along with first hand accounts from the musicians and audience members, the book includes well over 1000 photos from Tom's prodigious archive and spans not only the few years the club existed but also Asbury Park before and after the Upstage, making it a priceless historical document.