Tony Leventhal and Seth Gordon met and started playing music together at the age of nine, when their ex-pat American parents were living in the same part of Spain. In the mid-'80s, after relocating to the USA, they formed the Mockers and began to create melodic, jangly, sixties-flavored pop music. They've released four indie CDs to date which have become a fixture on several critic's choice and top 10 lists. Two thousand and twelve's Men of La Mancha makes good on the Mockers' storied tradition of catchy tunes with a twist, in the power pop vein.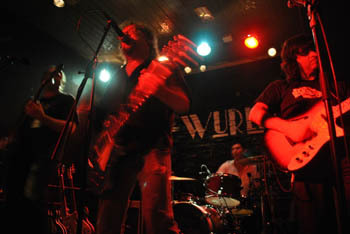 The first single and video release from Men of La Mancha is the appropriately timed "Republican Girl (man they're looking good)." In swingy power pop mode, the band asks:
Sometimes I wonder what it's like on the other side
When I see them on the cable news they're hard to defy
'Cause every hair is always right in its place
Miss America smiles on a pretty face
They're like a siren's call to the November race
Man they're looking good
The video, directed by Leventhal (who also wrote the song) and edited by Stefanie Dworkin, is feisty and fun and has so far racked up 12,000 views on YouTube. Check it out below and follow The Mockers' adventures through their Facebook page. The band's lineup consists of Seth Gordon on vocals, guitars, keyboards; Tony Leventhal on vocals and bass; Robbie Rist on vocals and lead guitars; and Luis Herrera on drums.
I want to know what it's like to be holding hands
With a Republican girl
Would I start to keep my head buried in the sand?
With a Republican girl