Actual Title: Finale, Part Two
Oh, My Lord of the Rings. Well if you don't know by now who won Project Runway, you've clearly been under some motherfreakin' rock, so let's just get this out of the way right now and move on to snarkily discuss some of the best moments of (at last) the Finale Finale.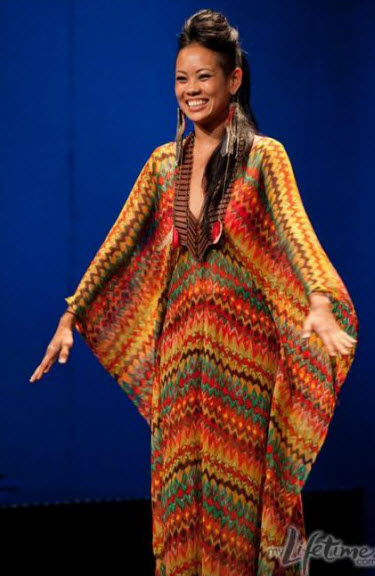 As we rejoin the Final Four at their hopped up digs in the Hudson Hotel's penthouse suite, Josh is griping that there are still four of them, because he was counting on a 25 percent chance instead of a 33 percent chance at the gold ring. This season, for the first time like ever, as Laura Bennett pointed out in her blog on the official show site, the contestants were given a huge advantage over previous seasons. They were able to show part of their collections to the judges, gather valuable feedback, and still have time for a bit of a do-over. As Episode #14 begins, La Gunn bestows even more of an advantage; they'll be able to go to Mood for one last shopping trip with a budget of $500 so they can heed the judges' advice and move their collections forward - and all this with two full days until the Big Shew at Lincoln Center (that is an Ed Sullivan joke... in case you didn't know. Bert would have gotten this reference).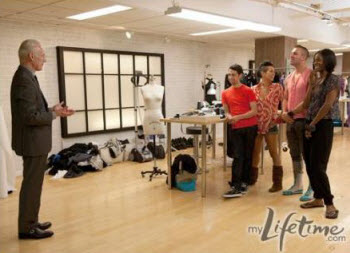 May I ask you to gather 'round...one last time
Tim also points out how divergent his own view can sometimes be from the judges' views. For instance, he loved Viktor's fabulous white leather jacket over the dress - the judges hated it. Tim likes Kimberly's accessories; the judges hated them. Tim loved Josh's 'Grecian catsuit,' the judges eschewed the back of the garment. But Tim does admit Anya was all over the place and floundering. Anya herself believes she was having 'a bit of an identity crisis' in the process of making her collection and when Nina advised her to embrace what she is good at, it was a real wake-up call for her. At Mood, her strategy (shades of Olivier) is to just grab whatever fabric speaks to her with no clear plan. She plans to make three complete new looks before runway day.
Josh is also experiencing an identity crisis basically because he keeps dreaming up new things. Even Viktor, who never helps anyone, is counseling him to step back and figure out what he needs to do to finish what he already has rather than start new pieces. Anya comes in to the sewing room to console him as he is having a crying jag. "Quitting is not an option," says Josh to Anya. "And sitting here crying isn't either. If I'm tired, I should take a nap!" he finishes, laughing as he references the now famous bitchy scene with Becky weeks earlier.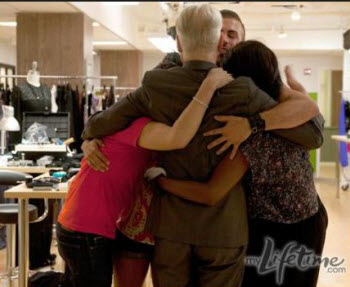 Group Hug
As the hours slide by bringing them all ever closer to the Holy Grail that is Mercedes Benz Fashion Week, there is definitely a change in the atmosphere. It's not so cut throat; there is a camaraderie - they're all in this now, and though they all want to win, nobody is undercutting anyone else. The day before the runway Uncle Tim comes in for his final drive-bys with each designer. Kimberly is a little deer in the headlights but Tim wisely lets her get on with her process. Anya confides in Tim that she doesn't believe the collection is her best work, but she isn't letting that get in her way. Viktor is reworking his collection and putting aside a couple of the prints he'd originally planned to include in favor of some new garments he's made after the Mood visit. As for Josh, Tim is not fond of the bright green shorts he's added to his line and he clearly doesn't like the overall vibe. Once again he mentions he really can't stand the print that Josh showed him during the home visit, which is still a lynchpin of the collection. Josh is thrown by this but decides to trust his own gut and move forward.
3:30 a.m. Day of the Project Runway Fashion Show at Lincoln Center. Off goes the alarm. Viktor is flossing, Josh is applying mascara. The four of them approach Lincoln Center on the pre-dawn streets of a sleeping Manhattan. They walk in and stop for a group hug at the top of the runway before going inside to the usual backstage madness, only more so. Kimberly has misplaced her toolkit and Anya helps her out with minutes to spare. Josh has enough time to bitchily comment on Anya sewing models into her gowns. Heidi appears on the runway in a sparkly black jumpsuit to introduce the judges and today's guest judge, fashion designer L'Wren Scott. And sew it begins.
KIMBERLY GOLDSON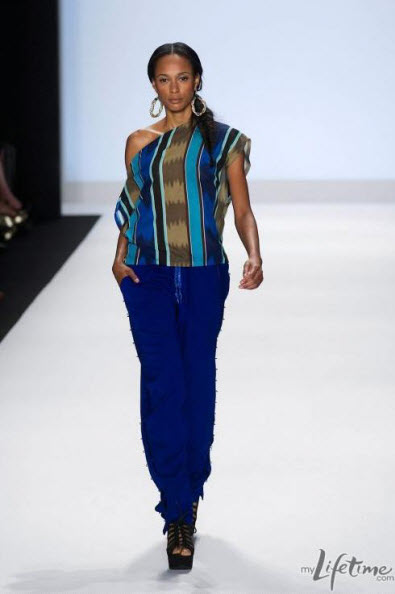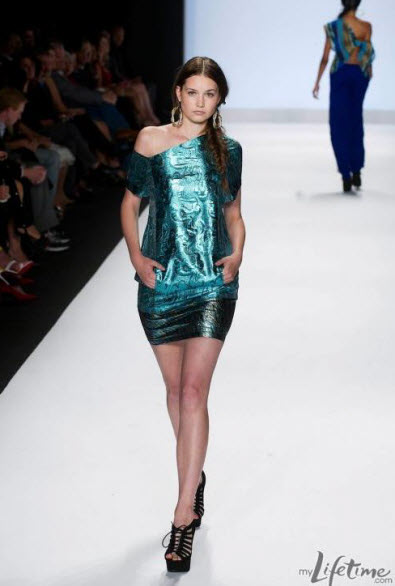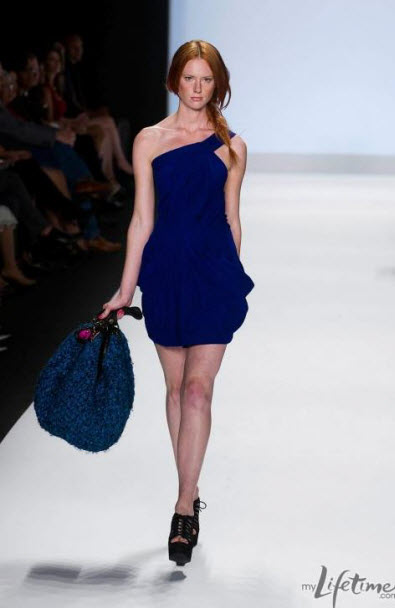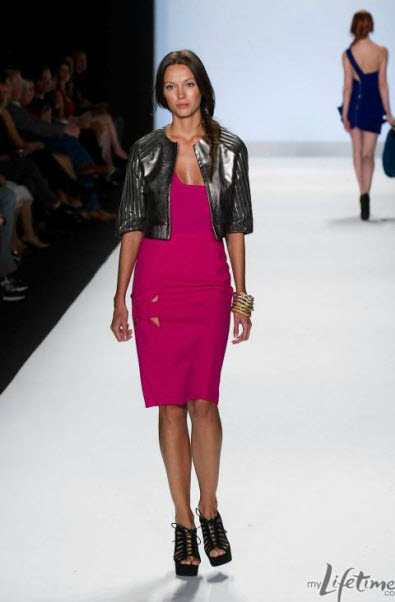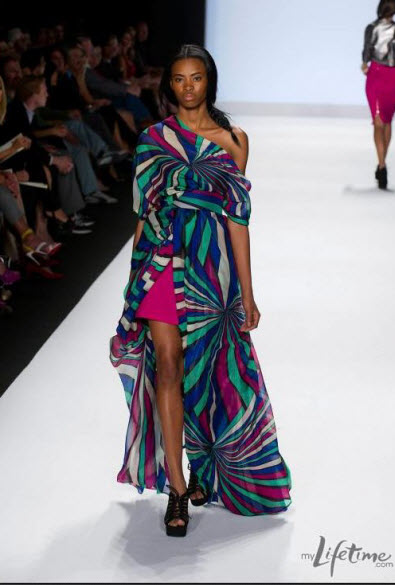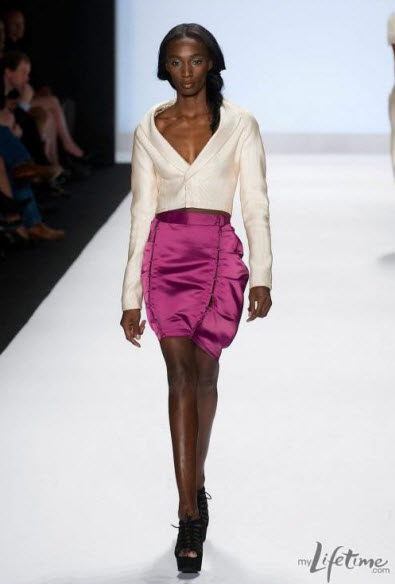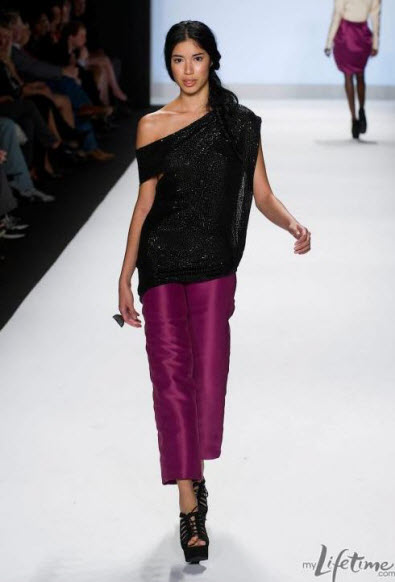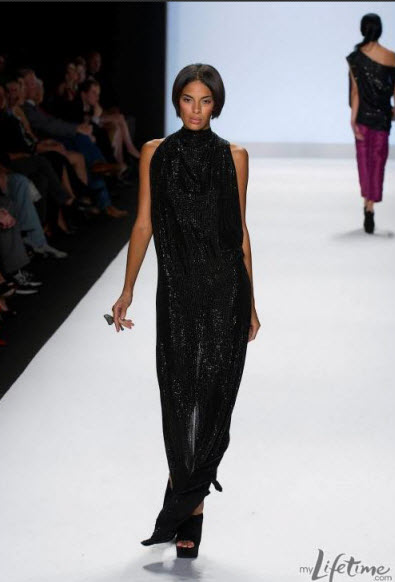 JOSHUA McKINLEY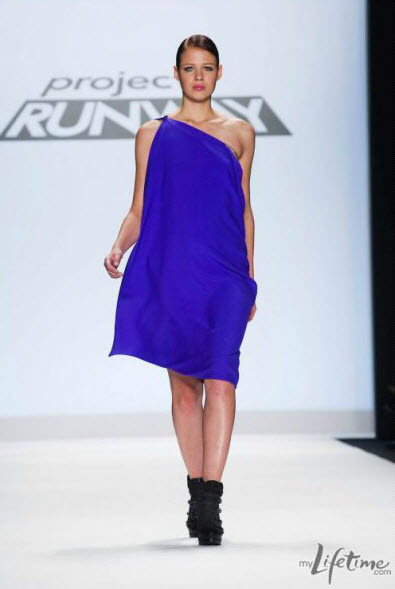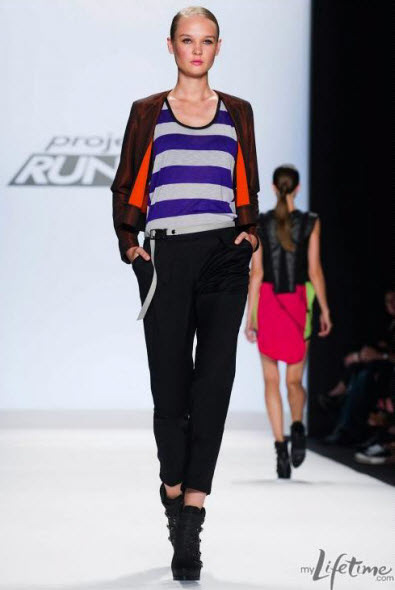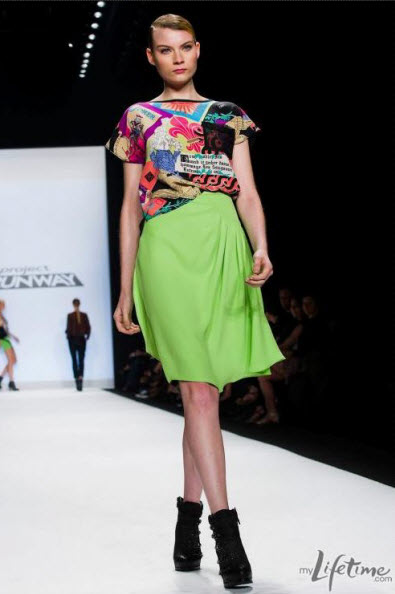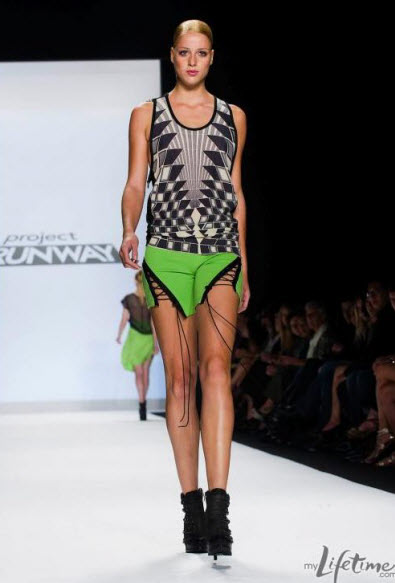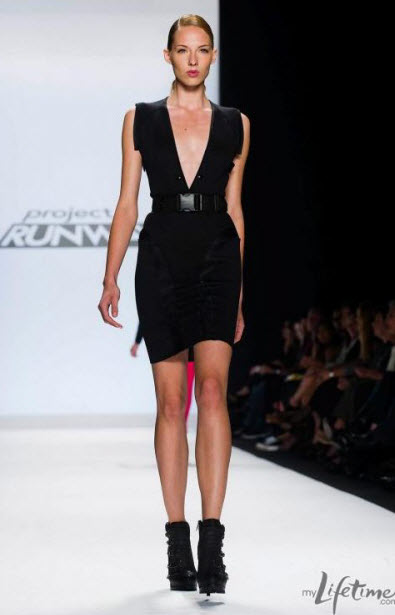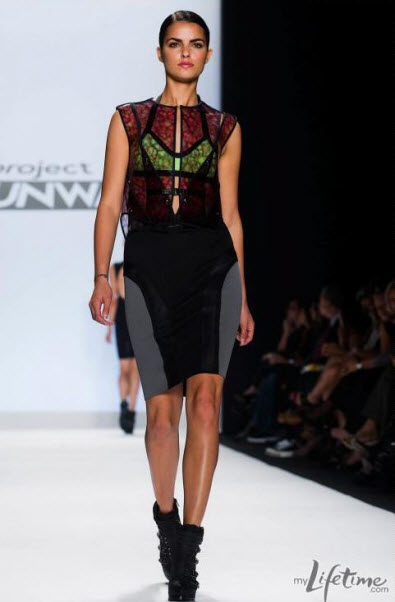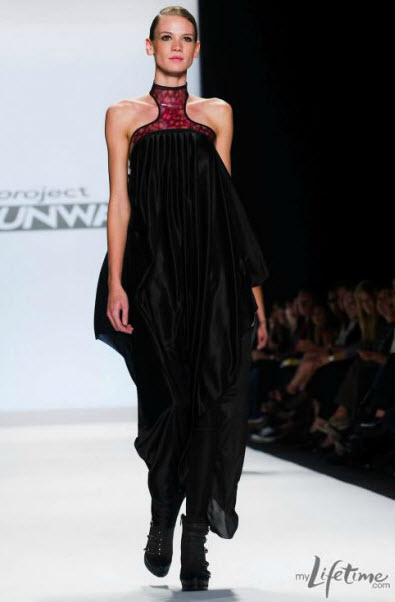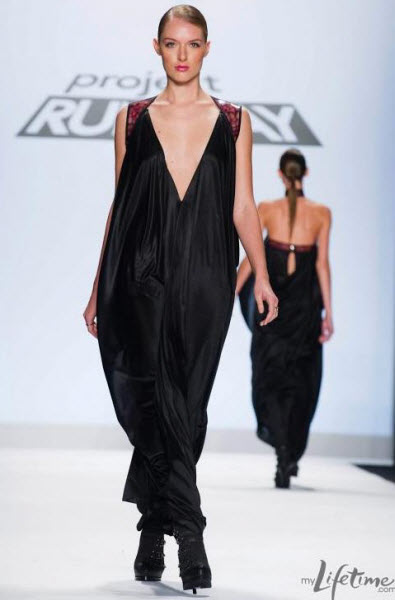 VIKTOR LUNA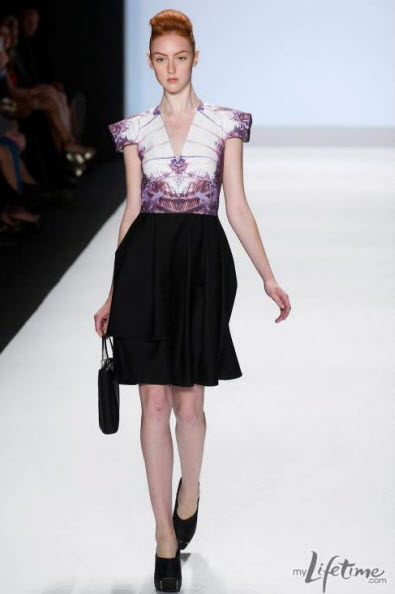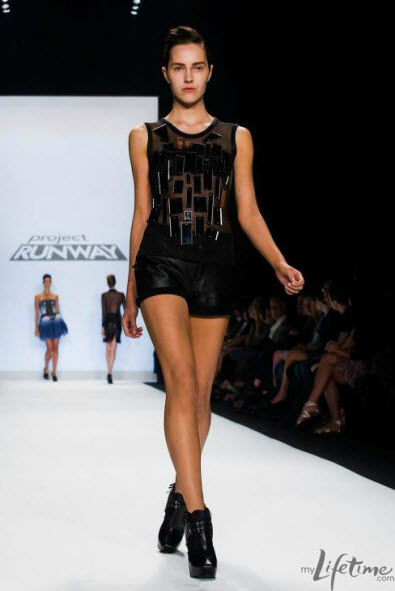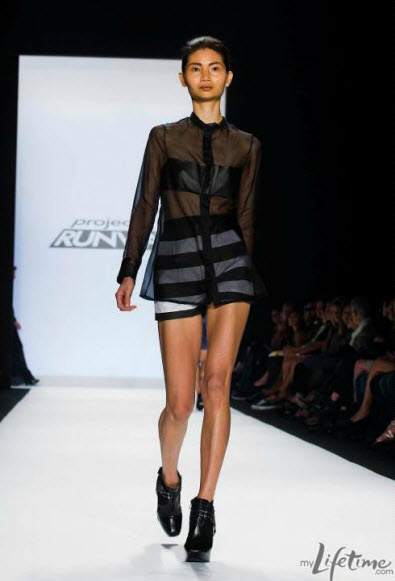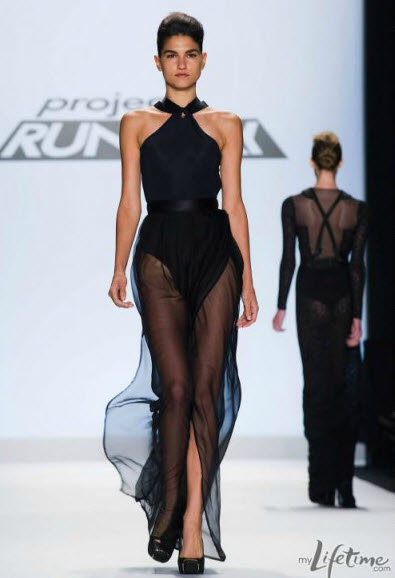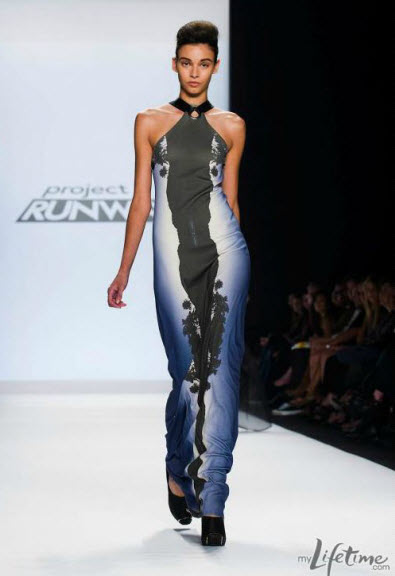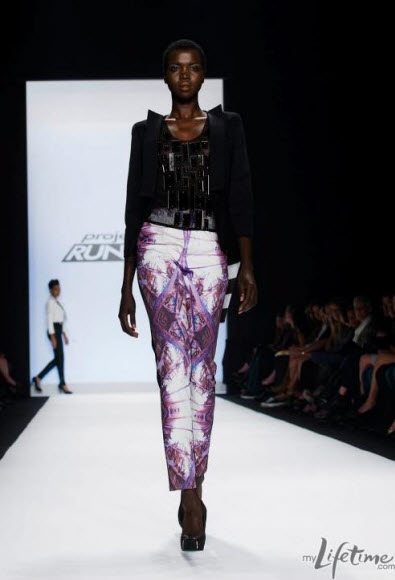 ANYA AYOUNG-CHEE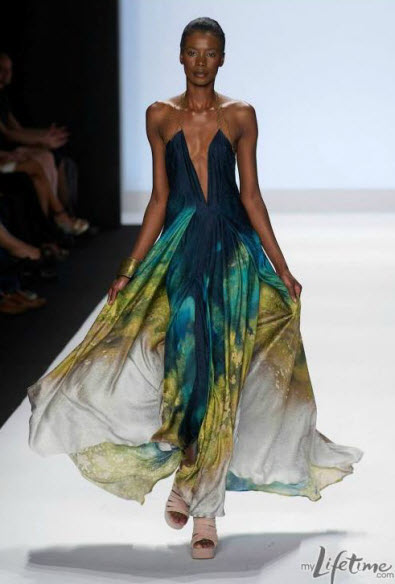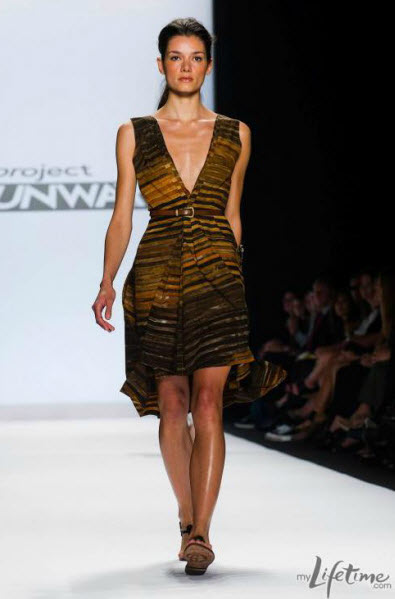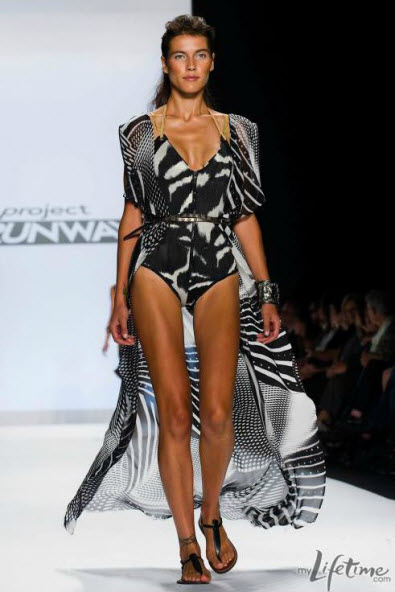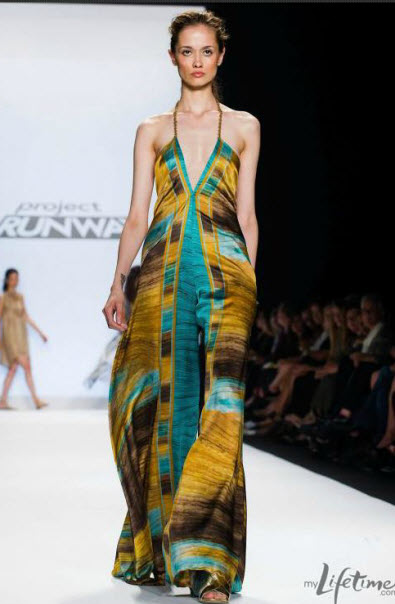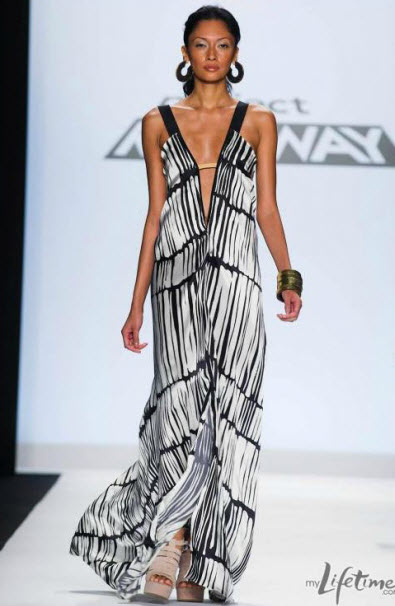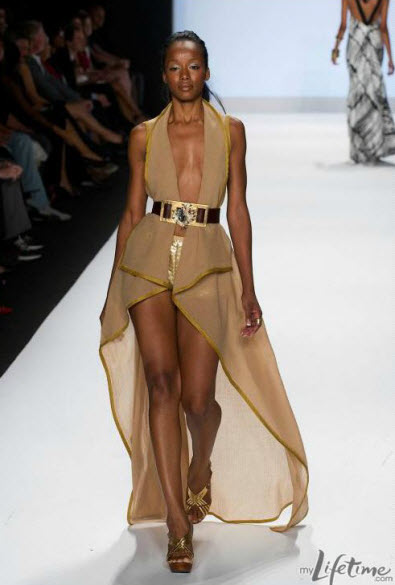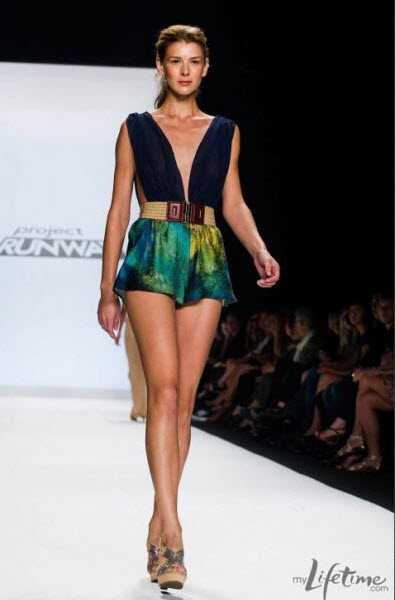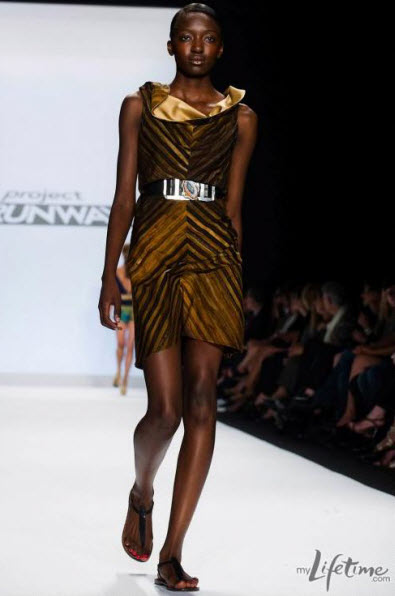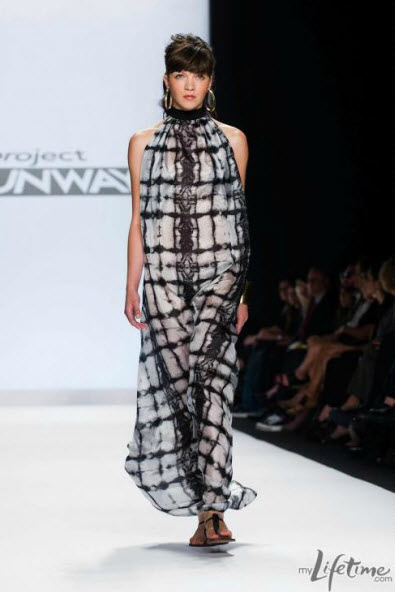 After the show, we're treated to some celebrity soundbites (Jennifer Love Hewitt likes Anya best; Betsy Johnson admires the color and neoprene in Josh's collection; Season 1 winner Jay McCarroll likes Josh's collection but not his personality; Marie Claire Editor-In-Chief Joanna Coles calls Viktor's collection exquisite, creative, fresh, new) and the Final Four repair to their last judging session.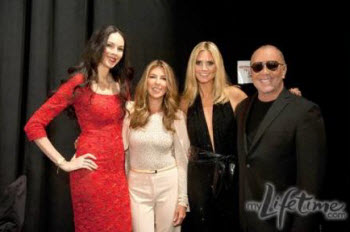 The judges with Guest Judge L'Wren Scott, who is 6'3"
Kimberly tells the judges that her inspiration is the urban girl and she wants to bring her to the next level. MK digs it for the most part with only a few small quibbles. L'Wren loves the lamé minidress and really loves the hot pink dress, though perhaps without the jacket. Heidi's favorite is the ivory pants and blouse, and she likes the little peek-a-boo touches sprinkled throughout. Nina loves the finale dress and wishes there had been more of the glittery minidress type of look.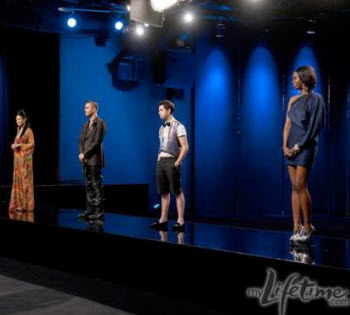 Josh is next. Heidi likes his collection and totally got his point of view with the contrast between hard and soft. She likes his psychedelic print and calls it cool and gutsy; this is that print Tim hated (his exact words: "I think it's one of the homeliest textiles I've ever seen in my entire life"). MK calls the garments well designed and beautifully made and praises Josh for holding back and letting his work shine. He says the neoprene and plastic can look very gimmicky but Josh made it look believable. Nina calls Josh "most improved" and finds the collection very editorial.
Viktor (by the way what the freak is he wearing today of all days? It's like he is trying to out-Mondo Mondo, and not coming close) is next to face the music. He tells them he loves the rock & roll girl and everyone has a rock & roll girl in them (close up shot of L'Wren, who by the by is Mick Jagger's girlfriend). MK loves Viktor's print pieces and praises his tailoring and his polish. L'Wren is very impressed with the execution of the garments. Nina loves the print pieces also. Every one of the judges is extremely unimpressed with the four sheer looks he created over the last couple of days, Heidi says they look a little cheap and Nina calls them a missed opportunity. Heidi says it's almost like he had two shows, one with the prints and the other with the see through black chiffon.
Anya tells the judges her collection was inspired by a trip to Tobago and the way they dress there - an easy, sexy vibe. Heidi really likes the overall vibe of the collection; "who doesn't want to be that girl?" Although she does point out that Anya didn't have as much to do on the construction side as the others did due to the way the clothes were designed - plus eight of the ten looks have the same plunging neckline. MK says Anya's was his favorite opener - cut fabulously, sexy without being slutty, had both edge and a boho vibe. He warns her, however, that not everyone is in a caftan floating around the world at all times (you don't say), so variety is important. L'Wren and Nina coo over Anya's use of print. Heidi admits she was worried when they showed the three looks and the judges only liked one of Anya's three, but she really turned it around.
Final Green Room.
Well, skipping ahead because we all know what happened - in the green room our Final Four hold hands and honor each other as competitors (file under: who'd a thunk it? Most especially with bitchy queens Viktor and Josh). Back out in Chatsville, the judges decide that though Kimberly is a good designer, she's just not there yet. They believe Viktor's collection to be on the schizo side and his show had too many hills and valleys. As for Anya, they're amazed once again that in the last two days she had a full about-face. Heidi points out that when Tim visited her three weeks into the five-week process of making a full collection to show, she had nothing ready. L'Wren dubs this a major strength because of how often they have to perform under tremendous pressure. Although Anya's collection is the definition of one-note, there were no hills and valleys and she's clearly tremendously gifted. The judges agree that Josh's styling was the best overall. He only had one misstep and that was the outfit with the striped t-shirt, jacket and pants. It's clear that his collection demonstrated a lot more work and more thought than Anya's. But with Anya, they can picture her brand so clearly - MK says he can see an Anya bag, an Anya shoe.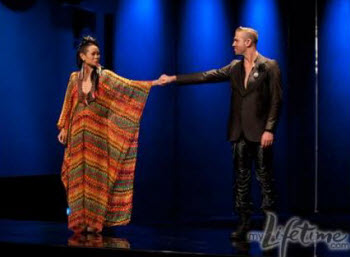 Josh and Anya end up to be the final two (this, I never would have predicted, just sayin'). Josh hugs Anya when she is named the winner and gives a parting shot to the camera that though her collection was amazingly beautiful, it wasn't sewn amazingly well. And sew it goes, my friends.
Just a few final thoughts on Season 9. Besides being the big winner, Anya was also the "Fan Favorite" winner, voted in via Twitter. She won $10K and decided to give half of her winnings to Anthony Ryan, who was the only other designer who even came close to her in the Fan Favorite rankings. Apparently Trinidadians and other Caribbean residents had a massive response to her and the contest was covered all over the news in her home country. Anya announced she is using half the money to set up a microfinance loan program for young creatives in Trinidad and Tobago and giving the other half to Anthony Ryan's Rock One Campaign Fund. Which I think is way cool.
Also, as you all know, the Runway show took place September 9th which was quite some time ago. At that time nine designers showed their collections to the crowd, since the Final Four were not going to be known for weeks. I'm pleased to say that Nick Verreos, who's been blogging fabulously for the Project Runway site, agreed with me that Laura Kathleen's collection was one of the strongest. Thank you! I wrote about this on the site, and was pooh-poohed for it many times. I'm so happy Papa Nick was of the same opinion as me and my friends who attended the show that morning! Check out this amazing dress she made and here's a link to the rest of the collection.
Laura Bennett, who has become my fashion arbiter of choice through her blogs this season, also agreed with me that of the Final Four, Viktor should have won. Laura wrote: "I still believe that when it comes to creative silhouette, construction, quality of fabrics, taste and variety, Viktor is my winner. I didn't see his black pieces as missed opportunities, and despite what Heidi thinks, nothing in his collection looked cheap. His prints were beyond fabulous, creatively used and tasteful -- and they were created by him, not purchased pre-designed off the shelf. They actually reminded me of Ralph Rucci, my personal fashion god. His tailored pieces were innovative and flawlessly made." Both Laura and Nick pointed out, as well, that Anya's collection is almost a re-do of Uli's from Season 3 - only Uli's were better constructed. I adore Anya and have from Episode #1, but Viktor deserved this win, IMHO. Your thoughts?
Thursday, November 3, see Project Runway: Behind the Seams of Season 9 at 9pm on Lifetime TV.