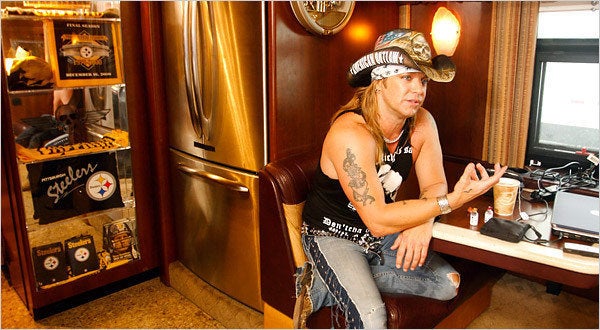 Since Valentines Day - or, perhaps more appropriately, VD - is this week, we'll begin our rubbernecking with VH1's Rock of Love Bus with Bret Michaels. Bret Michaels, who is both a solo um, artist and the lead singer from the band Poison, started to channel his inner Flavor Flav in July 2007 with VH1's Rock of Love, in which a posse of um, cats moved into his big mansion so he could sort through them and ultimately decide who would become his main squeeze. The winner, Goth-Punky Jess, revealed after the show's finale that she was not similarly inclined on the Reunion show, and said she thought he should have picked the second runner up, Heather. Checkmate! New season on the horizon!
Rock of Love Season II premiered January 2008, with a similar premise as the first series. After a season chockfull of horrendous skankdom, Bret chose a gal calling herself Ambre Lake (seriously) as the winner, and we haven't yet been told why that didn't work out. Hmmm... ratings, perhaps? In any case, Rock of Love Bus with Bret Michaels premiered January 4 of this year with an entertaining new twist. Instead of the girls moving in to Bret's Hollywood mansion, since he is a self professed road hog who spends most of his time playing concerts in America's heartland (think Dubuque, IA - Thackerville, OK - Jim Thorpe, PA?), he's taking the um, cat posse on the road with him in two tour buses - one pink (for the blondes) and one blue (for the brunettes). I guess he doesn't like redheads.
So as we hop onto the bus, so to speak, ROLB has just aired Episode #5. This ep began with the buses rolling in to the parking lot of Larry Flynt's Hustler Club outside St. Louis (I can hardly think of a more depressing scenario). The girls were challenged to beautify - er, skankify - three rather icky looking Midwest chicks. The result was kind of like heroin addict train wrecks. I mean, post makeovers, you could picture all three of them under a bridge somewhere in the burbs of St. Louis flashing some leg to make some easy cash and score a fix. It was that bad.
After they are paraded out to show Bret the girls' handiwork, our hero turns the tables on the um, cat posse and announces that he's bringing the three new girls along for the duration of the tour. Because, well, he's not really feelin' it with any of the current skanks, in spite of their copious tattoos, slutty outfits, and bad hair dye jobs. The only one he's even remotely interested in, it seems, is Ashley, who scores big with Brett this week with both a private solo acoustic show on the bus and a sleepover.
The other drama of the week is that the girls are positive that Natasha (AKA Man-Voice) is really a dude. Natasha's way over the top eye makeup (think fake eyelashes on top of fake eyelashes), her husky voice, and her penchant for always wearing tutus (what's she hiding?) have everyone convinced. Although our hero insists that this gossip has nothing to do with his decision, he sends her on her way with these words, "I think that you're a stunningly beautiful girl. I think in a different world we would have really hooked up and had a great time. Know what I mean?" After which they hug and we hear the romantic sound of microphones being crushed against Bret's Ed Hardy leather jacket. Natasha gets a special shout out at the end of the show from Bret, who wishes her well. You can kind of feel that she'll be returning as a guest star on a future season treating the girls viciously, a la Lacey.
Quote of the week is from Farrah, who opines "What the French??" after the three new girls are the first picked to stay at elimination. Yes, for the time being, they will continue to rock Bret's world.
Outfit of the week is Brittanya's at the elimination, which is kind of a cross between Jane Fonda in Barbarella and the cheapest whore you've ever seen.
My pick for next off the bus is either Beverly (too mouthy and actually, normal - she doesn't belong here) or Brittanya (she almost was tossed off this week. Apparently she has no brain, though she does have other attributes Bret likes).
Rock of Love Bus with Bret Michaels airs Sunday nights, 9pm EST, on VH1.